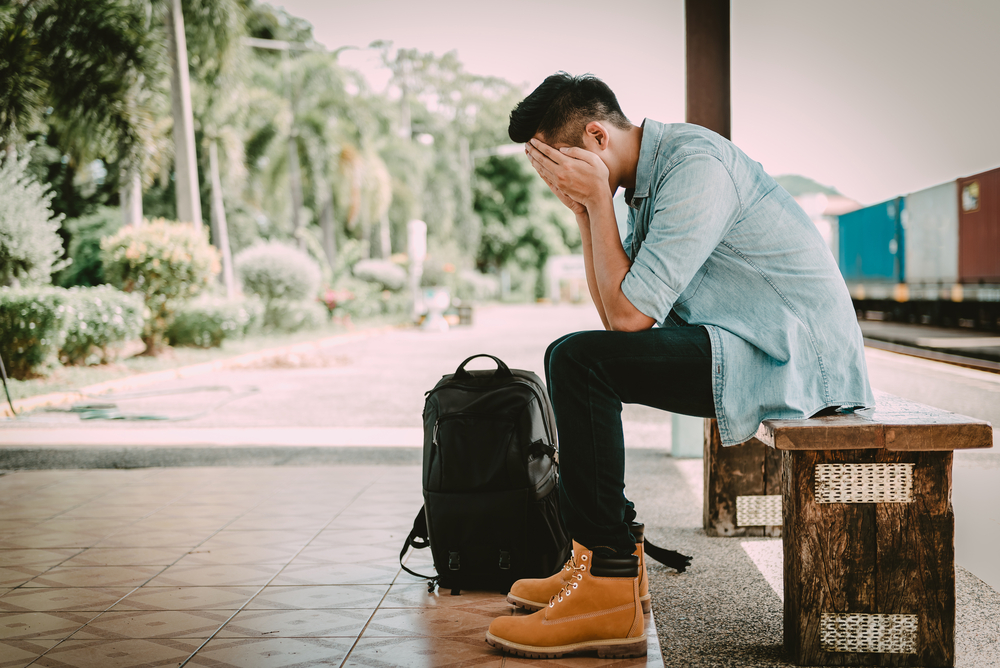 Image via Shutterstock
Here on the East Coast, it's finally starting to warm up and feel like we might actually be entering that blissful time of the year known as spring. The sun is shining, the birds are happily waking me up with their chirping at 5am, and every band is beginning to announce tours in the coming months. It's a beautiful time of year.
Now, whether it's your first time touring or your 50th, if there's one thing you can probably attest to it's that no band is immune to a little tour trouble now and then. Sometimes it's minor, and other times it can feel like the entire tour is cursed — but the truth is, it's just a fact of touring. Nothing ever goes as smoothly as you'd hoped, and there's always a few bumps along the way to contend with.
That said, I'm a big believer in preparedness, which is why we've put together this list of common tour disasters and a couple quick fix ways to deal with them as soon as they arise.
Stay cool, and I'll see you when you come through Boston!
1. Mechanical failures
This is probably one of the biggest obstacles to your tour, am I right? From popped tires to random engine failures, there are some things you simply can't predict before you hit the road. There are a few things you can do, however, to hopefully prevent a few of the larger setbacks, while preparing for the smaller ones.
For instance, get your vehicle thoroughly inspected before tour. Don't go to the guy down the street who always passes you for inspection even though you have no mirror and your windows are taped up — spend the money to have someone really thoroughly look over your van and tell you every single thing that's wrong with it. It doesn't mean you have to fix it all, but feigning ignorance and hoping for the best won't help you when your car dies in the middle of the desert one August afternoon.
Then, stock up on what you can and stay prepared. For instance, an extra tire and an emergency kit. They may take up more room than you want, but you'll be grateful to have them if your van breaks down or needs a jump.
Also, make sure your insurance is up to date and appropriate for the kind of tour you're going on. This includes auto and health insurance.
2. Lost luggage
If you're going to be flying at all during your tour, my advice is to always pack and bring just the carry ons. In my experience, checking backs is always a nightmare, even if the airline doesn't lose them. However, if you have to check something, try not to put any of your essentials in there, and always keep backups in your carry on of the important, irreplaceable stuff.
Toothbrush and hair products are probably easily replaceable but your $100 makeup palette might not be something you want to lose. Your instrument and its accessories? Probably can't afford to be without those either. Make sure anything of value is with you on the plane or wherever you are at all times, and once you're inside the venue, try to have someone watching over it. It's unfortunate, but not all that uncommon for these things to get stolen.
3. Getting sick on tour
When you're having the time of your life with your closest friends all packed into a van, touring the country and meeting fans, it can be easy to get a little loose with your health goals. But as most of us know, we really do tend to feel better when we treat our bodies right and fill them with healthy. (I know, it's annoying, isn't it?)
Help combat some of the junk food and drinking by bringing a cooler on tour that you can replenish with healthy snacks, fruits, veggies, and homemade lunches and dinners. It's possible to live off Wendy's chicken nuggets and beer but probably not advisable.
[3 Surefire Ways to Stay Healthy on Tour]
4. Cancelled shows
This one is bound to happen to you at least once in your touring career (and more than likely, many many more times than that). Sometimes, a show gets cancelled and you're suddenly stuck wondering what to do with yourself. There are a few ways to handle this. The first is, you probably want to have a cancellation policy in place with the venue before you even go out on the road in the unlikely event of them (or you) having to cancel.
The second is, call on your network. If a show is cancelled, start making calls, posting in your most reliable FB groups, and asking friends if they know of a show you can hop on. If not, consider a house show, coffee shop, pop-up show, anything to still get out there and make the most of it.
5. Burning out
Touring can be exhausting. You're driving a lot, your sleeping schedule is all messed up, and if you're an introvert (or even if you aren't), all that hand shaking and performing is going to take a lot out of you. It can be the best time of your life just as much as the most exhausting.
Unfortunately, burning out on the road can be a very real threat, and it can lead to less than stellar performances, losing opportunities to connect with new fans, and an experience that is altogether underwhelming. To make sure you're avoiding burnout, my advice is simple: take care of yourself. Go to bed when you're tired, drink lots of water, eat healthy foods, exercise, and practice some self-care. This is the experience of a lifetime — you want to be well enough to enjoy it.
[5 Solutions for When Music is Burning You Out]
Angela Mastrogiacomo is the founder and CEO of Muddy Paw PR, where her artists have seen placement on Alternative Press, Noisey, Substream, and more, as well as the Co-Founder and Director of Community and Events for Music Launch Co. She's also the owner of music blog Infectious Magazine. She loves baked goods, a good book, and hanging with her dog Sawyer.