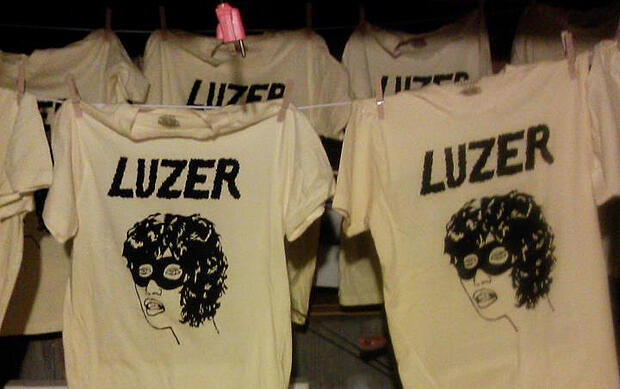 Seattle band La Luz's clever – and quite popular – band shirts
Selling merch at shows is an awesome way to supplement your earnings from concerts and record sales. I've learned the hard way that it takes some thoughtfulness, hard work, and diligence to actually make the most of your merchandising opportunities. Here are the five most common merch-hawking mistakes and my suggestions on how to avoid them.
1. You aren't there to sell it
You would think this would be a no-brainer, but after a performance, it can be hard sometimes to muster the energy to head offstage and man the merch table. If you're one of the lucky bands that has a buddy or a tour manager with you that can post up with your merchandise to sell it right after you play, then you're all set. If you don't, however, it's wise to delegate that responsibility to one of your band members while the others help with takedown and load-out. Your merch isn't going to sell itself! Plus, fans really love engaging directly with musicians, so even if you're wiped out and sweaty, it's worth your while to log some face time with the concert attendees.
2. It's too generic
This is an important one. While there are people out there with a debilitating addiction to concert tees, even they have to draw the line somewhere. Don't sell a T-shirt or other merch item that is completely unremarkable, or which strongly resembles other band tees (there is, however, a grey area when it comes to shirts that adopt familiar iconography of typeface for ironic effect. The main thing to remember is: be smart, not lazy). T-shirts with genuinely cool design are more likely to sell than ones with just simple text or unimaginative imagery (duh). Indulge your creative side when you're creating merch, be it a shirt design or something more off-the-wall like bumper stickers, keychains, bottle openers, trading cards, or next-level cassette packaging. If you have the time and the energy, making personalized, one-of-a-kind handmade merch can be a cool way to distinguish yourselves and make your fans feel more stoked about their purchase.
3. It's overpriced
Trying to make your living as a musician can often feel like capitulating to a life of voluntary poverty, but there's no reason to expect your fans aren't stretched a little thin themselves. When pricing your merch, consider what you yourself would be willing to pay for an LP, 7", CD, cassette, shirt, or any other kind of band-related tchotchke. Consider also how much it cost to produce or manufacture your merch. You can still make a pretty hefty sum with shirts priced at a reasonable $15 (whereas an inflated price like $25 would turn off a lot of potential customers). Buy your blank shirts wholesale, or sniff around for drugstore sales (I once bought a variety of blank Gildan tees in different sizes and colors for $2 a pop). Learn to screenprint, and investigate options for studios that you can use on a case-by-case or membership basis. One of the artists I work with at Hardly Art Records goes even more DIY and hand-paints all of the shirts and sweatshirts she sells at her shows. People go bananas for it, and all she had to purchase to manufacture them was fabric paint and thrift store clothes.
4. There's no variety
You might think you have a clear idea of your average fan and their body type, but if you bring only small and medium shirts to a show, you're going to feel pretty stupid when someone asks for a different size and you can't accommodate them. And it's not just size to consider – variations in shirt color and the color of the ink used for the design can make your merch much more eye-catching. Some folks have preferences for what color looks best on them, and they'll be less likely to purchase a clothing item in an unflattering shade.
5. You can't make change
Always bring a cash box to your shows if you'll be selling merch (and remember to keep a close eye on it). Make sure it's stocked with plenty of $5 and $1 bills so you can make change. And on a related note: Keep an inventory! Make sure you track every sale, and if you have any kind of bundle discount (i.e. an LP and a shirt for $30), be sure to make a note of that as well. One great resource for bands is the Square App. It's an iPhone attachment that allows you to run credit card transactions. The Square company takes a tiny bite out of your profits, but it's pretty much negligible, and allows you to accept customers who don't have any cash on them.
Jason Baxter is the in-house publicist for Seattle's Hardly Art Records, and performs in the electronic duo USF. In a past life he was a music journalist and writes comic books in what little spare time he has.