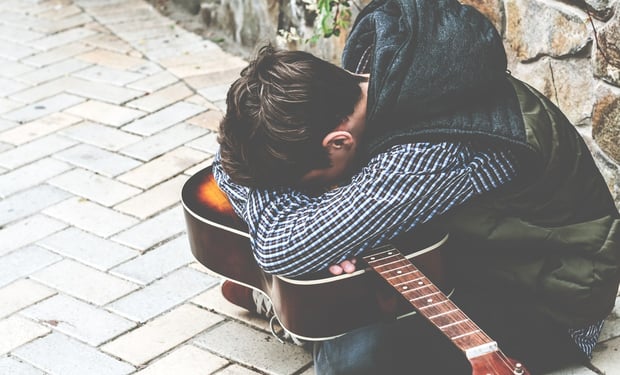 Image via Shutterstock
You might be scratching your head asking yourself why your band hasn't made it big yet. There are a lot of reasons why – many of which are out of your control.
It's easy to blame those challenges on everything around you. The blogger who didn't respond. The publicist who didn't do his or her job. The agent who booked you on a bad bill. Whether you're doing it all yourself or have help, here are a five controllable reasons that might be holding you back.
1. Inactivity
If you want people to notice you, you quite simply need to create activity to get noticed. We often hear from bands who complain about not receiving press after hiring a publicist. Yet, when we dig a bit deeper, we find they never toured, are rarely on social media, and essentially are looking for someone else to do the heavy lifting.
When a band is unknown, a publicist or any industry professional needs to create drivers, and that almost always requires the band playing a larger role in the process by creating activity on their end.
2. Low engagement or no social following
In the age of social media, one of the first stops for any music industry professional or blogger is your Facebook or Twitter. If you expect Rolling Stone to cover your band, your social media stats shouldn't show 250 followers on Facebook with nary a "like" to be found.
This goes back to being active. You need to show you're ready for the next level and you have an audience to support you if you want someone to take a chance on your band.
3. Media disinterest
There are times when, no matter how hard you try, media just isn't biting. This can be due to a myriad of reasons which, unfortunately, boils down to, "They're just not that into you."
Pay attention to the feedback and decide if you're targeting the right audience, you need to develop your sound a bit on the next release, or time your album drop better. Essentially, this one is simply a learning experience for the future.
4. Self-sabotaging your own publicity campaign
If you're working with a publicist and have disappeared, chances are the success of your campaign will, too. The bands who stay engaged, share ideas, and keep their publicist updated on what they're working on give him or her new material to target media. Those who truly act as partners almost always see a greater success rate.
5. Not taking advice
There will be times when you receive advice you don't want to hear. Maybe it feels like too much work. Maybe it goes against what a fellow band member or other band told you. Maybe it means doing something that makes you uncomfortable.
Successful bands and people don't get to where they want to go simply by taking advice they agree with. They understand that it's necessary to do things they don't like or want to do. If you have the advantage of professional advice, listen with a fresh perspective and think about how you can use it in a way that feels authentic to you.
Next up: 7 Reasons Why Your PR Campaign Didn't Work
Janelle Rogers began her 20-year music industry career working for SXSW Music and Media Conference. She then went on to work for BMG Distribution for 10 years in the alternative music department where she championed bands like Kings of Leon, Ray LaMontagne, The Strokes, Belle & Sebastian, and The White Stripes. In 2002 she launched Green Light Go Music PR as a haven of honesty, integrity, and passion for underrepresented artists and labels. She has since been named Mentor of the Year by the University of Michigan, Dearborn, appeared as a panelist at NXNE, and been an official SXSW mentor.