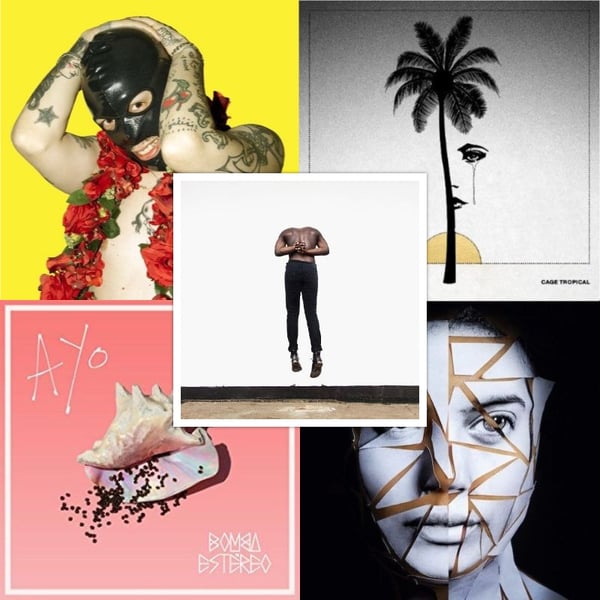 Images via their respective sources (below)
Visuals can draw in a new listener, but your album artwork can be than a tool for catching eyes. Consider it also a supplement to the music that can strengthens fan engagement: It can be an overarching representation of the work, a means of offering clues for deeper understanding, or a jump-off point for exploring personal interpretations.
The five albums below are some of 2017's best, and each employs album artwork as an extension of the music. In attempting to decipher the meaning behind the visuals, we learn more about the work — and vice versa.
When you're dreaming up artwork for your own release this year, consider how this crop makes the most of imagery. What will your next cover say about the album it represents?
1. Ibeyi – Ash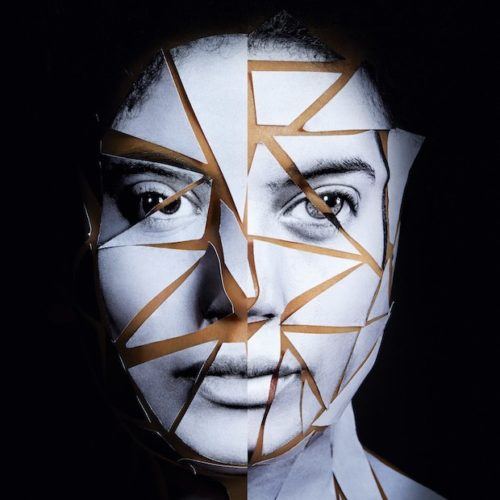 Image via Ibeyi/XL Recordings
The sophomore album from the French-Cuban twins is represented, at least at first glance, somewhat literally by its cover art. On the debut LP before it, their faces are centered individually. But here, in deconstructing and combing their faces, we understand in that visual how the sisters, Naomi and Lisa-Kaindé Diaz, are disparate yet intertwined.
But once you actively dig into Ash, which further builds on Ibeyi's bedrock of imparting Yoruba spirituality and Afro-Cuban rhythms through an electronic netting, you'll find "Transmission/Michaelion." In an interview with Stereogum, they pinpointed the track as the "heart of the album," one that stresses the need for hearing the stories of others — throughout history as urgently as now.
Finding "what links us more than what divides us" is crucial, and the parceling of their two visages speaks to that unpacking: It suggests we might start with someone close, and that we remember the role our own have in how we hear the histories of other people.
2. Moses Sumney – Aromanticism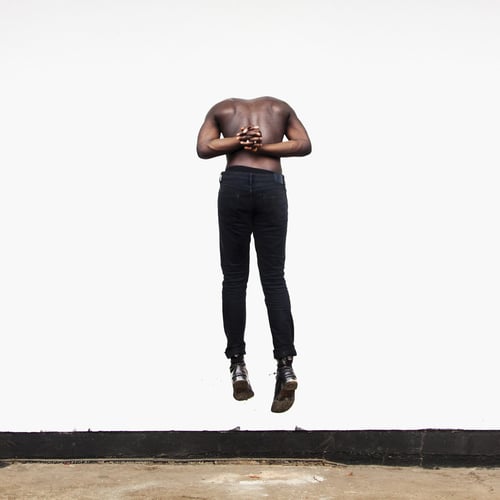 Image via Moses Sumney/Jagjaguwar
Built around the concept of "lovelessness as a sonic dreamscape" and appropriately textured like a lonely night, from the twinkling of stars and streetlights to the temporal enveloping of a passing fog, Moses Sumney's debut full-length is striking, emotive and, at times, subtly unsettling. The cover art drives the point home: You see what we presume to be Sumney's bareback first before the jolt of realization (where's his head?) hits you; the image startles the senses.
The titular term refers to an identifying descriptor for people who don't feel romantic attraction,don't want romantic relationships, or prefer friendship to romance. Aromantic people are not necessarily asexual, but may reject romantic expressions of love altogether. In a Tumblr post penned just ahead of the album's release, Sumney details the meaning of aromanticism for himself and how it relates to the work, which he calls "process music."
The album artwork is proxy to all this, although he's left its exact connection to it open for exploration. The mind is missing — because Sumney's mind is consumed by this process of understanding his identity? Is he conveying a disconnect between body and mind? Is Sumney elevated above the ground, as if floating, because he's uplifted in exploring his identity? It could be all of that, or none of it; something else that's altogether different. Maybe Sumney wants the viewer-listener to carve out their own perceptions here. The visual certainly encourages a rethinking, a questioning, a shift in status quo — like Aromanticism itself.
3. Jakuzi - Fantezi Müzik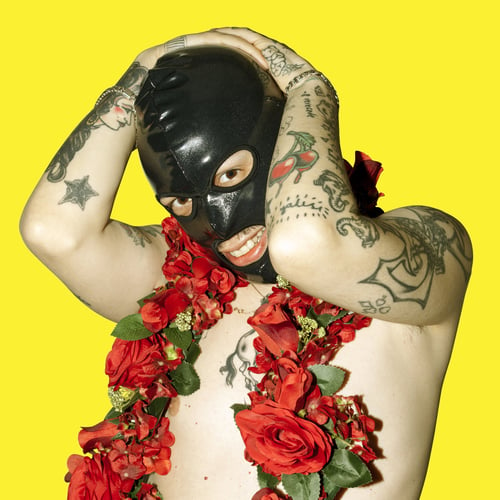 Image via Jakuzi/City Slang
Synthetic crimson roses cover a shirtless and tattooed person, masked and grinning, on the shockingly yellow cover of this Turkish synth-pop duo's debut. Jakuzi is a striking counter to stereotypical Western conceptions of the country's music, and is part of a small but marked upswing of bands melding post-punk and New Wave from the late '70s into the '80s in modern-day Istanbul.
This pair outspokenly takes a "stand against the system," and makes plain their support of trans rights (see "Lubunya," this interview), sex workers included, amid a religiously conservative culture where transphobia (and even violence toward trans people) is commonplace. For us, the cover art is symbolic of this resistance — the work personified.
4. Bomba Estéreo – Ayo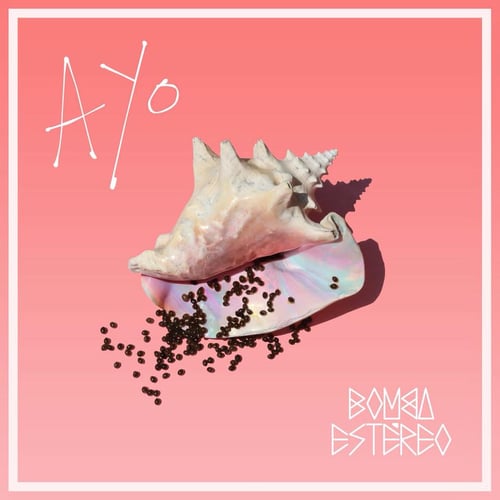 Image via Bomba Estéreo/Sony Music
This celebrated Colombian electro-cumbia outfit released its fifth album in August, explaining in interviews that it was inspired by a spiritual ceremony while immersed in the country's Sierra Nevada mountain range. The Bogota band weaves in traditional flutes — the gaita and flauta de millio — throughout the work, echoing cumbia's early origins.
Knowing that, this cover is incredibly fitting: The pearly white conch shell nods to instruments of indigenous South Americans, and the spilling out of papaya seeds, sharp and dark against the pastel wash of it all, makes pointed the album's deep connection to nature.
5. Frankie Rose – Cage Tropical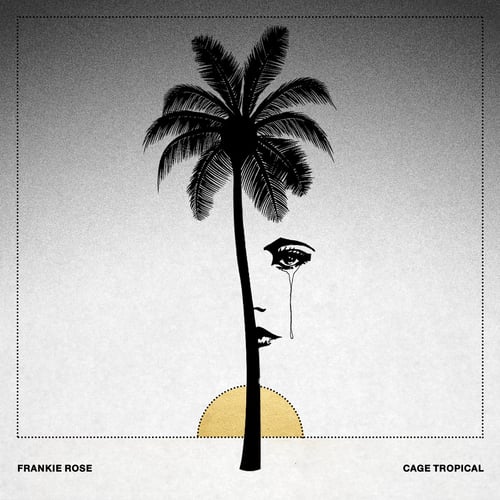 Cover illustration by Frankie Rose, layout and design by Shaun Durkan. Image via Frankie Rose
Output from Frankie Rose always leans reliably toward '80s pop, and this third outing follows suit. Not counting her solo debut as Frankie and the Outs or her time in Vivian Girls and Dum Dum Girls (where sweet girl-group harmonies were bittered by grittier punk elements), the New York musician has spent the bulk of her solo career tinkering with the intensities of this influence, stretching into electro ballads or laquering new wave numbers with shiny production.
But a period of self-doubt and setbacks nearly prevented this album from ever materializing, as Rose had moved back to her native LA after years of living in Brooklyn, and things didn't go as planned — not on any front. Cage Tropical, according to the album info, is the "existential odyssey" that followed, as Frankie Rose returned to Brooklyn and restored her faith in her work, and herself.
The cover art shows that progress entirely. The outline-only style of the face recalls the iconic, fantastically cheesy copies of Patrick Nagel's art deco-influenced work in the '80s (as seen in nail and beauty salons then, and still today), and the palm tree up front might, of course, signal the role LA played in the development of Cage Tropical. It's an emblematic embrace of her own style, and a wholehearted acceptance of its guiding inspirations.
Next up: The Importance of Album Artwork: 5 Strategies to Do It the Right Way
Jhoni Jackson is an Atlanta-bred music journalist currently based in San Juan, Puerto Rico, where she juggles owning a venue called Club 77, freelance writing and, of course, going to the beach as often as possible.