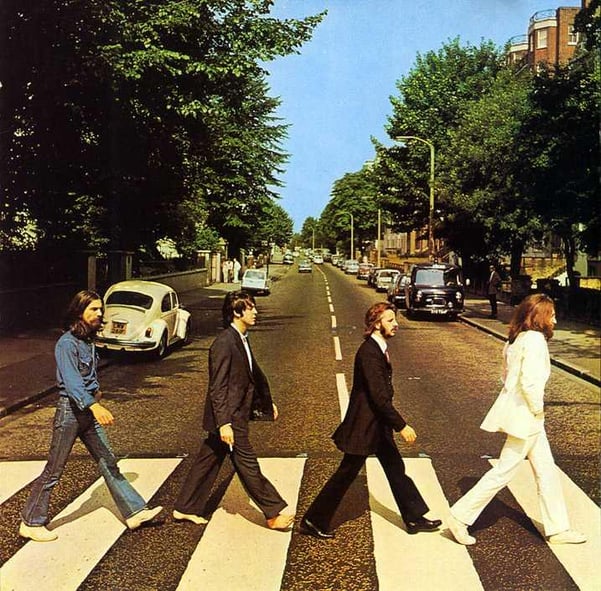 Image via Wikipedia
As an artist, it's natural to put every ounce of energy into the creation of your music. And while perfecting the craft is the most important task any artist can accomplish, too many tend to focus on the final product as opposed to the final package. Once an album is completed with all vocals and production mixed and mastered, that's merely the beginning of your project's life cycle. In order to ensure longevity for the music you worked tirelessly to create, there are several assignments that require a detailed level of attention, and one of these is album artwork.
From the days of album art drawing in vinyl and CD customers to today's digital era where an eye-catching image alone can garner clicks, artwork has always been an important piece of the puzzle. But now, during a time in which blog connections and SoundCloud plays stay at the forefront of an artist's mind, artwork is seen by some as a "get on Photoshop and have something ready in a few days" chore. This type of attitude results in a rushed final product, and if a well-informed listener or critic sees album artwork that's sloppily created, there's a fair chance that he or she will never arrive at the play/download button.
Here are five strategies you can implement as an indie artist to execute album artwork the right way and ultimately give your music the best chance to be heard.
1. Reach out to professional artists
In the world of music, we tend to use the term "artist" as a recognizable term for any type of musician. But when tackling the initiative of album artwork, it's wise to approach the "art" definition from a broader perspective. From painters and graphic designers to advance drawers/sketchers, there's a boatload of artistic talent out there in search of all forms of work. Stepping outside the comfort of your musical genre and attending different art shows/exhibits is a great way of enhancing your own artistic makeup. You never know who you may meet at these sorts of events, and with enough dedication/proper preparation, you may discover the artist who has what it takes to achieve the vision for your artwork.
[10 Tips for Designing Album Art in the Digital Age]
2. Get recommendations from your music video directors
If you're struggling to locate an artist with unique abilities, a logical method of brainstorming album artwork ideas is by meeting with your go-to music video directors. While their specialties may be live shots, photographers tend to be of the same bread as any other artist you have in mind. These people are already familiar with your music and how to best represent it visually, so it only makes sense that they give you advice on the album artwork process. This segment of your team may be able to pull off the concept on their own, and even if they can't, they should be able to lead you in the right direction. From concept ideas to recommendations of artists in the area, it's wise for any musician to listen to the advice of their trusted music video directors.
3. Think outside the box
Choosing to work with artists outside the realm of your genre is a solid first step in thinking outside the box, and it's essential to keep working with a distinct mindset. The last thing you want is your album artwork appearing as amateurish, but the second to last descriptor you want to hear is generic. Whether it's a rapper standing alongside his car or a simple shot of band member faces, many artists unfortunately fall victim to that undesired quality. It's understandable for artists to think that putting their faces on the cover is an easy way of putting a face to the music, but this strategy has to be done in a creative way. Achieving satisfactory album artwork is the safe route, but coming up with an entirely personal idea which you've never seen done before is the best way of making a memorable statement with your album artwork. If you pique people's curiosity from this vital visual perspective, they're likely to give more attention to the quality of your music.
4. Study album artwork of the past
While some artists have stayed true to original album artwork, there are many others who have taken the easy way out in today's digital landscape. Anybody with access to Photoshop and Google Images can pluck something from the internet and alter it to make it "their own." With this in mind, it's in your best interest to take things back a few decades when studying album artwork now considered classic. The creative minds of the 1960s through early 1990s weren't able to take any artistic shortcuts, and the results of their artwork are the proof in the pudding. Take some time to research the artwork of the past, and take note of the covers which truly move you and spark a genuine interest of curiosity. This is the same type of emotion you want to evoke amongst your fans, so don't be shy in turning back the clock and spending some time in the archives. The inspiration and influence you acquire will be worth it.
[How to Make an Impact With Your Album Artwork]
5. Make sure your artwork matches your music
As an indie artist, being consistent is one of the more valuable traits you can have, and it relates to all aspects of your career. Since you're in charge of your craft, you know exactly what type of message and impact your album is supposed to have on the audience. It's essential that the response of your music matches with that of your album artwork, because it's the primary visual representation of your work. The decision of whether to make your artwork easily digestible or more abstract is entirely up to you; either method can be successful if executed properly. Ultimately, what's most important is having an authentic working chemistry with the person who is creating your album artwork. This person needs to fully understand the project from front to back and have a genuine affinity for the music. Once this relationship is organically solidified, your album artwork will be treated as an accurate portrayal and true illustration of the album's content, and it's this coveted reaction that could prove to be a game changer in the success of your music.
Eric Bernsen is a marketing/public relations professional and music journalist who specializes in the genre of hip-hop. You can find more of his work at HITPmusic.com (where he is an editor/writer) as well as HipHop-N-More.com, where he contributes album reviews. Follow Eric on Twitter @ebernsen.