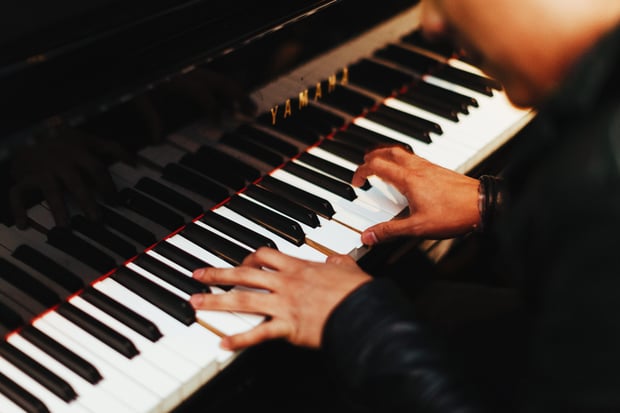 Photo by Gabriel Gurrola via unsplash.com
We've all been there before: the long day in the practice room, our frustration bursting at the seams, about to toss our instrument across the room. I get it. It can be hard to step away from practicing when we know there's still work to be done. Here are some small steps and tips for healthy, mindful practice to help you get the most out of your practice time while maintaining your sanity.
1. Take micro breaks
The micro break was a concept I learned in college when I was starting to develop injuries and had a hard time keeping my focus during practice time. A micro break is exactly what it sounds like: a small break between passages. Whether you're working on difficult rhythm sections or finger-twisting notes, a small break between repetitions can keep your mind at ease.
At the beginning of your practice session, designate a short amount of time for practicing phrases, sections, or parts – say, 10 minutes, or whatever amount of time best suits you. Additionally, designate a shorter amount of time, like two or five minutes, for a break during your playing.
These breaks are meant to be short enough to give your body and mind a brief rest. As your practice session continues, increase the amount of time for both the practice and the breaks. Remember to relax and reflect during your breaks!
2. Stay hydrated
Always, always, always stay hydrated during your practice time. While you may not be running a marathon, playing an instrument and making music can be just as exhausting. Drinking plenty of water will help keep your mind and body happy. Cut down on waste, too, by using a reusable glass or plastic water bottle.
3. Positive reinforcement
Throughout your practice, it's important to reflect upon your progress and areas that need improvement. During those times of reflection, it'll never hurt to give yourself a compliment or words of encouragement. You are your biggest critic, but you should also be your biggest fan. Try to reflect upon small achievements. You nailed that riff? Amazing! You perfected a kick-ass solo? Keep going!
4. Get back to basics
Are fundamentals really going to help you get better? Yes. Should you include fundamentals in every practice? Yes. Are fundamentals always fun? No, but they will help in the long run. Even if you spend just five minutes doing long tones, basic rhythms, or scales, it's still practice time well spent.
5. Record yourself
Recording yourself on a smartphone or on a field recorder will help you notice even the smallest details. You may not have been playing as quietly or loudly as you thought you were, or maybe that riff still isn't as clean as it needs to be. Recording will give you a better sense of what you sound like outside of your own head.
Get more practice tips:
Rachel Bresnahan is an editorial intern at Sonicbids.