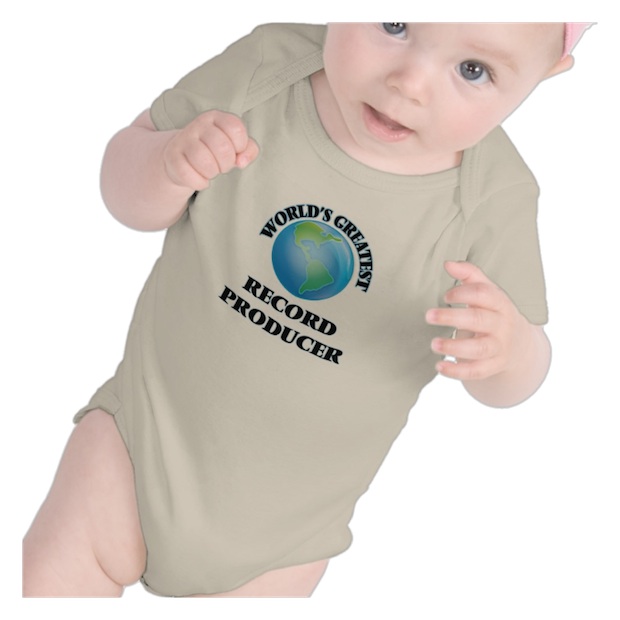 Image via Zazzle
Being that independent bands and artists are typically individually funded (read: paying out of pocket), efficiency in finances is paramount. The recording process can be a monetarily daunting endeavor – and if you're not well-versed in how it all works, the process can also become a money pit.
Finding the right music producer for your budget is one album-making element that can not only impact your bank account, but also the rest of your career. You could get stuck giving profits to someone who didn't earn them, or you could dump all your funds into the effort, yet end up disappointed in the final product. It's important to be meticulous in selecting who you'll work with. Otherwise, you might end up with one of these five undesirable kinds of producers.
1. The control freak
Part of a producer's role can be to fine-tune a band or artist's direction. For example, a fresh set of ears on a well-worn number or help fleshing out a rough cut can be incredibly helpful. But, their influence on your sound shouldn't be so heavy that you can't recognize your original work afterward. Even if you're not skilled in production, as the artist you still have a say in how the recording ultimately sounds. It's okay to put your trust in someone who truly knows what they're doing, but having your every input shut down is unacceptable. If you think something sounds off, your opinion should be respected. Working together should always be collaborative.
2. The hands-off non-helper
On the opposite end of the spectrum are producers who offer little to no guidance. Even if they're encouraging, they're not doing their jobs if they don't provide any suggestions or insight. Simply overseeing the recording engineer isn't going to be much help to the process. This can be due to inexperience on their part, an inability to communicate well, or something else altogether. No matter the reason, it's not worth your time or money to work with someone who is adding nothing new to the mix.
3. The cocky novice
The fake-it-til-you-make-it motto might fly in some industries, but any paid music producer who adopts this method is being unfair to his or her clients. In particular, if you're not very knowledgeable about the recording process, entrusting your tunes to someone who's dishonest about their capabilities within their craft can be disastrous. To avoid a situation like this, conduct thorough research about your producer before confirming any sort of deal. Not only should you check out the work they've done, but also try speaking with their former clients directly. You'll find out pretty quickly whether or not they were satisfied customers.
4. The time-waster
The bulk of producers charge by the hour, so the time should be well spent. There are endless ways for the producer to squander minutes: indecisiveness, tardiness, poor communication that leads to lengthy discussions, or even arguments. An approximate schedule should be planned out ahead of time, and it should be adhered to as closely as possible by everyone involved. When sessions actually start, be aware of how the producer is making use of the time.
5. The opportunist
There are many different ways to pay a producer depending on your particular situation (signed vs. unsigned artist, advances vs. royalties, etc.), but the key is that the terms need to be fair and agreed upon by all parties up front. In some genres, producers rightfully receive a certain slice or percentage of the songwriting credits and royalties. Beat-makers in hip-hop, for one, are often greatly responsible for a song's construction, which earns them a degree of rights to the music. However, if their contributions do not extend to significant changes in lyrics or melodies, then they should be recognized only as producers, not songwriters. Don't allow a producer to take advantage of you.
Do you have any words of caution for artists looking to work with producers? Leave them in the comments below!
Jhoni Jackson is an Atlanta-bred music journalist currently based in San Juan, Puerto Rico, where she juggles owning a venue called Club 77, freelance writing and, of course, going to the beach as often as possible.