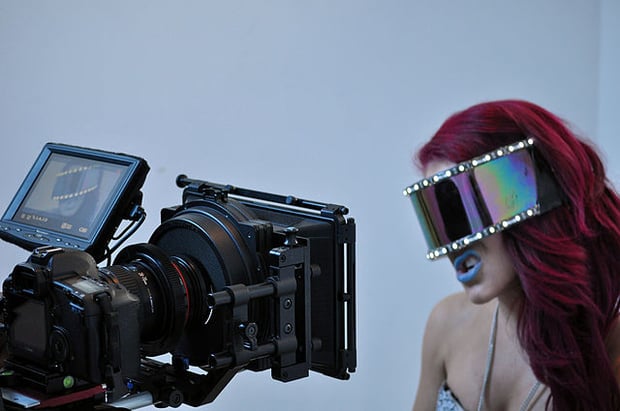 Photo by Dale Martin via Wikimedia Commons; used under Creative Commons
With the rise of social media platforms such as Instagram and Snapchat, artists must create high-quality visual content to consistently engage their fans. Great visual content helps to increase your exposure among your target audience, grow your fanbase, and even land major career opportunities. Here are five types of visual content you can use right now to promote your music.
1. Music videos
The traditional music video is still one of the most effective forms of visual content to promote your music. A good music video can keep the momentum going when promoting your single. With many music fans watching videos on YouTube and Vevo, a good music video can also help new fans to discover your music.
Shoot a music video that captures the essence of your song. Hire a good videographer to shoot and edit your music video. Do not sacrifice the quality of your music video by hiring someone with little to no experience. Remember, your music video is a representation of your brand.
[How to Budget for Your First Music Video (Sample Budget Included!)]
2. Web series
Be the star of your own show and produce your own YouTube web series. A web series gives your fans an intimate look into your journey as an artist and shows them who you are as a person. Web series are also a great way to build anticipation for an upcoming album or tour.
Pick a theme for your web series and hire a good videographer to shoot and edit your web series. Upload new episodes to your YouTube channel on a consistent basis, whether it's weekly, bi-weekly, or monthly. One good example of a web series you can look to for inspiration is Chrisette Michele's Becoming Mrs. Ellison.
3. Photos
Photos help you connect with your fans on a personal level and keep them interested in your brand, even when you're not actively promoting something. Share behind-the-scenes photos of you working in the studio, rehearsing, doing interviews, doing photo shoots, etc. Along with behind-the-scenes photos, share some personal photos of you doing everyday things.
[Photo Shoot Essentials for Musicians]
4. Performance videos
Performance videos can get your fans excited about seeing you perform at future shows and create interest among new fans. Capture good footage of your performances and upload it to your YouTube channel.
5. Acoustic videos
Acoustic videos give you a chance to show off your talent and help you keep the momentum going when promoting a single. Make a video in which you're performing a stripped down, acoustic version of one of your songs to show your versatility as an artist.
Lauren Gill is the founder and chief power specialist at Power Publicity, a marketing, branding, and public relations firm that empowers entertainment, nonprofit, and lifestyle brands. She has executed several successful marketing and PR campaigns for major and indie recording artists. You can follow her on Twitter @IamLaurenGill and @_powerpublicity.