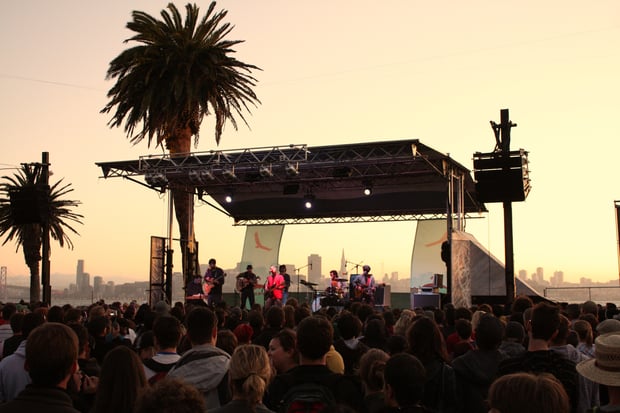 Image via Wikipedia
Whether you're working with a publicist or running your own DIY PR campaign, it can often feel like no one cares. When that's the case, it's usually due to one of three reasons:
You're targeting the wrong people
You need external drivers
Assuming you did target the right contacts and you have a great angle, that leaves creating additional interest through external drivers. Here are a few examples of external drivers and how to go about it.
1. Play with more established bands
If you're playing to an empty room in a venue no one has ever heard of, chances are media won't be interested. Take a look at the venues that are being covered in your local media outlets, and use that to create a list of venues to target. Then begin building relationships with the bookers to give you opportunities to play those venues, and with bands who can draw a larger audience. If you're already at that level where you're playing credible venues, build relationships with the bands you want to play with in order to lead to a potential opening slot on their tour.
2. Have a DJ remix your single
Outlets like Pitchfork, Earmilk, and Indie Shuffle love to cover remixes. In fact, that can be one of the best ways to secure coverage at an outlet that's remix heavy. A remix alone is not enough, though – they're looking for credible DJs who remix those tracks. Take a look at what DJ remixes they cover, and reach out to the DJs who could be a fit for your music.
3. Cover a song by a band that's currently in the news
Another way to create interest is by covering a song by a critic-friendly band. Just like you need to make sure the DJ remixing your track is credible, you also need to make sure the band you're covering would be relevant to the media. You can approach this in one of two ways:
think about a band you'd love to cover, and Google them to see if they're currently receiving coverage
look at the outlets you'd like to support you, and get ideas of cover songs from what they're currently covering
Make this as professional and creative as you can, and be authentic. Don't just cover a band because you think it will give you more notoriety. Do it because you genuinely like the band and and think you can do the song justice.
[How Covering the Right Song at the Right Time Can Catapult Your Music Career]
4. Play music festivals
Playing music festivals is another way to gain media interest, especially when the festival is credible. While playing a music festival does not guarantee you'll receive instant success, it can certainly help move your career forward. Major outlets like NPR Music actively seek out bands playing festivals like SXSW and CMJ to include in playlists and coverage around those festivals. Others will look at bands they can have play sponsored showcases at the events. It also becomes a resource for bands to watch, and can help create a launching pad for additional media and industry attention if they like what they hear. Make a list of festivals you'd like to play, and create a plan to submit to them.
5. Increase your fanbase
Some of the higher profile outlets will be making decisions on coverage based on the size of your fanbase to attract new potential readers. As ad nauseam as this advice is, it's important. Ultimately, don't you want to gain more fans? Start by working on the engagement on your social networks to increase likes and followers.
There's a lot more to publicity than sending music and hoping they like the song. If you're not receiving interest, do your due diligence and research the outlets you want to cover you to determine what angles interest them. Start working on the tip that appeals to you to increase your chances of coverage.
Janelle Rogers began her 20-year music industry career working for SXSW Music and Media Conference. She then went on to work for BMG Distribution for 10 years in the alternative music department where she championed bands like Kings of Leon, Ray LaMontagne, The Strokes, Belle & Sebastian, and The White Stripes. In 2002 she launched Green Light Go Music PR as a haven of honesty, integrity, and passion for underrepresented artists and labels. She has since been named Mentor of the Year by the University of Michigan, Dearborn, appeared as a panelist at NXNE, and been an official SXSW mentor.