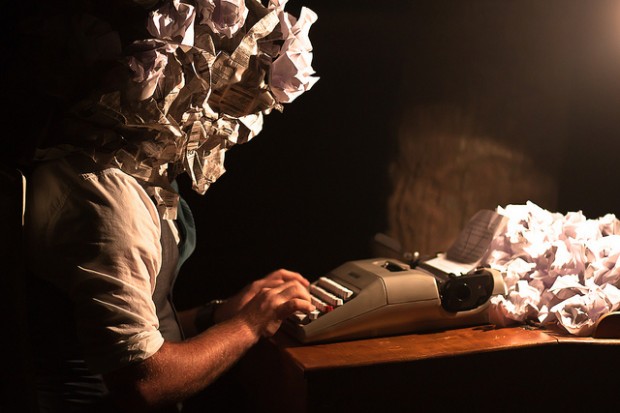 Image via business2community.com
We've all been through it before – writer's block, a production drought, or just a flat-out lack of creative inspiration. Having a consistent musical output is essential to the livelihood of artists, and because of this, you simply can't afford to be in a creative rut for too long. Personal issues – and the stress that comes with them – get the best of all of us at some point, but luckily, there are strategies you can use to help get out of your own way and reignite the creative juices. Here's a list of five easily adoptable methods you can implement in order to shake off a creative slump.
1. Travel
Being a studio rat is a lifestyle that many indie artists embrace as they work to hone their craft and take their career to the next level. However, staying stuck in the same place for too long can be detrimental to your growth, as you can become lost in the process of making music while disregarding everything else. With this in mind, it's important for artists to leave the confines of their natural habitat and travel to new places, especially during times when they are struggling to create new music. Seeing new places leads to new life experiences, which are more often than not channeled in songwriting and even production stylistics.
While it's unrealistic to casually take a trip to Europe or Asia just because you're stuck on a song, taking a drive toward unfrequented scenery has the ability to spark new ideas and concepts. There's a lot of inspiration you can take from the world, so the more of it you see, the more likely your music will have a global appeal.
2. Watch quality movies
Some of the best music ever created has been inspired by film, and the intersection of the art forms will forever be a powerful connection. So if you're going through tough times as an indie artist, searching through Netflix or On Demand for movies may be just what the doctor ordered in ordered to inspire new music. Some might view this strategy as a distraction from the problem at hand, but immersing yourself in a film with a gripping soundtrack and compelling plot line can birth those same qualities in your own music. Horror films, kung-fu flicks, sci-fi thrillers – there are no boundaries as to what kind of movie may help you escape a creative rut. But art inspires art, and it may only take one cinematic experience to your bring your musicality back to its optimum level.
3. Spend time with family
As musicians progress in their careers, sometimes it's easy to lose sight of the people who have been there for them since the beginning. Some musicians use family experiences as motivation for their music and whether the reasoning behind it is for better or worse, your parents and/or siblings will always be powerful influencers. If you're going through a tough time musically, spending some time with your family may help you remember why you fell in love with music in the first place. Bringing things back to the essence of your creative birthplace can bring some much needed perspective to the stress that comes with the music business. As simple as it seems, a home-cooked meal from Mom, advice from Dad, and joking around about the old days with your siblings can have the ability to repair the engine behind your musical drive and aspirations.
4. Listen to other music
This strategy takes us back to the idea of art inspiring art. Although you want your sound to be unique to your artistic identity and personal life experiences, there's nothing wrong about drawing inspiration from other artists. Whether you go back and revisit classic albums or listen to some of today's more innovative music, taking a step back from the "artist" role and embracing your fandom can definitely aid in getting your own music back on the right track. Try to explore other genres beyond your comfort zone when searching the internet for inspiration; this will potentially add new dynamics to your craft and help you avoid the common scenario of artists imitating the styles of today's popular acts. If you're going through your own artistic struggles, taking some time to listen to respected musicians of both the past and future should provide you with a proper pick-me-up.
[Is Listening to the Classics Ruining Your Music?]
5. Exercise more
Last but not least, getting some exercise is an ideal way of releasing endorphins and getting your creativity flowing. Being in great shape will not only improve your live performances, but it can also give you the energy necessary to break through a slump in the studio. You don't have to become a Planet Fitness regular for you to rediscover your artistry, but a few days a week at the gym will be a great benefit to you as a musician who is on the search for fresh ideas and increased strength in the body, soul, and mind. Get out of the house, get your mind off your creative rut, and get outside to be active. Your music will be thankful for it. Health is wealth.
Eric Bernsen is a marketing/public relations professional and music journalist who specializes in the genre of hip-hop. You can find more of his work at HITPmusic.com (where he is an editor/writer) as well as HipHop-N-More.com, where he contributes album reviews. Follow Eric on Twitter @ebernsen.