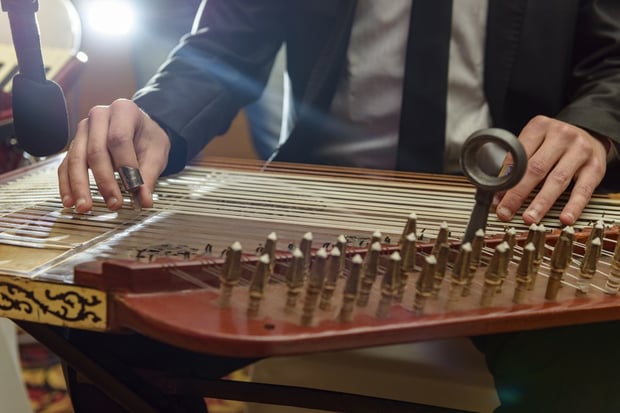 Image via Shutterstock
You can use your musical talent in a variety of ways beyond simply writing and performing your own songs. There are so many ways to put your gifts to good use that also help you hone your musicianship along the way. It's always awesome to sharpen your skills while being of service to others. Here are five ways you can make effective use of your musical talent that may not have occurred to you.
1. Write songs for others
Ed Sheeran has a catalog of hits he's written and performed as Ed Sheeran, but he's also written or co-written major hits for other acts like Justin Bieber and One Direction. This happens often in the pop music world. Singer/songwriter Bonnie McKee pens songs for Katy Perry and Britney Spears, all the while making a go of it for herself under her own name. Yes, these are mainstream, top-of-the-line examples, but it's a world worth trying to infiltrate.
You can do co-writes with others to strengthen your skills, sharpen your talent, and learn how to play nice with others in the creative space, even if someone else ends up using the finished product. It could lead to handsome paydays as well.
[Looking for Songwriters or Musicians to Collaborate With? Try These 5 Startups]
2. Make a guest appearance on friends' albums
This is the ultimate in bro-dom and it also can connect you with another band's fans. Do a guest spot on another band's album or song. It can be a gang vocal, a contributed lyric, a guitar solo, something, anything. It's another effective way for you to sharpen those skills and work with others. It could lead to more collaborations or it could flex creative muscles you never knew you had, much less used.
[5 Fantastic Benefits of Songwriting Collaboration]
3. Volunteer for music therapy
Use your talent for good by volunteering to do music therapy for people or dogs. It could be in a hospital, a retirement home, a children's ward, or an animal shelter. The redemptive and otherworldly value of music really asserts itself in these scenarios, when people or creatures in non-optimal situations are able to enjoy music in a different setting or space.
4. Volunteer to teach music in schools
You could do seminars, guest lectures, or workshops at local public schools. With music programs being cut in schools, there are probably tons of locations and students looking for some legit guidance, but are not quite sure where or how to get it other than the internet.
The musically minded need real, live instruction. So why not be a part of that process? Volunteering is also good for the soul, so you shouldn't necessarily expect to be paid for your participation. Be part of what makes the wheels of the music industry continue to go around since music education is an endangered species in schools.
[Should You Teach Music Lessons Independently or Work for a Studio?]
5. Record online instructionals and playthroughs
Why not post some instructional videos on your technique or playthroughs? Aspiring musicians love to see that stuff – it helps them learn, and it can be a tool for music education in a passive way. It also can be a way for you to connect with fans who may be more musician-based, which is also good to have on your side. So you sharpen your skills, provide passive instruction to others, and gain some eyeballs. All. Good. Things.
Amy Sciarretto has 20 years of print and online bylines, from Kerrang to Spin.com to Revolver to Bustle, covering music, beauty, and fashion. After 12 years doing radio and publicity at Roadrunner Records, she now fronts Atom Splitter PR, her own boutique PR firm, which has over 30 clients. She also is active in animal charity and rescue.