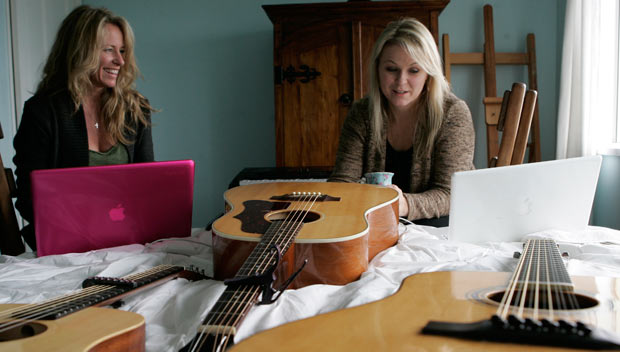 Image via ascap.com
Making music is inherently a collaborative process, as everybody needs somebody else. You may be the best guitar player in the world, but you may not know anything about engineering, mastering, or even about writing the perfect hook on your next single. Finding that right person can be a challenge, but it isn't impossible. If you're in the market for a fellow musician, songwriter, or music professional to work with and create some kickass art with, here are a few new services you'll definitely want to check out. Best of all, all five of these are free to join, so you've got nothing to lose!
The idea behind FindMySong is pretty simple, but it's actually got a lot going on. The service allows musicians to find one another for a new project by searching aimlessly (brilliance can come from this, after all) or by selecting certain, specific tags depending on what the performer may be looking for. Beyond that, there's a built-in system that lets collaborators share files if they're working on a song across long distances. That opens up the idea that the violinist you want to play on your track might be on another continent, and it doesn't really matter. On top of that, there's also a feature that enables all creators to split the rights to the song, which ensures that everybody gets paid fairly. Making that last step easier can open up time for more creating and less haggling or any legal drama.
Sometimes you hear another musician play or a singer sing, and you fall instantly in love. Fellow creators find that crush and immediately begin thinking about how they could emulate and work with the other, and from there, magic can happen. SongwriterLink aims to connect songwriters that complement each other perfectly, which should hopefully lead to amazing music. In fact, the startup claims that it "uses matching engine technology – the same kind that dating websites use – to help users find exactly the type of songwriters they're seeking for collaborations." It's really interesting to see a music startup finally focus specifically on songwriters, who are all too often ignored.
British startup Clowdy is a bit different from the other suggestions on this list, as it's almost like a site for showing off a creative portfolio. The company lets everyone from filmmakers to musicians display what they've done in the hope of landing gigs and finding people to work with in the future. When creators are uploading their works, they can also be meticulous with giving credit to those who helped out or contributed, which is something the industry is famous for not worrying about. Any given album or music video can have tons of people helping out with this or that, but they often go unmentioned. Still working on new features, Clowdy is already a great way for people to showcase everything they've done.
Kompoz is kind of a collaborator's free-for-all, and that's what makes it so much fun. Anybody can upload any bit of music – a guitar chord, a bit of piano, or a killer vocal hook – and sit back and wait for others to listen to it and add their musical two cents. A track can go from one interesting synth to a finished song in no time, but sometimes what people add doesn't mesh with all the creators. There are, of course, ways to work around bad contributions, but it is interesting to see where songs go.
[3 Lessons You Learn About Songwriting Collaboration After Doing It for 30 Years]
Melboss is similar to Kompoz, SongwriterLink, and FindMySong in that musicians and singers can find one another and get to know each other before collaborating, but it takes things a step further by incorporating all kinds of music professionals. Once musicians have gotten together and created something special, they can then work with publishers, label people, and even those booking shows or festivals to get that song out there. Still just getting started, Melboss will be a great place to come to meet everyone you may need to take a project from start to finish once it is a bit better populated.
Hugh McIntyre is a freelance pop music journalist in NYC by way of Boston. He has written for Billboard, The Hollywood Reporter, and MTV, as well as various magazines and blogs around the world. He is also the founder and editor-in-chief of the blog Pop! Bang! Boom! which is dedicated to the genre of pop in all of its glory.