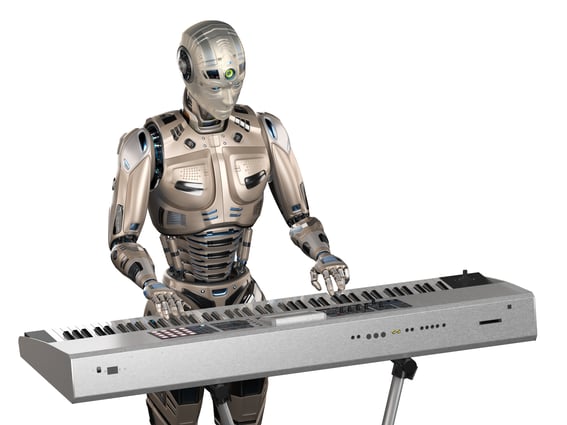 It wasn't so long ago that artists relied on record deals to make or break their careers, and album sales mattered more than Spotify streams.
But that world is almost completely gone—the music industry looks completely different than it did even ten years ago and while that might be a little scary, it also means room for brand new thoughts, ideas, and ways of doing things that can give musicians back their power, and bring music and art back into the world in new and exciting ways.
But it does beg the question—what will that look like?
We gathered some of the industry's experts to ask them that very question. What will the next decade of music look like? But first...
Decade in Review: Streaming Services Have Taken Over
Before we skip ahead another decade, I wanted to review the most significant change we've seen in the last decade—streaming services. And how could it not be? Where artists once vied to get their song on the radio, now it's all about streaming.
Everything from how high your stream count is to how to get on a Spotify Official playlist (and how the two constantly interact and complement one another) is ever-present on musician's minds. It's tough to see this one going anywhere—and according to Michael Blum, that's actually a good thing.
"By and large, I think breaking through in the music industry is much more possible due to the rise of streaming platforms. The music industry is more egalitarian now than it ever was because independent artists can release their music worldwide, and possibly receive the support of editorial and independent playlists. Of course, this opportunity means that independent artists today must have a lot of initiative to set themselves up for success—they are their own record labels, marketing teams and PR companies."
Ok, but what about the next decade? What's going to happen in 2030?
Text Marketing
Have you ever signed up for something (a freebie, a Facebook challenge, etc) and been messaged by a bot via Facebook Messenger? Or maybe you've gotten texts from different political campaigns asking you if they can count on your support at the next rally, or to make a donation? These are all examples of text marketing, and with the ever-changing social media landscape, it's being seen as an burgeoning new way to reach (and engage with) your fans—something social media can sometimes feel like it's slowly taking away.
"With the constant change in algorithms, we are now seeing a decline in engagement on one side of the spectrum. This is forcing artists to draw their audience off of social media and through text marketing. Which is one step closer to the traditional way of marketing in the past," explains Breanna Marie, of The Hip Hop Societea Podcast
To be honest, I can't believe this hasn't already happened—most of us are already on our phones 24/7 and certainly more reachable by text than anything else. Still, it's interesting to think of how well (or not well) it will be received.
The Rise of Documentaries to Promote Records
This is perhaps one of the most fascinating to me. In recent years we've seen a lot of major label artists utilize this method—for example Beyonce, Taylor Swift, Lady Gaga—but I've also seen a few indie artists begin to explore this on a smaller scale, and I think it's absolutely fantastic.
"I think it's truly fascinating what the next decade will bring the music industry but my gut feel is it will be positive for musicians, songwriters and other creative practitioners. Here's some things I think we may see," explains Rodney Holder of Music Business Facts.
"The rise of music films and documentaries to promote records. Think Taylor Swift Miss Americana, but the model will be potentially utilized by small indie artists."
This is one I personally can't wait to see play out.
No More "Owning Music"
For a long time now we've battled with the idea of how sustainable it really is to sell an album. After all, most revenue for an artist will come from merch and touring, and not the music itself. In this next decade, that's likely to go away almost completely.
"I think the concept of "owning music" will fade almost completely, and for those looking to "buy" a song or album, there will be a continued second-coming rise in vinyl releases of key albums and singles," explains Evan Griffith, President/CEO, Fire Tower Entertainment
Speaking of...
The Rise of Singles
We've always known the power of a good single to get your music off the ground and begin to gain traction. But as we move further away from the traditional models, and as our audience's attention span gets shorter, we can expect to see that gap continue to increase—and for the power of a single driven world to increase.
"I believe we will also see a rise in singles distribution, similar to how singles used to be released on CDs in the late 90s and early 2000s," says Breanna Marie. "Consumption to music is ever-changing and the attention span of the average fan is shortening as the years go on. So dropping consecutive singles and promoting them like an album, will be at the forefront and crucial to the success of the later project."
But, continuing on, Breanna says this is actually great news for the independent artist.
"I personally believe this is the time for the independent artist to thrive. The industry has in many ways become a blank canvas where there's room to control more outside of the technicalities. They can utilize the resources and there isn't much need for a [traditional] label.
The Importance of Influencer Status
Another way to say this would be that the importance of your brand is not going away.
"It's a lot more personal nowadays," explains Breanna. "Before there was a mystery behind some of our favorite artists, now consumers want to know more about you beyond the music. If you know how to market yourself as authentic as possible, then you will see success in this industry. "
Supporting this, Justin Jacobson, of The Jacobson Firm (Entertainment & Music Attorney) says "I predict that the shift from musician to "entertainer" or general "influencer" will continue. This is especially true as musicians continue to expand into ancillary avenues such as fashion, art and gaming. I also predict that most successful musicians will continue to put a large focus on creating and cultivating a unique personal "brand" and how working on how they leverage and interact with their fans."
Amen to that!
More Genre-Blending
The first time I really experienced a band that could blend genres and not have it feel forced or choppy was Twenty One Pilots. Certainly, they weren't the first to do it, but arguably they were one of the most popular, certainly within the last decade to find a way to play with genres and blend them not only throughout an album but within one song. In the next decade, we're likely to see a lot more of this.
"I think that artists are experimenting and blending genres more than ever before and we're hearing more organic instrumentation in production because of it," says Isaiah Dominguez , Singer/Songwriter/Guitarist for "Isaiah Dominguez + Las Olas"
You can thank the rise in easy to use tech and access to tools artists have never before had, for this upcoming transition.
More Collaboration
Collaboration and sponsorships have always had a place in the music industry, but in the next decade, expect to see artists forced to get outside their bubbles and make new opportunities through different communities.
"Artists need to adapt their perspectives and find opportunities to cross-collateralize their audience across different spectrums and communities. Often, artists tend to stay in their own communities which creates the typical "thought bubble" effect.." shares Antriksh Bali, a freelance composer and music supervisor for film, television and video games.
More than ever, connecting with other artists, companies, and brands to help build on and spread your message is going to be one of the most powerful trends we expect to see come to rise.
While the next decade is still up for prediction, it's hard to argue the changes we're already seeing. While there are certain mainstays we can expect to stick around—like streaming, live shows, and the ever-evolving importance of fan connection and community—what's perhaps most exciting is to see what comes of the things that we haven't even dreamt up yet. The things we can't possibly imagine, that will soon make it easier than ever for indie artists to get their music out there and connect with their fans. Only time will tell.
Angela Mastrogiacomo is the founder and CEO of Muddy Paw PR, where her artists have seen placements on Alternative Press, Noisey, Substream, Spotify and more. Join her for her free Masterclass 'How to gain your next 1,000 fans. 3 simple steps that lead to higher engagement, sold-out shows, and life-changing opportunities'.