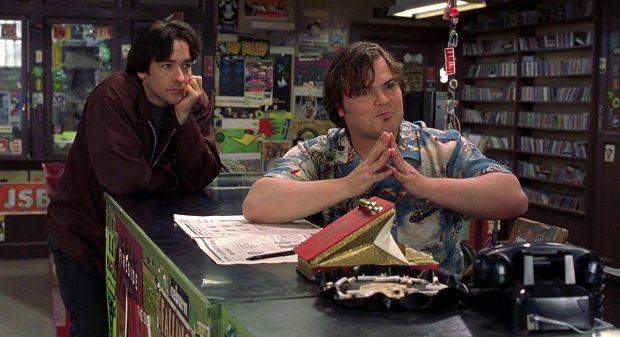 Image via romcomchallenge.wordpress.com
You know the story: one fateful night at the local music hot spot, an up-and-coming local band is playing a show to a packed house. The place is going wild when suddenly, the crowd parts as a hot-shot record executive strolls in. The band plays their last song and starts packing when, out of nowhere, a sweaty, diamond-ring-encrusted hand is thrust into the face of the lead guitarist. It's the hot-shot record executive, and he wants to offer the band a record deal. It could happen to you, right?
Don't count on it!
The reality is, if your band isn't very well known, there's a slim chance of attracting a high-ranking record executive, producer, manager, agent, or any classic representative of the old music world. Instead of leaving your band's success up to some fateful meeting, step back and think about who you already know or see often. If you're an active musician working on making your presence known in your local scene, these eight people you probably already know can help you get your music into the right hands and keep your career in music rolling.
1. The barista at the local coffee shop
It doesn't matter if you like coffee or coffee shops – the local coffee shop is going to attract local music lovers. There are probably lots of flyers for shows on the windows already. Next time you walk by or need a cup of coffee, introduce yourself to the baristas working. Mention your band, and ask if you can hang up flyers or leave a stack of CDs next time you stop in.
[5 Gig Posters to Inspire Your Own]
2. The DJ at your favorite college radio station or podcast
Spend a lot of time listening to college radio or podcasts? If they're playing bands you like or similar-sounding bands to yours, stop listening and start communicating. The people DJing for college radio stations and podcasts are just like you: a fan of music. Find their contact info online and send them a short, polite message introducing yourself and your music. If they like what they hear, they might want to play you or introduce you to someone who can help you get your music heard.
3. The clerk at the music store
This might seem obvious, but it can be surprising how few musicians look to their local music stores for support. These people spend their lives buying, selling, sorting, and organizing music of all styles. If you need any sort of information, from cool bands or places to play to what's happening this weekend, your local music store clerk probably knows more than he wishes he did!
4. The sound guy at the local venue
There might be no better resource for learning more about your local scene. If there's a bar or club where you regularly see bands, chances are the sound guy has seen a hundred times more bands than you. Introduce yourself and your music, and the sound guy probably can point you to the venue's talent buyer, introduce you to other similar bands, or just hip you to anything you might be interested in knowing about playing at that particular spot. All crucial info!
5. Your friend who runs an independent record label
Maybe you're already out and about in the local music scene, and you happen to be friends with someone running his or her own independent label. You'd be surprised at how common this is! Whether or not the label puts out vinyl, CDs, cassettes, or even just digital, your friend might be willing to release your music if it fits the label's style (and it's good). It never hurts to ask. Even if your pal can't or won't release your stuff, he or she can point you towards other labels that might be interested and help you connect with other bands or musicians.
6. That Facebook friend who you know is a successful musician IRL
Facebook is breaking down more walls than ever, letting musicians connect with each other regardless of where they live in real life. If you've been on Facebook long enough, you've probably seen some well-known local musicians or even famous musicians come up in your feed as possible "friend" connections. Add them as friends and send them messages! Introduce yourself and your music, and let them know that you're a fan of theirs. You might be amazed at the responses you get.
7. Your family
This might seem like a no-brainer (or totally embarrassing), but your family can be a surprising resource for advancing your music career. Keep them knowledgeable on your doings in the music world and invite them to performances, even if you know your dad won't be moshing in a basement anytime soon. If you and your family have a decent relationship, they might mention you and your pursuits to someone who can help you down the line. Remember, you are being proactive. Swallow your pride and believe in your music!
8. People in the hallways at your rehearsal space
If you practice at a dedicated rehearsal space, chances are you aren't alone. Next time you're taking a break from your band or music, hang out in the halls and see who's around and listen to what other bands are playing. Knock on the door after you hear some awesome band stop playing, and introduce yourself. Next time you talk to someone randomly as you walk to your space, politely let them know about you and your band.
Above all, don't give up hope. For every person interested in your music, there might be 10 people that aren't. Don't worry about it. Keep spreading knowledge of your music, and keep meeting people. Sooner or later, someone who can help you will take notice.
Christopher DeArcangelis is an active musician and copywriter from Chicago. He writes songs, plays guitar, and sings vocals for the rock and roll band MAMA and is the founder of the creative agency Static Free Industries.