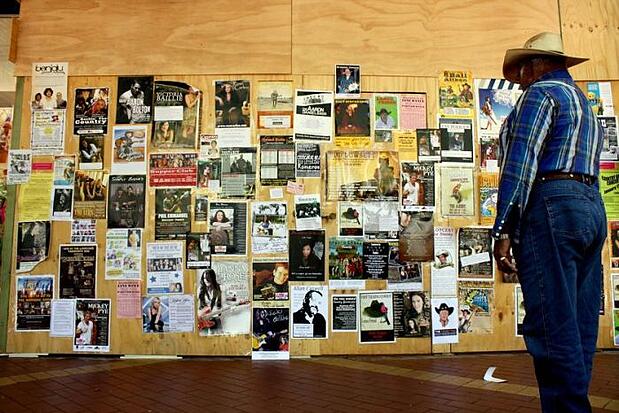 Image via abc.net.au
The design of your gig poster is often hugely impactful to the turnout, especially if you're a rising independent band that doesn't draw a crowd solely based on your name. A stellar advertisement for your show will excite your existing devotees, lure in fair-weather listeners, and even attract brand new fans. It can do wonders not only for the promotion of one show, but also for your music in general. If it's memorable enough, it could travel further than just the local walls on which it's displayed, taking the sound and brand along with it.
Commissioning one of these five incredible artists is a more than safe bet you'll get a superb poster, but we realize that, financially, it's simply not a possibility for many independent bands. That's why we've included tips to assist in echoing the feel of their work, info you can use to collaborate with an artist who's within your budget, or try your hand at design if you feel confident enough. However you choose to interpret these excellent designers' work, don't forget the creativity and DIY gusto. You don't want to wholly emulate these ideas, but rather, let them lead you or your artist to a poster that fits your own unique sound.
Image via flickr.com
Why we love it: The eyes are the busted-out windows to the demented soul of Lyon's art for rock 'n' roll shows. A bulging, bloodshot set on whacked-out monsters, mutants, and aliens is easily the most consistent element of the Michigan artist's MO. There are obvious similarities between his characters and Ed Roth's iconic Rat Fink, especially when they're posed on hot rods. But Lyon's work is more an inspired continuation of that style than a straight-up copy. Frayed and hairy-looking fonts, bold colors, and the occasional freaky phrase (i.e., "Be there or be damned!") are crucial finishing touches to his signature crude design, which is increasingly becoming as much a representation of the garage and punk underground scene as it is an actual part of it.

How to get the style: Imagine your party animal side as a literal being. What would that creature look like? Don't hold back on the nuttiness in dreaming up its attributes. Humor – even toilet humor – is necessary. Feature your one-of-a-kind loon proudly as the centerpiece of the poster, and consider trimmings like sludgy or drippy fonts to get the full effect.
Image via savannahmcanally.com/
Why we love it: Based in Austin, Texas, McAnally frequently designs for local booking stronghold Transmission Events, an agency through which she's crafted posters for well-known indie acts and also the most recent Fun Fun Fun Fest. Accordingly, her aesthetic is a flexible one that culls from a range of inspirations. Our favorite approach, however, is when she meshes presumably vintage photographs with digital elements. The outcome of that juxtaposition is strangely surreal, yet oozes with can't-look-away-caliber beautiful.

How to get the style: Antique or retro photographs can be sourced online and printed, but if you want truly special images nobody else is likely to have, try a library for old books or newspapers. Opt for a subtle digital accent that still affords the photograph the greater share of the spotlight.
Image via kentaylor.com.au
Why we love it: This international artist's roster of clients is impressive – Pearl Jam, Nine Inch Nails, Queens of the Stone Age, Blink-182, Metallica, and Bon Iver are just a few of the big-shot acts he's created for. Despite all the high profile work, however, he still designs for independent and even local bands; after all, that's the market in which he honed his skills in Perth, Australia. Now a resident of Melbourne, Taylor's touch has grown consistent and easy to identify. There's something regal but gothic about the strokes and lettering; he often presents a blend of beautiful and scary or dangerous, like wild animals looking powerful but uncontrollable. Taylor also frequently depicts gorgeous but subtly sinister or haunting people, as seen in this poster for First Aid Kit (above).
How to get the style: Think of something wondrous – be it a person with a certain look or a fascinating animal – then ponder its intrinsic allure. Not being able to pinpoint the why is a little unsettling, right? The first part will conjure up the beauty, and the second will lead you to the gothic or haunting factor.
Image via tragicsunshine.com
Why we love it: Proving that Austin is not only a hub for musicians but also artists of other mediums, here's another stellar designer who currently calls that Texas city home. While he's created official gig posters for indie giants like the Black Keys and Bon Iver, he's no stranger to being commissioned for on-the-rise headliners. Tong generally opts for hand-drawn – even the lettering – then adds digital accents for one-of-a-kind pieces that are mesmeric for their detail and often ethereal style. This poster for experimental electronic artist Baths' hometown show is exemplary of Tong's work, for which he often provides step-by-step process videos on his YouTube channel.
How to get the style: The sketch is the bedrock of this style, and Tong says in the tutorial for the poster above that geometry is a priority. For help finding your own ghostly or whimsical starting points, try checking out the Greek and Roman Classical period, as well as the Neoclassical movement in the 18th and early-19th century. Also, of course, watch some of Tong's many video tutorials for help.
Image via fridaclements.com
Why we love it: This award-winning designer has worked with bands like Thao and the Get Down Stay Down, the XX, Andrew Bird, Damien Jurardo, the Head and the Heart, and a slew of other recognizable names. There's a softness to her illustrations, the bulk of which are nature-themed and colored in subdued tones. Even when she incorporates geometric shapes, there are undeniable earthy undertones in this Seattle artist's aesthetic.
How to get the style: Scandinavian art is at the heart of Clements' influences. Peruse some, and keep in mind the overall gentle feel of the style when working out your own interpretation.
Jhoni Jackson is an Atlanta-bred music journalist currently based in San Juan, Puerto Rico, where she juggles owning a venue called Club 77, freelance writing and, of course, going to the beach as often as possible.