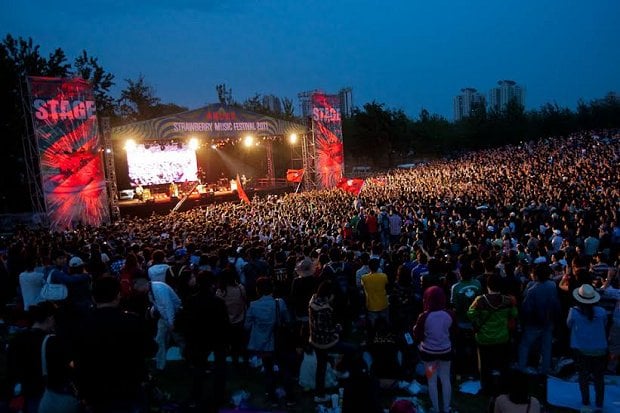 Photo by Modern Sky
Have you ever considered playing a gig in China? It may seem like a far reach for an American band, but cities like Beijing and Shanghai have quite the growing music scene with some of the most devoted music fans in the world and an array of big names stopping through to perform in recent years. Events like the Strawberry Music Festival and Chaoyang Pop Music Festival are essentially the SXSW and Coachella of China (past performers include Buzzcocks, Yeah Yeah Yeahs, Cat Power, Justice, Explosions In The Sky, and more), and they're arguably the easiest way to break your band into the Chinese music scene.
If you're thinking about adding an Asia stop to any upcoming international tour plans, here's what to expect, what to look out for, and how to make the most of your visit to China!
1. China loves music
The Chinese youth have an extreme passion for music. The Strawberry Music Festival alone is filled with 250,000+ people dancing, clapping, shouting, and having a good time. They love to party and have fun, and they especially love international bands!
2. You'll feel like a celebrity
The Chinese people will often ask foreigners if they can take photos with them, especially international bands playing the music festival. Once you get off the stage, prepare yourself for photos and autographs! Fans will follow you everywhere, so having an extra pair of drumsticks or guitar picks to hand out is always a good idea.
3. You can pack pretty lightly
The weather is usually very nice around festival season, so pack lightly. You might encounter some rain, so it's smart to bring a hooded coat or sweater, but you should be comfortable in a T-shirt or tank top. The festival stages are also located conveniently close together in Shanghai and Beijing. The stages are spread out over a big open field, and the city surrounds that field.
4. The price is right
One Chinese Yuan equals 0.16 US dollars. You're well-fed (with a few beers on the side) for around five American dollars, and you can find inexpensive, authentic Chinese food and drink carts all over the city. Also, it's not customary to leave a tip!
5. Noisy is normal
In China, people are used to dining in noisy environments, which is considered welcoming and joyful. So, if you need to call a waiter in China, call loudly. Very loudly. Shout "waiter!" and wave your hand. It's also appropriate to stop anyone in the restaurant and ask them for something. This isn't rude, it's expected!
6. Cold water is not a thing
Cold water? It doesn't exist at the dinner table in China. Hot water is almost always served, even in the middle of summer and even while eating the spiciest food imaginable. And if you order a beer or a bottle of water, you better ask for it cold, as their inclination is to serve it room temperature. Definitely learn how to say "cold" in Chinese!
7. Drinking and smoking happens everywhere
In China, you can smoke and drink anywhere you'd like. People smoke in restaurants, bathrooms, bars, airports – everywhere and anywhere. Same with drinking. Open container laws definitely do not exist in China, so enjoy!
8. Not fluent in Chinese? Bring a translator along
There is definitely a language barrier. Most of the younger crowd in China speaks English fluently, but the older generation does not, which could make it difficult to get around and order food. Brush up on some basic Chinese before you head to China. Having a translator comes highly recommended.
One lucky Sonicbids artist will be selected to play three performances at this year's Strawberry Music Festival and Chaoyang Pop Music Festival in Beijing and Shanghai this May! The selected artist will receive a $1,000 travel stipend plus local transportation, meals, accommodations, and an interpreter. This is a rare opportunity that you don't want to miss out on! Apply by March 5, 2015 for a chance to play (for only $15).
Mike Brandon is a booking assistant for the Strawberry Music Festival.