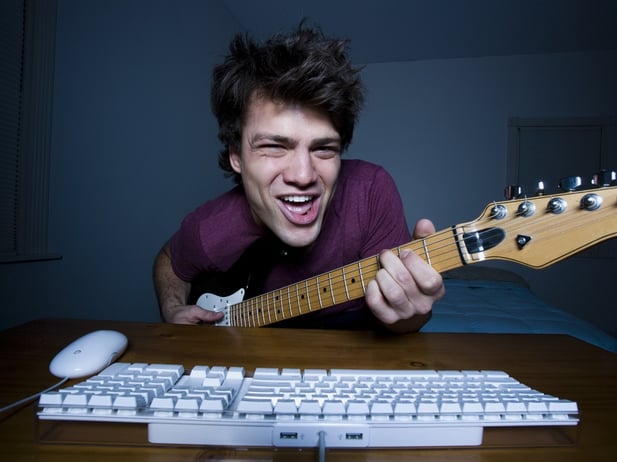 Image via Shutterstock
For musicians, the act of getting up onstage and putting on a performance for a live audience is a routine part of the job description. It's what you love doing and why you've practiced for all those hours. For some, it's even become second nature.
But now there's a new type of performance that fans have come to expect and it's very different from what artists are used to. It's called live streaming, it's the future of fan engagement, and it requires a whole new set of performance skills.
Anyone with a webcam or smartphone can broadcast themselves in real time to an audience nowadays. Unsurprisingly, many of the most popular broadcasters are musicians, as live streaming offers an interactive chat environment where artists and fans are connecting in unprecedented ways.
Audiokite recently partnered with YouNow, a live streaming platform with over 100 million user sessions a month, to study how fans think about musicians on live streaming. You can read the full results here, but today, we want to focus on the eight things artists need to know in order to get the most out of their live streaming experience, as the study revealed. Here's how to thrive when live streaming.
1. Music trumps all
We learned that three of the top four rated broadcast activities all relate to playing music, with "original songs" as the favorite thing fans want to see on live streaming. As a musician experimenting with live streaming, the first activities to master should be songwriting and playing. Music is the thread that binds performer and audience, and it's the most organic way to communicate with fans from the get-go.
2. Let your personality shine through
Live streaming is as close to a face-to-face meeting with fans as we have today, and that means the performer is more of a focus than the art being performed. After analyzing thousands of anecdotal comments from the study, it's abundantly clear that the best musician broadcasters are:
consistent
flexible
comfortable with mobile
creative
interactive
personable
authentic, above all else
3. Be spontaneous...
Intrigue and interest seem to be the prevailing themes of the study results. "Interested" is a feeling most often associated with watching YouNow broadcast examples, referenced over 7,100 times, and the "unscripted and spontaneous nature of the platform" is the primary attraction point for both consumers and artists. Fans are excited by the "realness" of live streaming, and musicians should take advantage of this unique aspect by responding and reacting to the audience's vibe as appropriate.
4. …but have some general structure to your broadcasts
While both consumers and musicians singled out YouNow's "unscripted and spontaneous nature" as their favorite part of the platform, some of the remaining data conflicts with this view. Again, the top-rated broadcast activities all involve performing previously written songs – not much spontaneity there.
The third most frequently noted feeling is "bored." Musicians rated "songwriting with the audience" as the second best activity for engaging with their fans on YouNow, but listed seven other broadcast activities they'd prefer to try before it. Fully unscripted live broadcasts can be daunting for both musicians and fans. To keep the audience engaged throughout a live stream, musicians should have a broad plan for each broadcast, while always leaving room for impromptu activities and interactions.
5. Audience interaction can be a fickle beast
The three broadcast activities rated the lowest are primarily audience-broadcaster interactions: "guesting/split screen," "impromptu audience topics," and "audience Q&A." "Guesting/split screen" is the lowest rated activity across the board and the only one associated with an "irritated" feeling. Live streaming differentiates itself by the direct connection between audience and broadcaster, so this data is quite noteworthy.
Our assumption is that the one-percent rule comes into play here, where the vast majority of viewers don't intend to directly participate in broadcasts, and so these types of activities are of less interest to them. For first-time broadcasters, be aware of your audience's reactions to these types of activities, and consider slowly testing the waters in small doses during your regular song-playing broadcasts.
6. Participation comes in all shapes and sizes
Around 70 percent of viewers on YouNow participate in broadcasts in some manner. Not all fans will want to sing a duet on camera or post dozens of comments during a broadcast. We observed many audience members using YouNow's virtual gifts – thumbs up, tips, hand claps, even marriage proposals – to express themselves. Musicians should take note of this and recognize the need to treat fans individually based on their preferred methods of engaging.
7. Live streaming is the new backstage meet-and-greet
Regardless of a fan's level of participation in a broadcast, nearly everyone loves being recognized by his or her favorite musician. Chris Williams, iHeartRadio's chief product officer, said that the appeal of YouNow is that it recreates the radio tradition of having meet-and-greets with artists at scale. Musicians should take every opportunity to personalize interactions with broadcast viewers.
8. Integrate calls-to-action
When teen pop singer Jacob Sartorius released his newest single on iTunes, he held a YouNow broadcast in which he prompted his fans to buy the track. He tracked the purchases in real time and gave live shout-outs to all those supporters. As a result, "Sweatshirt" reached number 10 on the iTunes charts that day.
We observed this type of direct call-to-action across several broadcasts, which seemed to efficiently focus the audience as a single unit. Musicians should look at ways to integrate community actions like this, whether it's to increase YouNow channel subscribers, vote on their favorite song, or download a new track.
With some musicians making $10,000 a month and others getting signed to label deals thanks to their exposure on sites like YouNow, live streaming clearly offers an opportunity for artists to build and engage their fanbases in a unique way. But growing consumer demand for unscripted performances requires an entirely new skill set for musicians. These eight tips should be a great start to your live-streaming career.
Next up:
Dave Marcello is Head of Artist Growth for Audiokite Research, where musicians, labels, and media companies get insights to better understand their audiences through crowdsourcing.