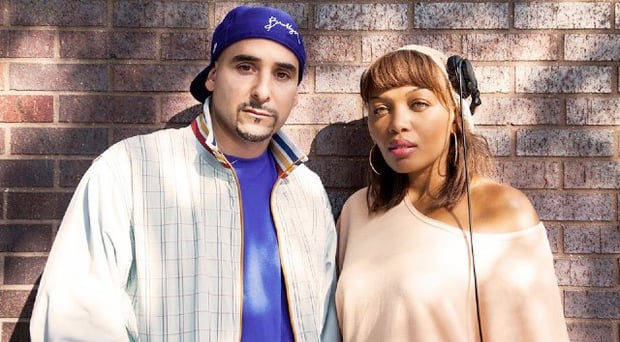 M-TRI & DJ Leecy T connected with overseas artists through music videos and collaborations, but building an international fanbase still takes time. (Photo courtesy of M-TRI & DJ Leecy T)
Performing in front of hometown crowds always makes for a great night, but why limit yourself to just being a local hero? There's an entire world out there, and there's no reason you can't be performing in front of international crowds.
One of the great bonuses of being an artist is having the opportunity to see the world. You may think you need a huge record deal and an international marketing team to make that happen, but in actuality, a plethora of indie artists have developed followings overseas all on their own. I spoke with nine indie artists who have international fanbases to find out how they've gone about attracting fans from overseas, and the steps they've taken to foster the continued growth of those fanbases while at home in the States.
What would you consider to be your "in" when it comes to breaking into the foreign markets in which you have a following?
Homeboy Sandman: Great music and a great live show go a long way in foreign markets. Celebrity culture in the United States can make it very challenging to garner support based solely on talent. Outside of the States listeners feel way more comfortable celebrating and supporting great music, even if it's widely unknown.
M-TRI & DJ Leecy T: We would consider our "in" to be videos and collaborations with artists in those countries. Videos online are important because of the worldwide exposure, and the collaborations are important because the fans in those countries are already familiar with the artists in their country. It's great cross-promotion.
Hired Gun: If there is an "in" that myself, or anyone working in the independent circuit, has, it's really taking the time to foster and build relationships when the opportunity presents itself. The network that I've been able to establish is a decade-plus worth of connecting and supporting like-minded artists in other markets. Oftentimes people are looking for shortcuts, and there certainly are some, but what I've seen work more times than not is establishing real relationships with producers, promoters, and other artists in those markets, and figuring out, one, is there a mutual respect/admiration for the art beyond "business," and two, how can both people reciprocate ways to help audiences and exposure grow? No relationship can work if it's one-sided. Not long term anyway.
Tah Phrum Duh Bush: My "in" is my nonstop connecting with new people. That [phrase] "you never know who you are talking to" is one of the truest statements ever! My first "in" to the European market was not being afraid to walk up to some beatboxers from the Czech Republic, and introducing myself to them. Other people acted as if they were made of glass or were from Mars or something. I introduced myself with no fear. I ended up offering them a place to crash, as their accommodations were suddenly an issue. They ended up recording an album in my project studio and flying me out to the Czech Republic for the release. While in Czech, I spoke to every living soul I could, English or no English. I built my own network. I met people from Germany and France while I was in Czech, which expanded things outward. I do not have a rock star mentality. I talk to everyone. That is my "in."
Baba Israel of Soul Inscribed: My relationships to foreign markets have often come from networking, and building connections with like-minded artists. As an artist, when I have been at conferences or festivals where there are international artists present, it's a great chance to build those links. I was lucky enough to catch the attention of some promoters in Europe who consistently brought me there, but I often took risks, and self-invested in traveling to other countries to build on those opportunities. Some collaborations can also begin online through musical collaborations and build into touring possibilities.
Adam Met of AJR: One of the best methods for us has been going after sync licensing. In Australia, we got a great sync for a TV show called Bringing Sexy Back. In having a commercial circulate before we went to radio, we ensured that people already knew the song, and it had made it into the culture.
How long did it take to go from having an "in" to finding success internationally, and what fostered that success?
M-TRI & DJ Leecy T: It took a couple of years of videos and collaborations, plus actually going over to tour in Europe really ignited the fire.
Hired Gun: Several years. Once you are on the radar, to really establish yourself is no different than in your home market. You have to consistently show up and consistently produce. A lot of independent artists don't realize that getting a contact and going overseas once or twice isn't going to mean you're "in."
Baba Israel of Soul Inscribed: It really depends on your focus and how much energy you are putting into establishing yourself in that area. The key to fostering that success is staying in touch, and finding symbiotic ways to collaborate with artists, promoters, and organizations. I think it's helpful to consider what you can offer to potential partners to strengthen your connection.
Once you find out you have an overseas following, how do you go about nurturing that following from the States?
Substantial: It's important to have folks around you who can translate your press releases, and even more important to have a way – be it social media or a mailing list – to keep those fans updated. Try to stay in contact with the ones who put in you in that position, as well.
Hired Gun: By being consistent in letting them know what's going on with you creatively. Something else that's very important is finding ways to directly create with the artists in that market. I have more collaborative projects with international artists than I do in my own city! That wasn't exactly planned, but as an artist, ambassador, and educator, I've moved and gravitated the most to where my work has been valued, respected, and appreciated. Local or international, it doesn't matter. Go where the love is.
Tah Phrum Duh Bush: The best way to nurture my following has been to be active on social media. Fans get to follow my story in real time and get to feel like they are a part of things globally. It is instant. I also maintain an email list, which is absolutely pertinent to success in this game. The people who are on your email list are on it because they signed up. They really want to be there, so you have to use that list!
Adam Met of AJR: We share what we are doing with all of our fans throughout the world. We want to make everyone feel included, even if they are thousands of miles away. Everyone gets to participate in listening to the music, so why not get to be a part of the other aspects of our music life?
[Checklist: What You Need to Know to Perform Overseas]
How big of an issue are language barriers?
Substantial: [Language barriers are] not big at all, but it's good to learn the language.
Tah Phrum Duh Bush: I do my best to learn at least a few words and phrases in the language of the countries I go to. It shows that you actually care about the people there. People like when you make an effort. It shows you value them. When you do that, they will value you.
Homeboy Sandman: [Language barriers] affect song selection more than anything else. If I'm in a part of the world where English is sparse, I'll do less a cappellas and more rhythm-intensive stuff, both beat-wise and delivery-wise – stuff that's more about how I say it than what I actually say. The sound always translates.
Hired Gun: Globally, so many parts of the world already are multilingual, and in many of these places their second language is English. Also, as a hip-hop artist, many of the people within the culture learned about it from listening to American music, so they are used to the language. On a deeper, spiritual level, though, rhythm is rhythm. In places like Brazil, where I've toured several times, it's the beat and the voice that they love regardless of whether or not they can understand what is being said.
Baba Israel of Soul Inscribed: We just returned from touring non-English speaking countries, and were surprised how common English was spoken. Even when it wasn't, there was still a strong response to our concerts and Instagram channel after the show. Music is truly a universal language, and often an entry point into learning another language.
Hanna Brewer of Purple: It's not really that bad. Sometimes phone interviews have been hard to understand, and one time we stopped in the middle of nowhere in Germany at this gas station, and I was trying to find the restroom, and I couldn't understand any of the signs. I walked down these stairs and I was like in this weird dungeon-looking room and this lady comes out of nowhere, just like yelling at me in German. I was like, "Damn! Alright! I'm outta here!"
Have you ever performed in a country you had no following in as a way to develop one there? If so, how did that work out?
M-TRI & DJ Leecy T: Yes! We booked some dates in France. Our first gig, it was obvious that not many people knew who we were, but by the end of the night they were rocking with us! We gave out a lot of cards and got some new fans. Definitely going back there on the next tour!
Tah Phrum Duh Bush: I had zero following in Australia. Went out for three weeks, and now I have a bunch of people! It worked out amazing!
Homeboy Sandman: I've definitely rocked some spots where very few people knew me, but I think by the time I went international I'd already performed in front of enough people who'd never heard of me in New York, and in the US [in general], to win enough clout to have my music arrive in faraway lands before I did.
Adam Met of AJR: We toured the UK with Hoodie Allen, and it really helped us to build our UK fanbase. Even though the tour was small, many social media influencers came out to the shows and started using our music on their YouTube channels. That really helped our music grow and make its way into the culture.
Hanna Brewer of Purple: Yes. Nobody knew us in Europe, but we were opening up for bigger acts like The Subways, Elliphant, and Twenty One Pilots, so we got to play to some really awesome crowds and got a lot of exposure. It was great.
The common themes here are to never stop connecting with people, and use the tools the internet gives you to grow and involve your overseas fanbase. Focus on those things, and you'll give yourself the opportunity to have your music take you around the world.
Adam Bernard is a music industry veteran who has been working in media since 2000. If you live in the NYC area, you've probably seen him at a show. He prefers his venues intimate, his whiskey on the rocks, and his baseball played without the DH. Follow him at @adamsworldblog.