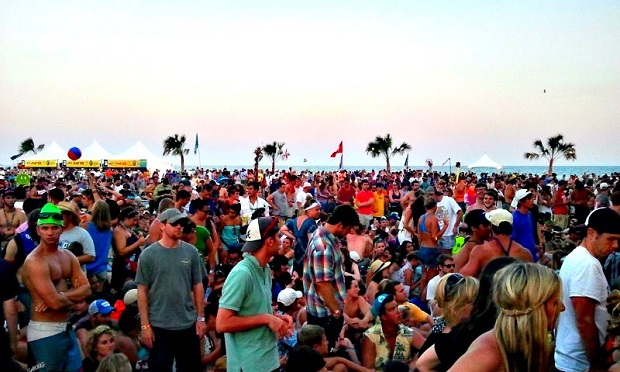 Image via Wikimedia Commons
Playing overseas for the first time is a big jump for many bands and may hold the key to widespread exposure. However, what should be an exciting personal and professional experience can become a nightmare if proper steps are not taken to board a plane, perform in a foreign country, and travel from city to city abroad with minimal hassle. Use the following checklist to make sure your next international festival or tour is smooth sailing!
1. Check if the country requires a work visa to perform
Work visa rules vary around the world, so it's best to do your research beforehand. It also helps to ask musicians with ample experience performing overseas. "Work visas are needed for the UK, New Zealand, and Australia," says guitarist and vocalist Andrew Eistner of well-traveled stoner rockers Torche. "I'm sure there are others, but these are the ones I have experience with." The US embassy in the country to which you're traveling can provide the necessary information if online research or talking to peers leads to a dead end.
2. Have a plan for transporting your gear and personal items
One potential stressor when it comes to touring overseas is transporting gear and personal items via an airplane. Again, research and chatting with fellow musicians can sidestep any hold-ups at the airport. "I take with me two guitars in a double gig bag. Gator sells a super nice one," Eistner says. "Also, [I carry] a condensed, bare-necessities pedal board. We rent amps, cabs, drums minus snare, cymbals, and kick petals as backline from Nomads of Prague, where we also rent our Sprinter van and driver/tour manager. They are outstanding."
Singer Mike Keenan of Atlanta noise rockers Hawks suggests other items that will make international touring simpler. Among his suggestions are:
a cell phone that can hold a European SIM card
a power adapter and cable for charging phones via USB
international money procured from a bank at least 72 hours before departure
a small disposable camera
a light jacket
a clean pillowcase
a round of cold medicine
Even if carrying guitars and a bare-bones drum-and-pedal setup onto planes is all that's needed, some of those pieces of equipment are far from cheap. That's why insurance on musical equipment should be taken into consideration by bands who anticipate becoming frequent flyers.
3. Pick a tour manager with experience
One major decision stressed by Keenan is the selection of a tour manager, a potential remedy to logistical issues and language barriers. "Driving overseas is a nightmare, and there's going to be enough to worry about without also worrying about how to get from point A to point B," he says. "It'll also help you get across the borders without much hassle. Ask around about the driver before you let them 'take care of you' for a month. You're going to be spending time with this person and putting your life in their hands. Don't be stupid."
4. Calculate foreign artist taxes
In many countries, there's a tax to claim a percentage of your earnings – and that includes live shows. According to Andy Reynolds of LiveMusicBusiness, bands playing in Germany and earning 1,001 Euros or more are taxed a whopping 24.9 percent in fees. Artists should consider asking for their guarantee or cut of the door as a net amount, or at least factor in how this tax will affect tour finances.
5. Apply to play international festivals
It's close to festival season in Europe, and it never hurts to ask if your band can play (because that means guaranteed music fans at your performance!). One huge event seeking an opening act exclusively through Sonicbids is the 29th annual Arezzo Wave Love Festival, held June 17 to 21 in Arezzo, Tuscany, Italy. It's completely free to apply (the deadline is today, May 8, 2015), and the selected act will receive a $1,000 travel stipend, courtesy of Sonicbids! Arezzo Wave rep Toyah Buse told us that bands new to the festival scene will need at least two tracks and a band bio to be considered.
Another great international festival currently booking three Sonicbids artists is the Karel Music Expo, held October 1 to 3 in Cagliari, Sardinia, Italy. The deadline to apply is July 7, 2015, and selected artists will be provided with complimentary flights, internal transfers, accommodations, and dinner. Pretty sweet!
For more information on touring internationally, we'd recommend continuing your research with free resources like these:
What tips would you add to this list? Let us know in the comments!
Bobby Moore is a freelance writer and historian with an M.A. in public history (University of West Georgia, 2011). He's got a Dead Milkmen tattoo on his chest, and his three-year-old calico is named after the band Tacocat, so he's pretty shameless about his music fandom.