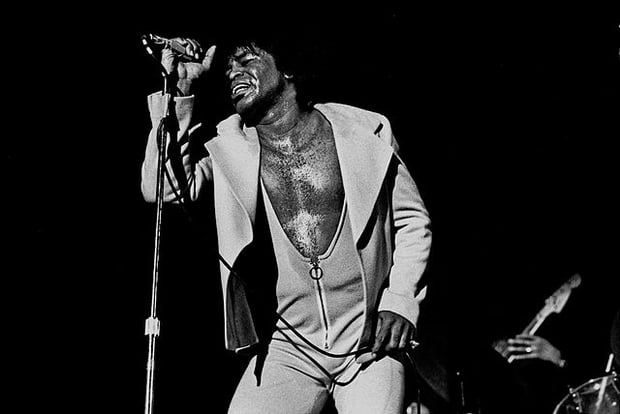 Photo by Heinrich Klaffs via Wikimedia Commons / CC BY 2.0
A frontman's role is a volatile and wild job, and as such, it attracts exactly those kinds of people. In modern music, frontmen have gone to great lengths to connect with their crowds and build the energy of their performances to incredible heights. The legendary frontmen below took it just about as far as they could go. Let us know in the comments who your favorite is!
9. Mick Jagger

In the early years of rock 'n' roll, Mick Jagger led the pack in the world of frontmen, and his onstage charm was a huge element in creating the Rolling Stones' enormous reputation. Much of Jagger's reputability also comes from the fact that he's continued to bring incredible levels of energy to Stones performances today as a 73-year-old man. In fact, Jagger's energy now is much greater than it was in the mid '60s, when to yell and jump around and shake certain parts of your body on broadcasted television would be wholly unacceptable.

Even in his more tame '60s incarnation, Jagger played to the crowd like a master of his craft and drove the fans wild. His relationship with his band could be called the archetype for an enormous number of frontmen in the years since the Stones first showed 'em how it's done.


8. Jimi Hendrix
While the concept of Jimi Hendrix as a guitar player is the blaring connection that most people associate with the late legend, his chops as a frontman have just as much to do with his success as his actual playing.
Probably my personal favorite on the list for his frontman vibes, Hendrix deserves a special kind of credit for his legacy as a frontman setting the bar high in the rock world for the kind of transcendence a frontman should exhibit in his performance to really capture an audience. Prior to Hendrix, jazz musicians were probably the ones "blasting off" harder than anyone else during their performances. Hendrix was a huge force in bringing next-level rock music into the world thanks to his incredible presence and what may or may not have been hidden under that headband.
7. Jim Morrison
Stepping from Jimi to Jim, we're looking at the next step in higher consciousness live entertainment. Like Hendrix, Morrison is also a member of the 27 club, a term used to recognize the unusual number of popular musicians who died at the age of 27.
Morrison's incredibly natural and powerful stage presence with the Doors has had an enormous cultural impact on rock 'n' roll. The leather pants he often wore both on stage and off became a standard in the genre, and of course, with time, have been grandfathered well into their status as a cliche of raunchy rock.
Morrison supplemented his vocal talents with public controversy, a disregard for censorship regulations, and indecent exposure to make himself the icon that he is today. Iggy Pop claims to have started Iggy and the Stooges as a result of the inspiration he found from seeing a Doors concert.
6. James Brown
Featuring one of the tightest bands in history (see: two drummers sounding like one drummer), the hottest dance moves on the block, and an energy concentrated with incredible precision, James Brown stands in a league of his own. Commonly referred to as "The Godfather of Soul," he might be more of a pop star than any of the other frontmen listed, but his cohesion with his band as a bandleader makes him a frontman for the ages.
Brown enjoyed a lengthy career filled with success and controversy. His funeral, which took place at the Apollo Theater, was attended by thousands of fans and featured live performances from Bootsy Collins, MC Hammer, and Temptations singer Ali-Ollie Woodson.
5. MC Ride
The only frontman on this list I've ever seen in person, I can personally attest that MC Ride's existence is legendary. Born Stefan Burnett, Ride keeps the vast majority of his life shrouded in mystery as to only be known with his band Death Grips.
This complete devotion to his music manifests in vocal performances that come off like a mix of hardcore punk and spoken word. Like many other notorious frontmen, Ride and the rest of Death Grips are known for their erratic behavior, often not showing up to shows they're scheduled to play or destroying anything that gets in their way, like this Macintosh computer.
4. David Bowie
Alright, David Bowie really blurs the line of pop star here, but this list just wouldn't be right without him. Bowie was hands down the most theatrical frontman of the 20th century, and more so than other theatrically geared performers like Elton John or any singer from Genesis, Bowie was an innovator to his core.
His uniqueness often came to be by combining familiar elements in new and different ways, with outcomes that felt fresh and original. Bowie's spectacular performances made him a household name, and his ability to constantly reinvent himself made his whole life into a work of art.
[10 Times David Bowie Inspired Us With His Magical, Mystical Words]
3. Iggy Pop
The competition for the top three spots is incredibly fierce, and it truly comes down to splitting hairs to put the living legend Iggy Pop at number three on this list. Pop was the single wildest, most drug-fueled, ball-of-fire performer in all of punk music.
When performing with his band Iggy and the Stooges, he would cut his chest, stand on the crowd, roll around on the floor, choke himself with the mic cord... there were no limits. This behavior terrified anyone over the age of 40 at the time and catapulted Iggy into legendary status. He speaks in interviews about giving himself entirely to the music, and I don't think anyone questions that.
2. Axl Rose
There are many big names in rock, but no one flew quite as high as Axl Rose playing frontman for Guns N' Roses in the early '90s. Rose took his role just about as far as it could possibly go, running across the stages of arenas around the world wearing barely anything and constantly pushing the envelope with all types of crass sexual theatrics. On one occasion, he even dove off the stage mid-song to attack a fan who was taking an unauthorized photo, an event that led to a riot with millions of dollars of damage.
Since the '90s, the times have caught up with Axl Rose, and he's assumed the role of the washed-up sexual deviant that everyone loves to hate. Rose wasn't interested in selling anything tasteful or with any artistic integrity, but he took his role as a frontman further than anyone else in history... with one exception.
1. Freddie Mercury
Freddie Mercury's superhuman presence and four-octave vocal range lands him cleanly at number one on this list. Every member in Queen was an exceptional musician, and Mercury spearheaded the four-piece in a way that no one else could have.
The British songwriter first started Queen in 1970 saying this about his choice of the name: "It's very regal obviously, and it sounds splendid. It's a strong name, very universal and immediate. I was certainly aware of the gay connotations, but that was just one facet of it." Here, Mercury sums up what his career as a performer was all about.
Mercury used his talents to write timeless, beautiful music which can be heard over loudspeakers in sports arenas around the world nightly. His performance seen above at the 1985 LiveAid event is one of the most spectacular displays of showmanship I've ever seen.
Max Monahan is a bassist and a writer living in Los Angeles. He spends his time working for an audio licensing website and shredding sweet bass riffs.