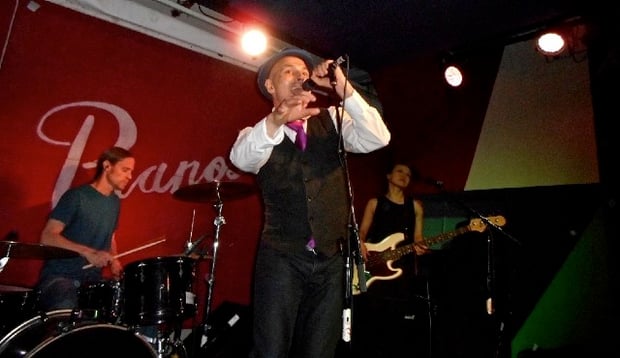 NYC's herMajesty can pack Pianos, but even if you aren't on that level yet, there's plenty you can do that can help put you on that stage. (Photo by Adam Bernard)
Everyone knows filling a venue to capacity, whether it fits 50 or 500, is the best way to endear yourself to a venue's talent buyer, but not all artists are at a point in their careers where they can do that. How can an artist who's just starting to build a fanbase get on those stages and develop those relationships with venues?
I spoke with eight venue talent buyers from around the country to find out what qualities make an artist someone they like to book, even if the artist might not be the biggest draw. According to these experts, here's what you need to do.
1. Know your lane
In what way does your band fit with a particular venue or on a particular bill? This, according to Joel Eckels (booker at The Hotel Cafe in Los Angeles and former head booker of Room 5 in Los Angeles) is an important question every artist needs to ask themselves. "As an artist, you have to ask what makes your act a good bet, or even just a safe bet, for the venue," he explains. "Just understanding this will get you on the good side of a booker."
Mike Hergenreter (owner, HiFi Music Hall in Eugene, OR), adds, "Finding support bands for national tours is very situational. Depending on the needs of the show, sometimes the support band's draw is not needed, because the headliner can carry the draw, with the support band just needing to entertain the early crowd. These are prefect situations to plug in a young, talented, band in need of getting in front of some people to extend their fanbase. Other times, the national touring artist is in need of a band that already has a developed local fanbase."
[How to Be the Opening Act That Everyone Loves]
2. Be honest
Admitting you haven't built up your fanbase yet can be tough, but it's something Peter Hantzis (Church of Boston in Boston, MA; Dreamland in Martha's Vineyard; and Rapscallion in Acton, MA) says is important to tell a booker. "Personally, I appreciate it when a band tells me, flat out, we can probably only draw 10 to 15 people. If I believe in their sound, I'm going to try to build a lineup around them that makes up for their shortcoming in draw. If they deliver the 10 to 15 people they said they would and then put on a great show, I'm likely going to want to work with them in the future, and together we can try to figure out how they can draw 20 to 30 next round."
3. Show 'em what ya got
Since you're looking to perform on a particular venue's stage, show them exactly what they'd be getting by sending a live video. According to Eckels, "Performance videos are the best, especially if they are something you can watch from the mail server rather than having to go to an external website. The more clicks and waiting for things to load, the more impatient we get."
4. Show support
If you only plan on being there for the night of the show, and have no intention of checking out other acts, don't expect to be invited back. Veteran talent buyer and promoter Dayle Gloria (formerly of The Viper Room and Scream in Los Angeles) explains, "When a band does support the club they're going to play at, and they support other bands, that is something that makes me want to support them more."
5. Promote, promote, promote
Some bands think a few social media posts constitutes a promotional campaign for a show. That kind of effort, however, will likely depress, rather than impress, a venue's booker, especially if you have a poor turnout. "When I know a band is trying to do something, and I'm trying to figure out why people are not coming, I will still try to stick with them," Gloria explains. "But when I ask them what they did to promote, after I tell them all these ways to get people to come out, and they just say they texted some friends, I can't book them again."
Hantzis adds that knowing the quirks of the city/town your show is in is also extremely helpful when it comes to promoting. "What I learned in my travels is that promo works differently in different cities and towns. Flyers might mean nothing in Boston, but in Burlington, VT, they might mean a lot, so I recommend bands ask the talent buyer if they have any suggestions for promo. The worst that can happen is they don't, and you're own your own, but asking can't hurt."
[Band vs. Venue: A Breakdown of Who Should Handle 4 Types of Show Promotion]
6. Be friendly
As the old saying goes, you catch more flies with honey, and this is as true in the music industry as it is in every other aspect of life. Putting it more bluntly, Eric Iocca (owner of Audio Vault Entertainment), says, "I'd rather book a band that draws 20 people and is super cool and easy to work with than a band that draws 100 people and are a bunch of assholes."
Evan Volk (Dirty Laundry in Los Angeles) expands on that thought, saying, "Relationships are the most important thing when playing at the club level. If you're well liked by other bands you've played with, then they will ask you to jump on other bills with them. If the staff likes you, they'll ask when you're playing next. Above all, if my front-of-house likes mixing you, then you'll always be at the top of my list."
Kenny Mercer, aka Duece (Two Boots in Bridgeport, CT), adds, "Being polite and easy to work with, whether it's with the booker, sound man, manager, owner, or even bartender, will always leave a good impression."
All of this is because, as Volk explains, the staff is the heart of a venue. "The best clubs usually have a staff that are like family," he says. "If an artist comes in and disrupts that positive energy with their negative or demanding energy, you will likely not be asked back. That means being rude to a bouncer or bar-back is the same as upsetting my FOH."
"If you're not anywhere near close to filling up the room," he adds, "then professionally you're a bad investment for me, so connect to those around you on a human level to offset that."
7. Be great
If you rock, f*cking rock! Tony Mason (Lost Lake Lounge and Larimer Lounge in Denver, CO) explains greatness isn't in the draw, but in the performance. He appreciates "a band that is well versed and tight. They empty their heart and soul on the stage with a great presence and wonderful sound of their genre. They will entertain a five-person crowd the same way they would a 500-person crowd. They give you an amazing performance every time they play, no matter the scenario. They don't just play, they entertain!"
[10 Tips for Playing a Mindblowing Set (Other Than Playing Really F***ing Well)]
8. Control your crowd
Yes, you want your audience to have a great time, but you don't want them going crazy. According to Mercer, your actions off the stage can have a big impact on this. "Professionalism is often also reflected back to the fans," he explains. "If the headliner/promoter is professional and cordial, the crowd will be as well, but if the crowd sees them acting a fool, they will start to do the same. Having control of your crowd for the whole night, not just while you're onstage, will leave a good impression on the venue's management/booking team."
9. Be about your business
Being all about your music may seem like a good idea, but according to Hantzis, you also need to be about your business. "I want to work with bands who spend as much time on their business model as their sound," he explains. "There are tens of thousands of failing businesses in this country, and beyond, each year. If you put in the time and money, and it doesn't work out how you want it to, adapt to your environment and figure out how to make it work going forward. If you don't, you're going to burn bridges with venues, wind up with bitter bandmates, and you'll be just be another failed business out there."
With the advice from these eight experts, not only will you not be a failure, you'll be getting on the stages of your favorite venues in the very near future.
Adam Bernard is a music industry veteran who has been working in media since 2000. If you live in the NYC area, you've probably seen him at a show. He prefers his venues intimate, his whiskey on the rocks, and his baseball played without the DH. Follow him at @adamsworldblog.