This article originally appeared on The Daily Rind.
I have a confession: I'm e-lazy.
When I find out about a new band or an upcoming record from an old favorite, I don't want to bounce from site to site looking for content and information. I want one place where I can listen to a track, pre-order in my format of choice and see tour dates. Signing up for an email list and knowing where else I can follow the artist is pretty handy, too.
Whether you're creating a standalone splash page or updating a homepage for a new release, it's important to have everything a fan needs to know in one easy location. Here's a checklist to reference before you kick off any marketing campaign:
Release info
Obvious? Sure. But plenty of artists and their teams overthink and overlook the basics, so we'll consider this a good first step. Include the name of the album and the release date.
Streaming content
Keep it simple and put some kind of streaming content right there. This makes it easy for visitors arriving via search to find out more without leaving a property that you control for another one filled with lots of other, more familiar music (or distracting cat videos).
Tour dates
Remember that one time you posted on Facebook or tweeted about that one show in that one city? Yep… no one else does, either. Keep a tour date widget on your splash page (and on Facebook, but that's another blog post) so your upcoming shows are always there and up to date.
Socials and email
The splash page is just step one. Give your fans options to keep in touch by including links to all social properties (including a YouTube subscribe button and Spotify follow button) and an email signup form. Including everything means that fans may not follow everywhere, but will follow in the places where they're most likely to pay attention.
Purchase links
Oh right. Those things. Make it easy to pre-order or purchase an album. Give fans options to buy and stream music in the format or method of their choice. Include links to different stores and retailers in addition to any D2C options you might have.
Nerd stuff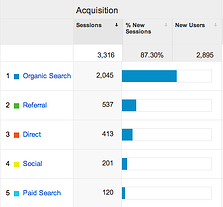 I could write an entire blog post about important pieces of code to include in a splash page, but I'll keep it simple for this checklist. You'll absolutely want to incorporate Google Analytics so you can learn how visitors find and interact with your page. You'll also want to include remarketing or tracking pixels if you plan on running online advertising of any sort. Finally, make sure your metadata is accurate, informative and compatible with Facebook sharing. I like this guide for making sure a page has all the meta tags it needs.
Corey Zaloom is the Manager of Interactive Marketing at The Orchard.