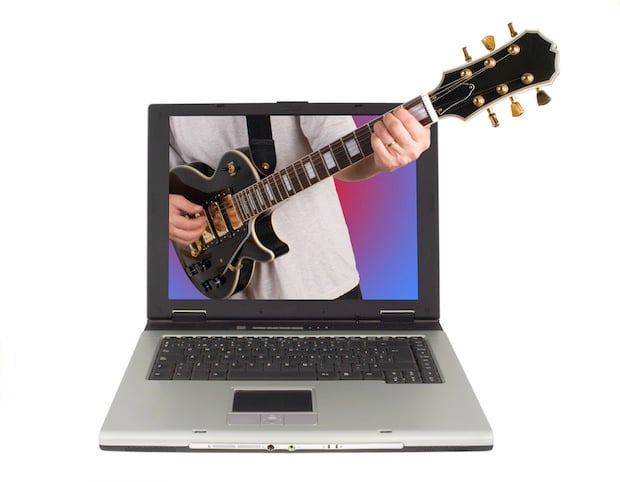 Guest post by Damian Burke, web developer and editor of The Doughnut.
Search engine optimization (SEO) can be a somewhat cryptic topic. Traditionally speaking, it's about generating as much organic, or free, traffic as possible via Google search results.
But there's a lot more surrounding modern SEO, and musicians can apply many of the same principles to YouTube (the world's second biggest search engine) and online music stores.
Search rankings are calculated by ever-evolving algorithms. However, two signals have always been vital for Google: content and links. Without content (like your music or blog posts), there'd be nothing to show. Links from elsewhere allow your content to be found, and are used to judge authority or popularity.
You may be looking to create a long-term SEO strategy for your website, or perhaps you just want to rank number one on Google when people search for your band. Either way, you'll be able to maximize your impact on the web by following the seven steps below.
How to Optimize Your Website: The Basics
It wouldn't be an introduction to SEO without saying that content is king. It's important to understand that Google can't digest audio, video and images like we can, so sometimes you need to spell it out.
Good content (such as supplying lyrics alongside your embedded audio) is not only useful for the user, but it helps search engines understand the stuff it can't quite make out.
STEP 1: Check if you're in Google's index
Check if you're in Google's index by searching for your name as well as "site:yourband.com."
If nothing is returned, it's likely that Google's crawlers are being blocked by your site. Check your content management system's (CMS) settings, or look in your robots.txt file (yourband.com/robots.txt) to see if "user-agents" are disallowed.
It could be many other things, but it can likely be fixed with the above. If your site is brand new, then just hang tight – it can take some time to show up in search results.
STEP 2: Start tracking
If you aren't already tracking your website, spend 20 minutes today setting up Google Analytics. Then, sign up for Webmaster Tools and submit your sitemap (usually yourband.com/sitemap.xml). By doing this, you automatically let Google know when you have published new content.
STEP 3: Keep your URLs simple and clean
While it is important to have keywords in your addresses for rankings, being memorable and conveying trust to a user is arguably even more important.
URLs are best when they're clean, short and descriptive so that they let users know exactly what's on the other end (for example, yourband.com/gigs/). It may be a case of turning on permalinks in your CMS or simply going in and renaming all your URLs.
STEP 4: Include meta titles and descriptions on every page
The title and description displayed in Google search results are ultra-important.
Like URLs, they help the user as much as search engines to understand the contents of each page. Titles should be around 70 characters long, and descriptions around 155. Both should be unique to each page on your site and/or to each post on your blog.
This sounds like a chore, but when you consider the message you want to convey to a Google user for each page, it becomes a lot clearer. Why should the click on your website and what will the find? Will they find your shop or your tour photos?
If you're looking to be thorough, Screaming Frog is a free tool that crawls your site so you can see which are duplicated, too long or otherwise in need of changing.
STEP 5: Do some keyword research
Keyword research isn't as complicated as it sounds. Browsing commonly used phrases on Google, while not vital for most musicians, can help those in a niche (like wedding bands for hire).
Here are some ideas to play with:
"[your band name]"
"[your city] [your genre]"
"gigs in [your city]"
"[your genre] album releases"
"[your genre] music videos"
"[your single title]"
You can also use Google Adwords to help you with keyword research. Here's how:
Sign up for Google Adwords and go to the Keyword Planner (Tools > Keyword Planner).
Use the default setting: "Search for new keyword and ad group ideas."
Pop in the phrases and click "get ideas."
Click "average monthly searches" to sort by the highest to lowest search volume.
Click on a group relevant to your query.
In short, a higher search volume will be more competitive, making it more difficult to rank number one than lower volume phrases (the long tail). Your niche is likely less competitive by definition, so go with your gut when in doubt.
How do you capitalize on keywords you've spotted in your niche? Well, that's another 1,000-word article, but besides using keywords as inspiration for content, a good start is to Google them! You could find a great blog in your subgenre or a new venue in your area by simply poking around.
Let's face it – naming your debut "Best Album 2014" probably isn't going to help sales. Your research terms might not even return any search volume, and that's okay (the figures are admittedly vague), but the exercise is important.
STEP 6: Spot trends
With ideas from your keyword research, dive deeper into seasonal and geographical data with Google Trends (no sign-in required).
STEP 7: Create a 30-minute content calendar
Make a content calendar, which is simply a schedule of what you're going to post and when. Again, this sounds formulaic, but a balance of planned and ad hoc posts maintains quality while fostering quantity. Here's how to do it:
Make a spreadsheet of all upcoming dates, such as album releases and gigs.
Research events and trends in your area or niche for more ideas.
Add a column of syndication channels (Twitter, Pinterest, etc.).
Draft up the content for your post (text, images, etc.).
If you need to, set a reminder to take a photo or video on the day.
A tool like If This Then That (IFTTT) can help automate the syndication process.
Refer to this list as often as necessary, and always keep it updated.
Want more SEO tips for musicians? Read part two to learn about off-page SEO tactics, and read part three for expert tips to make your website even faster and better than it already is!