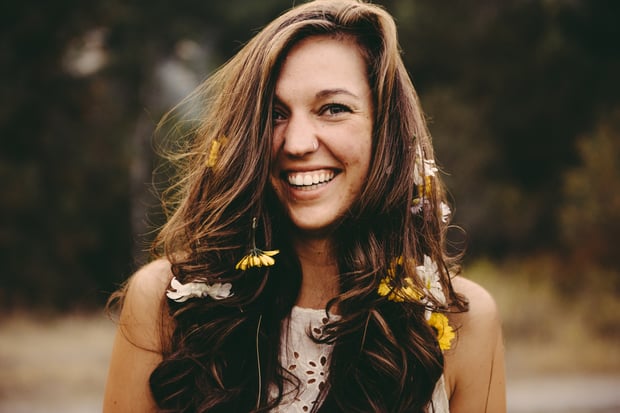 Image courtesy of the artist
So you want to move to Nashville and make it in the world's greatest city for songwriters, but where do you begin? Well, it's a famous city for a reason, and it draws an enormous variety of talented competition from around the world. Standing out is no easy task, especially if you're brand new.
Independent folk singer-songwriter Ira Wolf made the move to Nashville from Montana, starting at the very bottom. She was living in her car and juggling odd jobs to save up money before diving into music full-time. She really had to take a risk, one she describes as "the hardest thing she's ever done." In the interview below, Wolf tells us about what drew her to Nashville, the realities of working your way up from nothing in the music industry, and how she's making it all work as an independent artist.
What were your first impressions of Nashville and its music scene? How do you think it compares to the music scenes of other major cities like New York and Los Angeles?
Nashville is really well-known for its country scene, but I was surprised by how diverse the city really is in terms of genres. I've found my niche in the folk world of Nashville, which is much bigger than I anticipated and incredibly welcoming.
As far as comparisons to bigger cities, I've found that the community in Nashville seems to be much more supportive than some other places. I haven't lived in NYC or LA, but visiting on tour has always been stressful for me because it feels a lot more cutthroat and judgmental. In Nashville, I am a lot more relaxed, which leads to a better performance. Overall, it feels like people genuinely want to see others succeed and are willing to help as much as possible, rather than viewing everyone as a competitive threat. I think that makes a huge difference.
Many consider living in a music city to be a double-edged sword – there are more opportunities, but at the same time, much fiercer competition. What's been your experience? What do you do to stand out?
While being surrounded by top-level musicians can be intimidating, I find it to also be inspiring and motivating. I love that I can bounce ideas off of friends and learn new techniques constantly from the community. I also like being around music at all times to remind me of my goals. I don't know if I've found the secret to standing out yet, but I think that mastering your own sound and style is the first step to making others take notice.
Give us a brief overview of your musical journey since moving to Nashville. What were some of the realities of "starting at the bottom," so to speak, and what were the steps you took to work your way up?
I lived in a car for a month when I first landed in Nashville, and was confronted with the reality that I truly had no idea what I was doing. I learned later that's okay, though; not many folks really do.
After a few months of finding my footing and working as a nanny to save up a little money, I decided to dive into music full-time, which was terrifying. I wasn't sure how I was going to pay the bills, but I knew I'd regret it if I never took the chance. I started booking shows and really honing in on my songwriting style, and within a summer I was touring and recording my first studio album.
It wasn't easy by any means, though; it was the hardest I'd ever worked at anything in my entire life. I've continued touring almost nonstop for the last year and a half, and while it's an incredibly exhausting and sometimes frustrating way of life, I can't imagine being happier doing anything else. It's still a lot of work to manage the booking and performing sides, but I'm learning a lot the more I work at it.
What are your favorite venues to play in Nashville?
There's a really wonderful house-concert community happening in Nashville, and those are easily my favorite venues. It gives you a chance to connect with the audience in a more intimate setting, and that works really well for my music.
[3 Steps to a Successful House Concert]
As far as more public venues go, there's a spot called the Listening Room that has a similar vibe to house shows, and the audience is always really attentive. Because I'm on the road full-time, I don't get to play in Nashville as often as I'd like, but when I do, those are my favorite types of shows.
We're really impressed with your success so far, especially with being selected through Sonicbids to perform at the Rocky Mountain Folks Festival. As a singer-songwriter, how do you capture an audience's attention while being on such a big stage like that?
I was actually very surprised how focused and connected the audience was at RMFF because of how large the stage and the crowd was. It was a really incredible place to perform, and definitely unique. I think it can be difficult as a solo artist to reign people into what you're doing sometimes, but I find that the more authentic you are in your writing and performance, the more people are going to feel drawn to being part of it.
[9 Tips That Will Make Your Solo Acoustic Shows Way Less Boring]
If you could give one piece of advice to a songwriter looking to make a move to Nashville to launch his or her songwriting career, what would it be?
Just do it! Getting out of your comfort zone is the absolute best thing you can do for your writing and your career.
Learn more about carving out your own place in the Nashville scene!