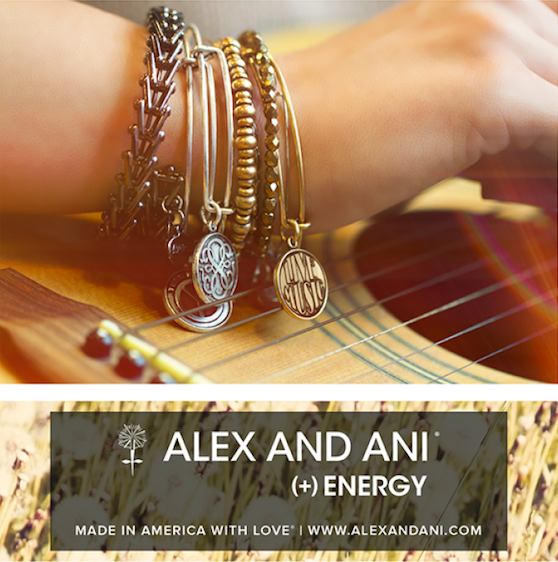 Image courtesy of Alex and Ani
Lifestyle company Alex and Ani is hosting their new Live Music Series at several of their Northeast retail locations, and they've turned to Sonicbids to find rising bands who fit the brand for the unique performance opportunities. Five Sonicbids acts who apply by August 22, 2014 will be selected to perform at the Alex and Ani stores – and they'll be getting paid for it! It's a win-win all around: the bands get exposed to a whole new audience, and it enables Alex and Ani to build better relationships with local community members and businesses.
This isn't the first time the company has dipped its toes in the music scene, though – Alex and Ani had previously partnered with Sonicbids to book bands to play their Summer Concert Series every Thursday at Carolyn's Sakonnet Vineyard in Rhode Island. One of those bands was New York-based rock trio Wild Adriatic, who have been making waves in the press over the last year with the help of Sonicbids. We wanted to hear what the experience was like for both the band and the brand, so we spoke with representatives from both to get the full picture.
First up, Vice President of Entertainment Mark Coleman explains how music strengthens the Alex and Ani brand, and what the benefit is to artists:
Why did you choose Wild Adriatic to play Carolyn's Sakonnet Vineyard, and why did their submission stand out to you?

We received hundreds of submissions, but listening to their tracks and checking out social media told us that these guys were good! The description in the band's bio resonated: "Calling to mind the soulful, dynamic sounds of '70s giants such as Led Zeppelin and Rush's early years." You can't be mentioned with those great bands and not want to listen to their music. These guys lived up to the bio. They love performing, and you can hear it in their music.

How did they fit the brand or image of Alex and Ani?
Wild Adriatic is unique in that they play to cause a change when sharing their music. For them, music is a lifestyle – you can't be fake – and that speaks directly about our brand values.
What exactly is Alex and Ani using music to accomplish, and why did you choose to partner with Sonicbids?
We want people who enjoy music as part of their lifestyle to discover emerging artists in amazing or unique settings. Partnering with Sonicbids has provided us with a strong platform filled with talent and consistent artist information that makes searching for talent painless.
Why is the current concert series you're booking an exciting opportunity for artists? What can they expect if they're chosen?
The artists will be performing in our unique retail locations that are filled our symbolism and energy. The selected artists will have the opportunity to enhance the customer experience through their performance.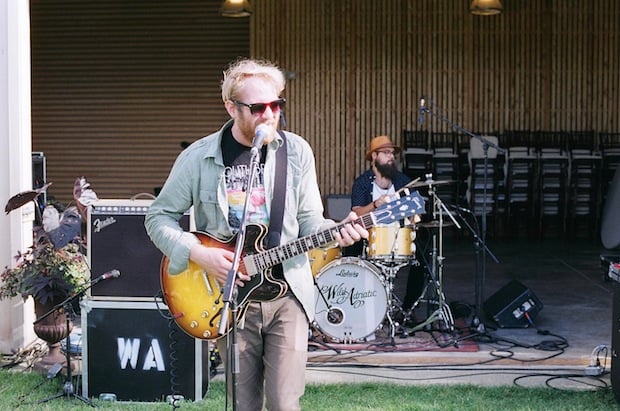 Wild Adriatic (image courtesy of Alex and Ani)
We also got to hear directly from Wild Adriatic about their experience playing the Sakonnet Vineyard. Below, drummer Mateo Vosganian shares what the experience working with Alex and Ani was like, and how to best get the company's attention:
What were some highlights of playing the Sakonnet Vineyard? What was special about the experience?
The highlights for us were all about the people we met. We met tons of great people from Rhode Island and all over the country at Sakonnet. The audience was attentive, ready to dance, and super appreciative of the band. They made us feel so at home. On top of that, the staff at the vineyard and Alex and Ani was great to us, and Amy and David and the film crew over there did a great job with an interesting interview and shooting the performance.
The sound was great, the whole environment was very relaxed, and I've never played drums while staring out at a wine vineyard before! One of my favorite memories from the night was seeing several generations of a family dance together to our music. Not to mention the delicious wine... the Blessed Blend was a hit with the band – so much so that we picked up a few bottles and enjoyed them around the pool on an off day.
What did you guys get out of the opportunity? Why would it be good for other Sonicbids artists to apply to an Alex and Ani opportunity?
We got a bunch of exposure to hundreds of music fans in Rhode Island, a great connection with a wonderful company (Alex and Ani), some great video and pictures from the show, and honestly the best part was getting to play music outside with our friends. Other Sonicbids artists should consider applying because it's a fun, high exposure gig working with great people who really understand and appreciate musicians.
Could you offer any advice to other Sonicbids artists who want to be chosen for the new Alex and Ani concert series? How can a band that hasn't had the same amount of success as you guys still impress?
I think the impression that we got from Alex and Ani is that they are looking for genuine, hard-working musicians. They're a company full of people who really love their work, and I think that the personality of bands is important to them when they review submissions. I'd recommend keeping an updated, inviting EPK on Sonicbids and working hard to stay on the road independently!
Apply by August 22, 2014 for your chance to perform at an Alex and Ani retail location.