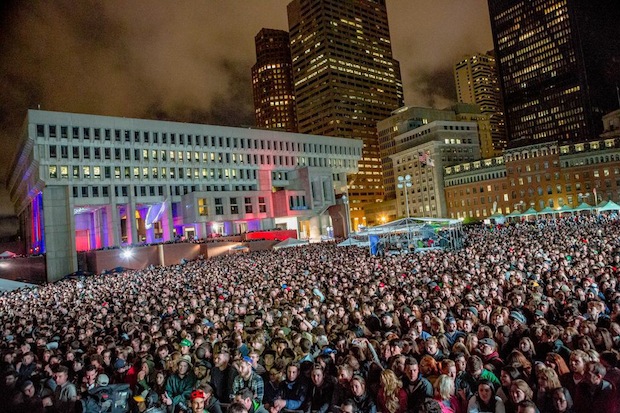 Boston Calling 2014. Photo credit: Mike Diskin.
Last weekend, tens of thousands of music fans flocked to Boston's City Hall Plaza to witness bands such as Modest Mouse, The Decemberists, Death Cab for Cutie and Jack Johnson play the spring 2014 Boston Calling Music Festival. The event has managed to grow even bigger and better every time, and this third installment was no exception. The addition of a Friday night lineup this year made for a whole weekend of nonstop music, which included stellar performances from Sonicbids acts such as The Head and the Heart, Walk Off the Earth and our Boston Calling contest winner, The Box Tiger.
Although this was not The Box Tiger's first time playing in Boston (their go-to venue is TT the Bear's), this was the first time they've played an event of this caliber. "This is by far the biggest festival we've ever played," says lead vocalist/guitarist Sonia Sturino. "It's such a great environment. Everybody here has been super, super nice. Every single person we've met has treated us like a real band, which we are, but we're also just the opening act. It's been really cool to hang out and get that feeling."
Having the first set of the day at a festival can sometimes mean a lukewarm crowd, but drummer Lauren Chan felt that Boston was incredibly receptive. "There were a ton of people there. They all started cheering before they even heard us, which was very polite, and I'm glad that they kept it up throughout the set," he says.
"Walking on stage and hearing people cheering is an experience that I've only had a handful of times in my life, and I don't think it will get any less surreal," bassist Cam Jones adds.
All of the band members agreed that the biggest highlights of the weekend were getting to perform and seeing some of their biggest idols perform. For Sonia, it was "getting to see the faces in the crowd… and having that connection with the fans," while guitarist Jordan Stowell's favorite moments were watching The Decemberists and Death Cab for Cutie perform from the side of the stage. Although Modest Mouse hadn't yet performed at the time of our interview, bassist Cam Jones already knew that the thing he was looking forward to the most was seeing them close out the festival Sunday night.
We learned the last time we chatted with The Box Tiger that the Toronto-based group is truly DIY, having opened for huge acts like Metric, Foster the People and The Joy Formidable without the help of a manager or booking agent. "We delegate [the business stuff] among all of us at this point, because we have to work as a team… when you don't have someone representing you," explains Sonia.
"We definitely feel that we're at the point where we would hugely benefit from having a manager and booking agent and all that, but we need to find someone who cares as much about this band as we do," says Jordan. "Until we find those people, we're kind of holding off."
So what's their biggest piece of advice for other DIY bands on preparing for a festival like Boston Calling? "It always goes a long way to rehearse and make sure you really own your songs and know them well… but it's really [about] just having a good time and perseverance – keep on doing it," says Sonia. "Not every show is gonna be a good show… but you can only get opportunities if you put yourself out there and earn your dues…. If you know your music's good, then you should be your number one supporter."
From The Box Tiger to their fans and Sonicbids: "Thank you, thank you, thank you, and let's do it again!"
Catch The Box Tiger on July 13, 2014 in Portland, Maine, as support for Circa Survive.
Want to play Boston Calling in September? Submit your EPK on Sonicbids by August 7, 2014 to perform alongside Lorde and The National.