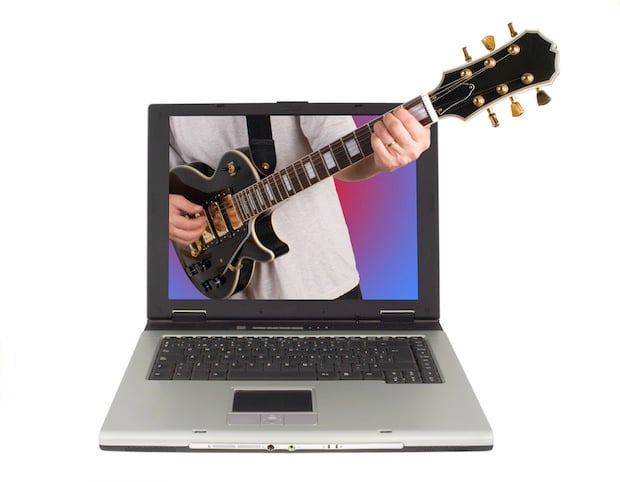 Guest post by Damian Burke, web developer and editor of The Doughnut.
If you're new to search engine optimization (SEO), you may want to check out An Intro to SEO for Musicians Part 1 and Part 2 before reading on.
By this stage you should have clean and logical URLs, unique meta titles and descriptions on each page, your Google Analytics tracking set up, and your website submitted to Webmaster Tools.
This third installment is aimed at musicians who have a basic understanding of SEO, access to their hosting and content management system (e.g. Wordpress, Drupal), and don't mind getting their hands dirty with a little bit of code.
TIP 1: Speed up your site
A fast site is good for both users and SEO, but do it for the users. If your site doesn't load within seconds, they're off somewhere else.
The Pingdom speed test tool provides a "waterfall chart" of on-page elements. Drop in your URL in to identify scripts or images that are weighing down your load time. Google's PageSpeed Insights tools also gives great insights into shaving off time.
An impactful way to make a site faster is to enable compression, caching and minification. Wait, wait… it's really not that difficult. Here are two free tools that will speed up your site within minutes:
W3 Total Cache for Wordpress is a plugin to manage technical server tweaks for page speed improvement. Yeah, there are a lot of settings, but it's also a popular plugin and there's loads of help online.
Even easier, Cloudflare is a Content Delivery Network (CDN) that will serve local copies of your site depending on the user location. Plus if your site goes down (when you make it big), the CDN will display a cached version rather than an error page.
TIP 2: Remove duplicate content and de-index the junk
Duplicate content is a red flag for Google's webspam team, and having identical content makes it more difficult for the algorithm to pick a page to rank. The easiest way of finding duplicate content is to Google snippets of your content.
Focus your efforts by removing pages that contain duplicates (such as tag pages) from Google's index via Google Webmaster Tools and by adding a rule for the page (or section) to your robots.txt file (on the root of your server).
TIP 3: Add semantic markup for rich snippets in search results
Semantic markup helps search engines understand your content, and rich snippets are the extra bits of info that are displayed on search results.
Using Google+ authorship (linking your G+ account to your site and vice versa), you can display your profile picture next to your articles on Google (making your content more noticeable and generally increasing clicks).
To display elements like your upcoming tour dates and review ratings (stars) on search results, you'll need to get a bit more involved with the various markup libraries. Schema.org is one such library backed by the major search engines.
All this can be a bit tricky for those who don't know how to code, but for Wordpress users, the All In One Schema.org plugin can do most of what you need with little fuss.
Use the Structured Data Testing Tool to preview your changes.
TIP 4: Add Facebook Open Graph and Twitter Cards meta tags
Facebook Open Graph and Twitter Card meta tags change the way your links are displayed on the social networks. For example, when your link is posted on Twitter, additional content such as YouTube videos and images can be viewed right from the feed.
If you're using Wordpress, install the Yoast SEO plugin and drop in your details. To do it yourself, test and validate your markup directly with Facebook and Twitter.
TIP 5: Create a video sitemap
Just like how adding your photo alongside your search results can boost clicks, a video sitemap (for those that post a lot of videos) provides more context, and ensures that Google knows about your multimedia content as soon as you publish it.
Using a plugin for your CMS, you can easily create a feed which includes markup for thumbnails, categories, tags, duration, play count and more.
Generate a feed, submit it to Webmaster tools and you're done!