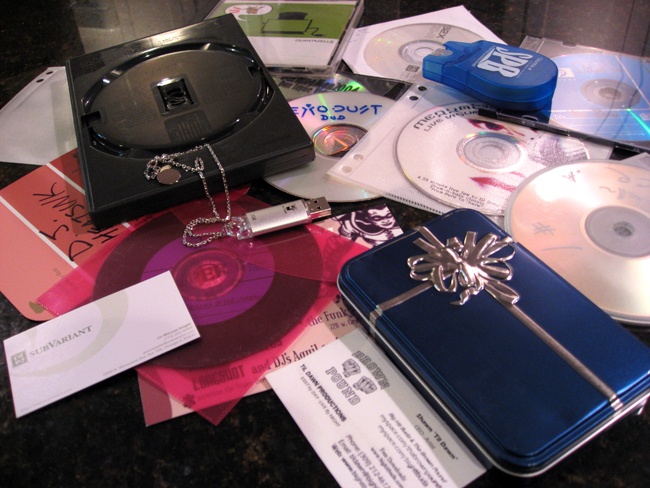 Image via createdigitalmusic.com
This article originally appeared on Performingbiz.
Persistent and consistent follow-up is one of the key elements to a successful music career. This holds true whether you're trying to book a gig, land an interview with a local or major paper, get a record deal, or find an agent or a manager. Those who simply send out their promotional packets and wait for a response may as well disconnect their phones and save on the monthly bill – you won't get a call back.
This business is filled with very busy people trying to handle all of the thousands of incoming requests for gigs, articles, record deals, and management deals. If you're serious about what you do, then nothing could be more important than following up on every contact. If you're the one selling your act, you need to be the one making the follow-up calls without expecting calls from your prospective buyers in return. You're not the first and last thought on their mind, but they must be the first and last thought on yours if you want the gig, the interview, or the deal.
Follow-up should be done professionally. While speaking to your contact the first time after promising to send your promotional packet, indicate that you'll check on the packet's arrival in a few days. Make a note to yourself to follow up with that person in four days and mark the date in your calendar. If you send something overnight, call the next day to make sure it arrived and the mailing service to whom you paid big bucks delivered on the overnight guarantee. Your first follow-up call is simply to make sure that the packet arrived. If at all possible, try to speak with your original contact in order to get this information. This gives you a second chance to build your relationship with the main contact.
You should also ask when they intend to review your packet so you can make another appointment to follow up and get his or her comments, or perhaps begin negotiations. Make the appointment for the third follow-up call for no more than two weeks into the future unless they suggest something else. If it's very far off, get that person to schedule an earlier date. If they're unsure of a time by which they will have reviewed the material, suggest a time approximately two weeks out when you will call back to check on their progress. Your contact is alerted to the fact you'll be checking back, so that when you do call, it won't seem too soon or feel like you are hounding them.
There is an art to follow-up. You want to keep yourself pleasantly in the forefront of people's minds, yet you don't want to become a pest. This is why it's so important to establish an enjoyable, conversational relationship with your contacts from the beginning. As each subsequent follow-up call or email is made, your contacts will look forward to speaking with you and perhaps even move the process along more rapidly. Always ask your contacts when you should check back to get them to commit to an upcoming date in the very near future. Since these dates are at your contacts' suggestions, you can always open your next conversation with, "You suggested that I call you today to discuss..." With this kind of opening, you will never seem to be a pest.
Why is follow-up so important? If you don't follow up on promotional packets that you mailed or emailed, you could be wasting lots of money. Promoters, reviewers, editors, agents, and labels all receive many thousands of packets each week. They get piled in corners of back rooms and often remain unopened. If you want yours to move to the top of the pile and get reviewed, you need to check on its arrival, and subsequently, its status. Your follow-up can make that happen. It jars your contact into action eventually. I have heard such sad stories of artists who sent packets to labels, and they haven't heard back from the label. When I ask, "How long ago did you send your packet?" They reply, "Oh, it must be three or four months now." When I ask them if they had called to follow up, they hadn't, I just wanted to shake them. Instead, I remind them that theirs was not the only packet sent to their contact during these last four months, and they should probably send another and then call a few days later. Their original packet has probably been lost in a black hole, deleted from past emails, or is buried at the bottom of one of the many piles of promotional packets sent more recently.
One of the reasons that follow-up can become a daunting process is that, too often, artists attempt to contact too many prospects at once, decreasing their chances for effectively following up in a timely manner. Set realistic goals for contacting buyers, media, and industry professionals. Don't attempt those mass mailings to thousands, even hundreds, when you know that the only way to reap any benefit is by directly contacting each one. Send out five or 10 at a time. You can make five or 10 follow-up calls or emails much more easily than attempting hundreds. Be consistent with each one and keep track of each one. Five or 10 is very manageable. When you keep the numbers low, the rewards can be much greater.
I'll leave you with some food for thought. When was the last time you made an initial contact and then neglected to follow up? What is stopping you from maintaining the connection? What is hampering you from completing the process? When you answer these questions and really consider the problem, you may be able to find new enthusiasm for the follow-up process and add to your success. Until next time, keep in touch with your contacts!
Jeri Goldstein is the author of How to Be Your Own Booking Agent: The Musician's & Performing Artist's Guide to Successful Touring. On performingbiz.com, you'll find helpful books, career development seminars, the Booking & Touring Success Strategies & Secrets online course, career coaching, and information on booking tours, the music business, and performing arts.