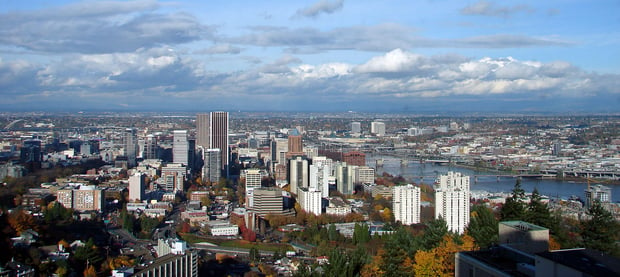 Photo by Jami Dwyer via Wikimedia Commons
In Portland's music history, there are more than a few way-back-when legends and plenty of modern icons. Among the greats once based there, whether by birth or relocation, are the Wire, Dead Moon, the Decemberists, Sleater-Kinney, Elliot Smith, and the Shins. It was in Portland that Kurt Cobain first met Courtney Love, who was living there at the time, at a now-defunct punk club. All that clout naturally makes a magnet of the scene for bands both local and touring – which complicates things for up-and-coming groups looking to break in.
Rest assured, there are still plenty of smaller spots that welcome new talent. Places like these, after all, are of the same variety where many now-famous bands cut their teeth, cultivating their sound and style along the way. Everyone's got to start somewhere – and these five Portland bars and clubs encourage artist development by providing those spaces.
There are two stages inside this two-story building, both of which are open to booking budding independent bands and artists of all genres, but for our purposes, the smaller lounge area is tops for new-found up-and-comers. Analog is actually operated by DRD Records, an independent label group with five subsidiaries of varying genres ranging from electronic to rock to gospel. The implication there is that they champion underdogs, and that they're probably happy to give a break to a band or artist who's earned it.
How to book: Email donnie@drdrecords.com. No specifics are listed, so follow standard booking inquiry protocol.
Weekends are mostly reserved for DJs and dance parties, but during the week, Lola's Room is open to fledgling bands and singer-songwriters looking to grow their draws. The 200-capacity space is on the second floor of a three-story building, sandwiched between a pub and the top-floor Crystal Ballroom, a 1,000-capacity venue that mainly features established touring acts. If you're looking to snag a coveted opening spot there, Lola's Room is a great place to begin working your way up to a worthy pull.
How to book: Use the contact form available here.
The majority of the shows at Firkin Tavern are free – yes, even on Friday and Saturday nights. We're not sure how the money works out, but even so, playing free, no-cover gigs when you're just starting out can be a boon to boosting your fanbase. If you can't get on the calendar, consider hopping onstage at their well-attended Sunday open mic.
And yes, this place is a bar, not a proper, full-fledged venue. But it's a reliable neighborhood watering hole, a hangout spot that's five years strong and boasts its own built-in fanbase. For brand-new bands and artists, performing for a guaranteed audience on a busy weekend night is really a privilege.
How to book: Email samdensmore@gmail.com.
If you're not quite ready to play their 500-capacity theater, try their 100-capacity lounge instead. The cozy setting is ideal for genuine engagement with listeners, which can help newer acts as they fine-tune their sets and general stage presence. Not only that, but the space is plush and cool. Elements of what the Hawthorne Theatre's former life as a Masonic building in the 1920s are visible on the walls, and the decor seems inspired by royal grandeur.
How to book: There's a form to fill out on their website.
We can't personally verify their claim of being the third oldest continuously running bar in Portland, but Kelly's Olympian is undeniably a Portland treasure. Established as a bar in 1902, it's steeped in history, albeit some of it rumored. During the '30s, it was supposedly a speakeasy that once had the highest liquor sales in all of Oregon (so they say), and it might even contain secret entrances to the possibly haunted Portland Underground, often called the Shanghai Tunnels, that were used for various illegal purposes (some of them really terrible).
The recent goings-on, though far less mysterious, add to the bar's already sturdy draw. The whole place has been redecorated to reflect the new owner's love for motorcycles; pieces of his collection are spread throughout among neon signs and vintage pieces. And in 2008, Kelly's Olympian added its music venue, a lower capacity room that hosts rising independent bands and artists nearly every day, save for Sunday's comedy open mic. (There is an open mic for music, too, on Mondays.)
How to book: Contact Nalin Silva.
Next up: 5 Things Every Musician Needs to Book Great Gigs
Jhoni Jackson is an Atlanta-bred music journalist currently based in San Juan, Puerto Rico, where she juggles owning a venue called Club 77, freelance writing and, of course, going to the beach as often as possible.
undefined