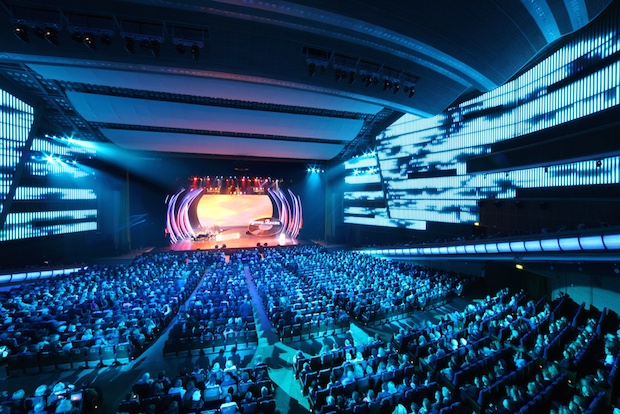 Image by Pavel L Photo and Video via Shutterstock
You've spent hours and hours honing your live set to perfection, and now you're finally ready to start the process of booking your first gig. Or maybe you've played a few shows already, but it seems that your same group of friends are the only people showing up. It's easy to stagnate in this spot for a while, so how do you take your gigs to the next level?
There's a ton of information online about how to market and promote your gigs, but none of that matters unless you're actually booking great gigs in the first place. Here are the top five things that should be on every band's gig booking to-do list.

1. Create a custom venue database
The first step to booking any great gig is finding a great location for it. Do some research to find rooms in whichever city you're playing that are the appropriate size for your group and typically host bands that play similar styles of music. The best way to find these things out is by actually attending concerts at lots of different local venues (which is also a great opportunity to do more networking).Try to go see local bands that you like, and keep track of what venues they play.
Once you've found venues you really like and that you think would be good for your group, start a database of venues in the cities you typically play. Try to find the venue online, and fill in as much information about them as possible, so you can find the answer to any questions you might have in one place. In my personal database, I have an entry like this for each venue:
Venue Name
Address: xxxxxxxx
Phone: (xxx) xxx-xxxx
Booking Email: xxxxxx@xxxxx.com
General Email: xxxxxxx@xxxxx.com
Website: xxxxxxxxxxx.com
Hours: Mon-Fri: xxxxAM-xxxxPM
All Ages: Yes/No/Sometimes
PA System: Yes/No
2. Make friends with other musicians
In the music industry, your musician friends are essential. When your group first starts out, it might be difficult to get booked by directly contacting a venue due to lack of recordings, press, or draw. Many of your first gigs will most likely come from your friends in other bands who can get you on a bill with them.
Even after you've begun to establish yourself in various places, your best shows will often be with bands that you're friends with, and whose music goes well with yours. A person who's considering coming to see your band will be much more likely to buy a ticket if they'll also be seeing two or three other bands that they enjoy. It's advantageous to gather a few bands that your audience would enjoy just as much as your own, and pitch the entire bill to a venue. Doing so will not only make it easier to get a gig, but will also maximize every band's draw.
3. Recordings
What does your band sound like? If you're a folk band or acoustic singer-songwriter, you probably don't want to end up in the awkward position of having your set sandwiched into a metal/hard rock night. But if the booker has no way of knowing what sort of music you play, you can hardly blame him or her.
Once you have a set together and are ready to book shows, your top priority should be getting samples of your sound together. Descriptions of music are often interpreted completely differently from individual to individual. When a venue gets your email about wanting to play, one of the first things they'll want to know is what you sound like. When answering, there's no substitute for a recording. Even lo-fi basement demos are better than nothing. This will allow you to play better shows in the long run, as it'll be much easier to match you with other similar groups.
4. Social media presence
Do you promote your shows, and if so, how? Venues and booking agents will be checking into your social media to see how active you are about promotion, as well as how engaged your audience is.
Social media should not be your only means of promotion, but it should be one of your top priorities regardless. If you put up posters for your shows, make sure to take a picture or video of you doing so and post it around! Better yet, have a competition among your followers to see who can put a poster in the most creative place, with the winner receiving a free CD or merch of some kind.
5. Electronic press kit
If you aren't familiar with the term "press kit," it's essentially a collection of documents that really sets you apart from bands that are less serious about making a career. Think of it as your resume. If you have one, send it to venues or promoters, as it should hopefully have all of the information they would want gathered in one place.
A typical press kit should contain:
Favorite press quotes (if you have any)
Links to your website, social media, recordings, and live videos
Contact information
Up-to-date list of upcoming gigs
A "one sheet," which summarizes all of the above into a one-page document
Your stage plot/input list (if possible)
Creating an electronic press kit on Sonicbids is the easiest way to take care of all this (and is preferred by many reputable talent buyers and promoters), but you should also consider packaging everything into an easily accessible digital location in PDF format (ideally, a PDF of each individual section as well as the entire package) in case you come across a promoter who prefers that.
Outside of all the gig opportunities you can get through Sonicbids, another huge benefit is that you can use the process of designing your EPK as a guide to making your band's online presence more professional – which can realistically lead to many more gig opportunities (Sonicbids or non-Sonicbids) in the future.
Dylan Welsh, a native of Seattle, Washington, grew up cutting his teeth in various club bands around the Northwest. Seeking a more diverse and challenging environment, he attended Berklee College of Music with hopes of gaining new perspectives and finding his own voice. Though music is what he does best, writing and journalism are other passions that he has kindled throughout his academic life.