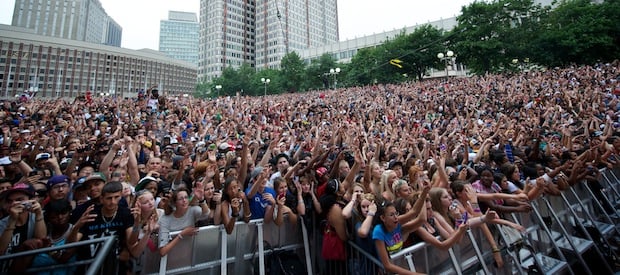 Image courtesy of Rich Henderson
Since 2010, the Boston Urban Music Festival (BUMF) has been host to some of the brightest talent New England has to offer in hip-hop, R&B, soul, and electronic music. This year, BUMF will feature legendary hip-hop artist Talib Kweli as the headliner and is expanding with a pre-party at Good Life in Boston on August 23, which will feature The Arcitype and Mr. Fritz. With the tens of thousands of people that come to BUMF every year, the pre-party is set to be an incredible opportunity to both hype the festival and to showcase additional local talent.
The Brain Trust, a full service concert production company based in Boston, is handling booking for the festival, along with One If By Land Productions. They're looking to book two Sonicbids artists – one for the festival at City Hall Plaza, and one for the pre-party at Good Life. We recently spoke with Brain Trust agent/manager Richard Henderson about the festival, and what it would take to be chosen for the opportunity.
Tell us a little bit about the origins of the Boston Urban Music Festival. How and when did it get going?
The Boston Urban Music Festival was started in 2010 as part of the rebranding and evolution of the City of Boston's "Peace Hip-Hop Festival," which was founded in 2006. Before evolving into BUMF, the event was held at the landmark Strand Theatre in Dorchester. BUMF has since returned to the City Hall Plaza venue, and continues to focus on giving local artists an outlet for artistic expression while sharing the same stage as nationally accredited headliners.
Could you give us some background on The Brain Trust? How long have you been booking BUMF?
The Brain Trust has been booking shows and working with artists since 2010 in Boston, and was brought on board the BUMF team along with our partner One If By Land Productions, who has had a working history booking BUMF in 2010 and 2011. Our two companies have made a great team, and both of us regularly produce and market events for some of the city's largest clients year-round.
Does BUMF feature a lot of local New England talent? Is that a focus for you guys?
Yes, we've made a stringent effort to keep BUMF central to Boston's brightest talent. Despite the magnitude of the event, a large part of BUMF serves to showcase the incredible pool of urban music artists in the city.
What's the plan for the pre-party at Good Life that you're also booking a Sonicbids artist for? What's the reception been like so far?
The second stage to BUMF is new this year, and it's a kick-off for the entire event. The stage is getting set up on a raised outdoor patio right above the main stage in City Hall, and will feature Boston's brightest talents. The reception from local performers has been great – we love being in a position to give Boston acts larger scale opportunities.
When and why did you start partnering with Sonicbids to find talent?
We started partnering with Sonicbids very recently upon starting to work on the BUMF project. I noticed the company was Boston-based and started to see a lot of room for collaboration, especially on the local level. I've loved working with Nate [Haltom] at Sonicbids – it's always nice to be able to relate to mutual friends and contacts, and we've got some similar ideas on how we can bring the hip-hop community closer together.
What specifically does BUMF offer to artists that makes this a really exciting opportunity?
Not only is BUMF an event run by the City Hall of Boston that's historically had tens of thousands of attendees, but this year's bill features a community of artists that has been raising Boston's status in national hip-hop. From features in national publications like XXL and MTV to performances at tastemaking festivals like SXSW and CMJ, these performers are making news far outside of just Boston, and this is a great chance to connect and build with these amazing people.
What are you looking for when booking a Sonicbids act? What's the best advice you could give an artist that really wants to be a part of the festival?
When selecting an act via Sonicbids, we're looking for something different. There's a lot of similarity across artists, especially in hip-hop – a style of music that can be so regionally influenced. The best advice I can give to applicants is to think outside the box and push the envelope. Show your most creative self.
Is there anything else regarding the festival, pre-party, or your partnership with Sonicbids that you'd like to mention?
We hope to see you there! We're honored to be working with City Hall and Sonicbids this year, and look forward to the opportunity to continue putting together more opportunities for artists in Boston moving forward.
Apply to perform at the Boston Urban Music Festival by August 13, 2014.