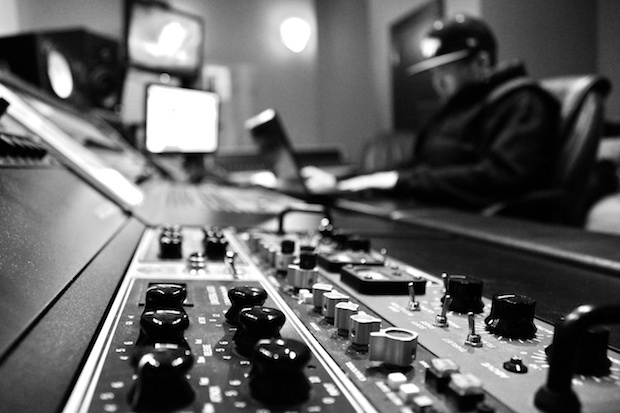 Image via aliciakeysmusic.com
It's been my experience that although not every artist necessarily needs a producer, every musician can benefit from having a pair of objective ears that are trained to recognize and deliver a compelling product. If you're on the fence about whether to contract producer talent for your project, consider some of the benefits of having one listed below.
1. Producers are impartial
One of the most difficult things as an artist is developing the ability to hear your music from an audience perspective. This is crucial because in order to make decisions that affect your sound and artistic direction, you need to understand your audience and target demographic. It's hard to think outside yourself because when you're the one performing your own songs, even the most nuanced changes will seem vast from your perspective. This is why having a producer who knows music and understands the commercial marketplace surrounding your genre is key. They will be able to make determinations like what is cliché and what hasn't been done before.
[What Should You Look for in a Producer? 4 Questions to Ask and 5 Must-Have Qualities]
2. Producers bring out musical ideas you didn't know you had
Inspiration comes from many sources, but sometimes the most ingenuity can come from deep within your soul. Having an external figure guide you to find answers to the difficult questions and get to the real reason behind why you want to make music will undoubtedly lead to self-discoveries that can transform your music and help you branch out.
Great producers are one part psychologist, two parts music expert, and three parts human. They'll help you identify your strengths and weaknesses, allowing you to focus on creating music with real meaning behind it. Historically, successful producers have helped revolutionary artists shape their music to match the stories they wanted to share with the world.
3. Producers help give you direction
Navigating music can be rough. Deciding where to go artistically, stylistically, and sonically requires a strong knowledge of your self, those you surround yourself with, and those you want to touch. Having a mentor every step along the way will help make decisions that you may not be able to make yourself. This is especially useful for bands that have multiple songwriters, because when there are several valid opinions floating around, someone must be able to balance individual concerns with overall needs.
While artists should do their homework and study music, their main focus should be songwriting and performing. It's the producer's job to know the history of music, keep up to date with the current climate of the record industry, and consistently be able to anticipate what will top the charts. Having a producer will allow you to trust an outside ear, not having to exhaust yourself researching what albums have succeeded and why, while balancing your own musical endeavors.
4. Producers educate you and help you grow
Even in the age of DAWs and home recording studios, the vast majority of artists still see recording technology as a separate part of the process. A good producer will integrate music technology into creative inspiration, allowing you to experiment will new sounds and innovative ways to take advantage of the transparent songwriting capabilities software allows for. You'll be amazed at what ideas come to fruition sitting behind a vocoder or vocal morph plugin, with a producer giving you direction on how to expand your sound.
If you feel you've hit a plateau and your material is starting to all sound the same, this is a definite sign you can benefit from a producer's skills.
[5 Tips for Effectively Communicating With Your Producer]
5. Producers expand your network and reach
Established producers should be well connected and have working relationships with supervisors, ad agencies, radio stations, managers, label executives, booking agents, publishers, session musicians, engineers, and studio facilities. Sometimes just bringing the right people in the room can transform good material to timeless legends. If a producer agrees to work with you – i.e., putting their name behind a project that has direct implications on their reputation – that typically means they wholeheartedly believe in your success and will dedicate their time and energy to ensure your dreams become reality.
6. Producers allow you to exclusively focus on your music
Making a record is an intensive process. Hiring a producer will ensure that you won't be bogged down by the multitude of external and internal considerations surrounding the production of your album. Producers will take the weight off your shoulders by keeping everyone on track, forming and enforcing a schedule with specific deadlines, making all the phone calls to book rehearsal spaces and recording rooms, help contract freelance musicians, adhere to a budget and account for project finances, and manage all ancillary moving parts from arrangers to writers to session engineers to mastering engineers.
Hopefully you're now equipped with enough potential outcomes of working alongside a producer to be able to determine if having one is right for your project. While you may not need a producer to help keep you on track if you're a highly motivated self-starter, having an unbiased ear to give you feedback and direction can always be of benefit to you. Try out a producer on a trial basis, and see what progress you're able to make!
Caleb Hsu is an independent vocal producer and freelance recording engineer based in Los Angeles. As a classically trained pianist and composer, he enjoys writing music technology features that combine his psychology background with current industry trends.