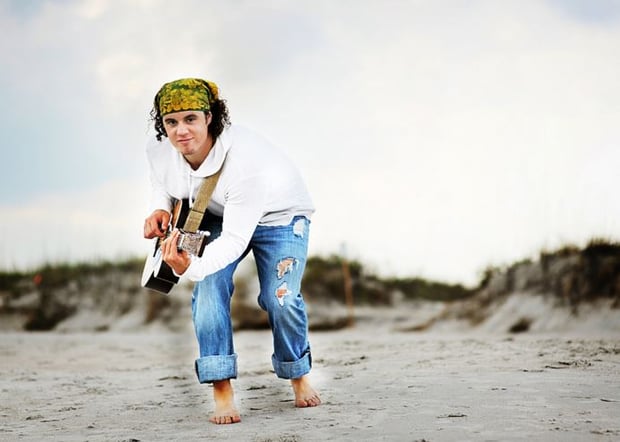 Photo by Kara Wilding Photography via sonicbids.com
When we think of what a full-time musician looks like, we often picture someone famous performing around the world on huge stages. On the other hand, we look at a budding musician as someone performing for free and not selling their music. Well, there's a whole middle area where full-time musicians can flourish by taking advantage of several different revenue streams. Dylan Holton, a fast-rising songwriter from Canada, took the success of his debut album on tour across the country and, at an airport gate, made a very valuable connection that led to a cruise-ship job that's taken him across the world, put his music in the hands of thousands of people, and kept his bills paid. We caught up with Holton to learn about what it's been like performing around the world, both on land and water.
Your album Jar of Sunshine really took your career to another level, with singles being recognized by accolades left and right. When you were writing the music, did you think it would have that type of impact?
I really wasn't sure of the impact it would have. I knew the majority of my songs from the new album had edge and a lot of inspiration behind them, but it wasn't until I heard them back from my live shows and after production was finished in studio when I really thought something special could happen from this project. Aside from the competitions it's won and the attention it's been getting, it has been really impacting the listeners, and honestly, that was the main goal. Of course I wrote these songs for personal reasons, but during my live performances, people really resonate with them, and that has been the biggest reward.
Your album led you to tour across North America, but even more interestingly, it landed you on a cruise ship through the Caribbean, the Bahamas, Mexican Riviera, Hawaii, and Alaska. Tell us about that experience. How did you get the opportunity?
When I finished touring California back in 2012, I was leaving the US on the last day my visa would allow me to be in the country, when I ran into a cruise-ship performer at my gate hours before my international flight. We stayed in touch, and it eventually led to a pretty awesome opportunity getting to perform all around the world. Even now, I am currently off the coast of Australia heading for New Zealand, and it's been an amazing opportunity to share my music in different parts of the world.
The music industry has changed drastically over the years as we all know, and to the everyday touring musician, sometimes people laugh at the idea of still printing CDs in bulk numbers because they don't sell like they used to. To be honest, performing for thousands of new guests on board cruise ships week to week has done wonders for getting my original music out there by selling CDs.... The amount of friends and fans I've gained during my time on the ocean has been pretty overwhelming.
The cruise line eventually offered me a full, original show on the main stage each week performing for thousands of people. Getting to share my original music in this way has been an effective way to stay a full-time musician, and has really let me continue to connect with fans through original music. It's impossible to do a money-losing tour when it comes to a cruise-ship tour, because you have zero expenses, and when the tour is over, you can go back home or tour on land and reinvest in yourself as an artist. It's pretty unique, and to do it, you have to love it.
How was performing on a cruise ship different than, say, putting on your own show at a local venue? How did you cater to the different setting and audience?
Performing on a cruise ship is the most performing I have ever done in my life. It's similar to land gigs because you're performing in venues, like you would anywhere else, for new people, like you would anywhere else. I've done the tours on land from city to city, and also the local shows and festivals, sometimes having three gigs a day. But with the cruise-ship performances, you are performing anywhere from three to four hours a night with about one full day off a week. It sounds like a lot because it is, but it's been really getting my original music out there, which has led me to show opportunities back on land with new fans and venues, so it's a win-win situation.
Like anything, though, being on the road or "the water" can be strenuous at times. It really is the music that keeps you going. It's effective because instead of traveling hundreds of miles to do shows for new faces, every cruise, there are thousands of new people, and it's my job to turn their heads and make them interested in what I have to offer. My goal is to always give the people a reason to want more from me. No matter where you perform, you need to perform with a ton of heart and a ton of soul. People love seeing that from artists, and it's the best way to connect with your audience.
Another great aspect of a cruise gig is that it usually pays pretty nicely. After successfully touring in an unconventional way for album promotion, have you looked to other unique sources of potential revenue?
Of course, the thing that keeps professional musicians in the business usually comes back to revenue. You end up being on salary for certain cruise lines when you perform, but I will say it is the CD sales that really make a difference. When people go on vacation, no matter where they go, they always want that souvenir to take back home, and as long as I put on a great performance, I always hope my CD will become their souvenir. Fans really are everything in this business.
Aside from CD sales, online distribution portals like iTunes are very effective for those who don't want the physical CD. Over the time I do a cruise ship tour, my online sales rise, which is great to see. I've been getting a lot of great radio play on this new album which has its return, and lately I've been wanting to explore licensing for TV and movies, publishing and songwriting avenues to generate income as well. I have the tools to do so, and it's just a matter of someone reaching out either showing interest or finding the right company to work with.
My only income for the last five years or so has been solely from music, and I've worked harder at it than I ever thought I could. That's what it takes.
[5 Not-So-Obvious Revenue Streams for Musicians]
Tell us how Sonicbids has been a tool for you to grow your songwriting career and craft. What have been some of your most memorable opportunities?
I joined Sonicbids a few years ago, and it really has been a great tool for advancing my career. In Los Angeles, I've been asked to join songwriting circles with some great artists, which can really have you thinking outside the box. I think that's very beneficial as a songwriter to see what your limits are.
Also through Sonicbids, I've won songwriting competitions, which not only give you the credential of winning, but also the rewards. Just from winning a songwriting competition through Sonicbids, I was given subscriptions to numerous music industry catalogs and databases showcasing the direct contact information for some of the biggest names in the business. I've had a couple of my songs featured with different compilation CDs as well, which has generated income through iTunes and more. My music has been featured on numerous websites which has resulted in features, interviews, and more. There have even been times I've been asked to sit in on radio shows if I'm ever in their area, so it's pretty cool building connections with places you haven't been so when the time comes, and you make it to, say, Nashville, you have a radio show ready to set you up just like that.
If a budding songwriter was on the cusp of becoming a full-time musician, but was nervous how to go about making a living, what three pieces of advice would you give him or her to take off with success?
I would have to tell them this: first, make sure you absolutely love what you are about to do, because although it can be a roller coaster, you need to wake up every day and be passionate about why you're getting up in the first place. Love what you do.
Second, don't be scared of taking a risk. The worst thing in life is wondering about the "what if?" Just do it. What's meant to be will be. You'll know if you're headed in the right direction or not, and if you're not, you'll make the right decision to put you back on track.
Lastly, just enjoy the ride. Have fun with your creative side. I can't tell you how many people out there wonder what would have happened if they just went and played that open mic, went full-time on music, or signed that record deal. Whatever decision you make, just be happy with it, and embrace the hell out of it. Slow things down and remember why you started doing this in the first place. That'll do wonders for you to keep loving what you do with passion.