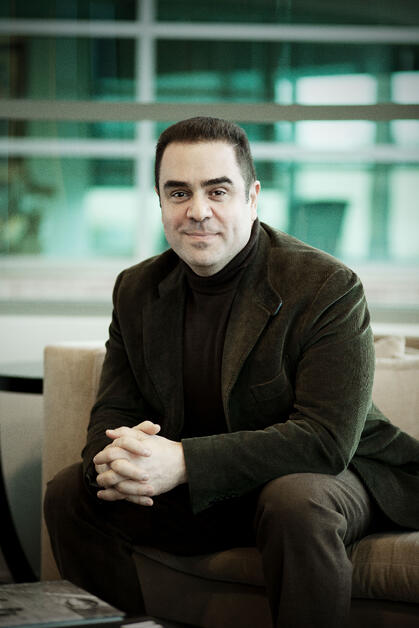 Photo courtesy of Evan Lamberg
When Evan Lamberg took over as president of the Universal Music Publishing Group in 2011, he knew he wanted to find a way to help up-and-coming songwriters connect with mentors and find a path to success. This year, he struck upon the right idea, found the right partners in Sonicbids and the Songwriters Hall of Fame, and put together a songwriting contest, which will award a Universal Music Publishing contract as its top prize, as well as mentoring by some of the industry's best songwriters to runners-up. We caught up with Lamberg to talk about great songwriting's essential qualities and his tips for contestants.
How did you come up with the idea for this contest?
I'm on the board of the Songwriters Hall of Fame, besides working here at Universal Music Publishing. We've been talking for years about programs to support young, undiscovered songwriters. We've been trying to figure out how to do this for a while, and I thought what most songwriters would like, aside from success, is a partner they can work with, be mentored by and have help with networking from. As easy as it seems to be able to Tweet and reach millions of people, it's not that easy. People still need guidance of professionals in the music business.
Most songwriters I talk to have the goal of getting a publishing deal. Once you have the connections, you can get a lot more done. I thought about having Universal give the winner a full-on music publishing deal. We work with them, we network them to songwriters, high-level producers and artists. It seemed like, when I brought up that concept of that brass ring, the whole thing started to take shape and all fell into place.
We thought the combination of those two companies that literally stand for songwriter development and discovery would be great for the songwriter that got to the finish line. The real goal is to have not only the person win, but to show success after that. My goal is to have a unique songwriter discovered, take them under our wing and have a great success story in the years to come. The winner having incredible success is the real long term goal.
How does it benefit a songwriter to have a mentor?
Mentoring in any part of life is essential. You have to have conviction and a lot of determination in what you're doing, but having a mentor to pass on any kind of wisdom that they've seen – I would pass on mentoring to this winner. He or she may not agree with everything I have to say, but they get 25 years of wisdom and insight. There are some incredible songwriters involved, mentoring some of the winners, and these are writers who have written some of the greatest copyrights of all time. You pick up things along the way. It's not just a contest that says, "Hey, hand in your songs!" A lot of it is the nurturing along the way, getting to speak to people who are hard to get to – to have one-on-one time with them personally or by phone and get input on how your songs can be better. That's important. It's about the journey and what you can learn from these people. It's almost like a university of songwriting, in a way.
What qualities do great songwriters share?
There are a whole bunch of factors that get mixed up in the cooking. The first thing you need — and this is all opinion, until the public weighs in — you need a melody and lyrics that are timeless. There are twelve notes on the scale. A songwriter today has the same twelve notes that Beethoven did. How you organize them, the time you put them in, that's the first thing – because melody is not the only thing, but it's what people feel in the song first.
The greatest lyricists that I have ever met are people who say the same thing that everybody says but in a different way – how you approach it in the context of language. Those things together give you the basis for an incredible amount of success. But, if you have those things and you don't have a great work ethic, or you're not treating people right, or you're not looking for business partners who can do things you can't do – you need to combine the gift of your talent and have someone come along and believe in your talent and engage with that person. Show up to meetings on time. Follow up with people. Work an extra hour when the other people are going home. Reach out to ask questions.
If you spoke to Elton John or Dr. Luke or [any of] these people who write these global hits, you'll start to see that not only is there magic in their writing, but they had mentors – they worked the extra hour, they didn't piss people off. They know how to argue respectfully. Nobody is going to be able to become successful in any part of life without a team around them. It's not just the mentoring. You need to get the other part of life down to combine with that. You're not going to win just because you're more talented than everybody else. I know less talented writers who are more successful because their work ethic is that much better.
What advice do you have for a songwriter entering this competition?
If you only have a shot to play two songs, which two do you think are undeniable? Put your best melody forward. It has to be incredible. If the melody is not great and special, you're gonna be a step behind. If someone came in and said, "There are 10 songs I wanna enter but I have to pick one," I'd say take your chances on the best melody.
You can go around singing a song for years, and someone tells you you have the lyrics wrong. And you're like, what are you talking about? Your whole world turns upside down. You start to go, "Oh I can't believe I have been singing it wrong!" But the melody you won't get wrong. If you have a favorite song as a child and someone starts playing it, you'll recognize it immediately. That's why melody is so important.
Ready to submit your best song to the Songwriters Hall of Fame Song Competition? Apply by June 30, 2014!