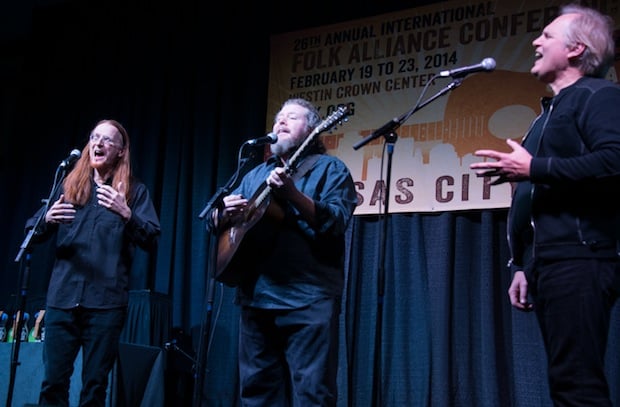 Folk Alliance International Conference 2014 (photo by Jayne Toohey, 2e Photography)
On a mission to nurture, engage, and empower the international folk music community, the Folk Alliance International Conference returns to Kansas City, Missouri, for its 27th year in February 2015. The annual networking and showcase event draws together over 2,000 music industry professionals from around the world, and booked over 100 Sonicbids artists last year alone.
Don't be fooled by its name, though – the event features much more than just folk artists. Musicians who perform bluegrass, blues, roots, world, zydeco, Celtic, singer/songwriter, spoken word, and more are all invited to submit their EPKs.
"I think broadening the image of the word 'folk' is important," says Louis Meyers, special projects coordinator for Folk Alliance (formerly the executive director). "The word 'folk,' for a long time, has had an old connection. It wasn't a hip word. We want to make folk acceptable again. And there are so many bands doing this right now, like Mumford & Sons, Bon Iver, Iron & Wine, The Lumineers. They're staking a claim in the true mainstream again."
One of the best things about the conference, as any past attendee will tell you, is the people you get to meet. "I was astonished at how open everyone was. It was really great to talk about music with people from literally all over the globe," says Rebecca Rego of her experience at the 2014 Folk Alliance International Conference. "Folk Alliance provides a comfortable environment for people to really connect."
In addition to making connections with fellow musicians, Folk Alliance is ripe with opportunity to meet industry folks. "We connected with musicians and industry people who we would have never met otherwise, and found venues we had never even heard of," says Rego. "I would recommend all folk musicians attend Folk Alliance at least once. This conference has given me a fresh perspective and has energized us for the year to come."

Submit to Folk Alliance by September 5, 2014 to get $10 off your application. After that, the submission fee will increase to $40.