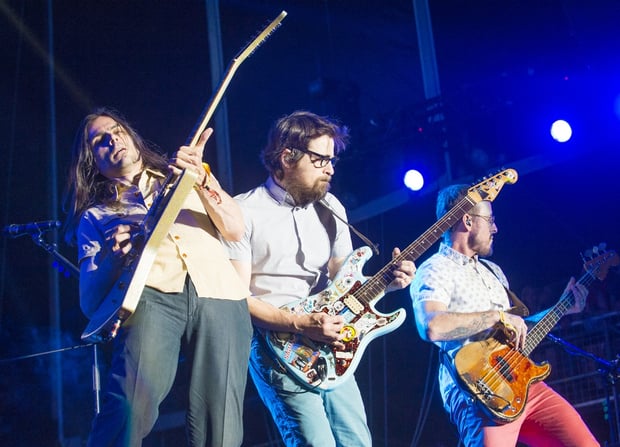 Photo by Kobby Dagan via Shutterstock
Just recently, Nielsen released its mid-year report for 2016, which shows how certain sectors of the music industry are performing. It's important for musicians and those in the business to be aware of these trends, at least from a higher level. This is the world in which you, and your work, exist, and it's a good idea to have some sense of what areas are seeing success, and which ones might not be important to focus on.
Now, these numbers might not tell you everything you need to know as a musician just getting started in the business, but if you're going to take this industry seriously and make a living in it, it never hurts to be apprised of what's happening.
Sales
It should come as no surprise that sales of essentially everything in music are down, as that's been the trend for a decade now. In the first six months of 2016, 100 million albums have been sold in the US. That may sound like a large figure, but it's actually much smaller compared to the same time period last year, when 116 million albums were purchased. Of the 100 million records that have been bought, 50 million were physical CDs and 43.8 million were digital.

At this point, there are only three albums that have actually sold one million copies: Drake's Views, Adele's 25, and Beyoncé's Lemonade. If you were thinking that selling a million was likely for your next album, look at the names on this list, and maybe rethink your sales goals.

That isn't to say that going platinum is impossible, though. The RIAA recently changed how it certifies albums and songs platinum and gold, and streaming counts towards those awards now. Having said that, only two additional titles (Justin Bieber's Purpose and Rihanna's Anti) have managed to be certified platinum for shifting over one million equivalent units, so it's still something of an uphill battle.

[Streaming Finally Counts Towards Gold Certifications for Albums – What Does That Mean for You?]
Vinyl has continued to grow, but that doesn't mean it's going to save the music industry, as so many people have been quick to claim. Sales of vinyl jumped 11.5 percent in the first half of 2016, but that's only representative of a few hundred thousand more copies shifted. Meanwhile, 6.2 million vinyl albums have been sold so far this year, while during the same time last year, that number was just 5.6 million. Any gain is welcome in an industry that has been suffering for some time, but 600,000 LPs sold isn't going to make the business what it once was.
[Should You Press Vinyl for Your Next Release?]
Song sales are hurting even more than albums, so keep that in mind the next time you look to promote your next single. Overall track sales dropped almost 24 percent from the first six months in 2016. This year, 404.3 million songs have been sold, but last year, that number was closer to 532 million.
Streams
On the upside, streaming has yet again grown by an enormous amount, far outpacing the only other sector gaining ground: vinyl. In the first half of 2016, Nielsen tracked just under 209 billion streams. Yes, billion with a B. That number is up a whopping 58.7 percent from the same time in 2015, and that percentage will likely be even greater by the time this year is over.

It is worth noting that for the first time ever, audio streams were more popular than video streams. This means that music lovers are opting to head to Spotify, Apple Music, Pandora, and the handful of other streaming platforms to listen to the tunes they love more often than YouTube.

For many years, YouTube led the charge in streaming, even though it wasn't thought of as a "streaming site," as opposed to a video-hosting platform. The Google-owned company is still bringing in tons of traffic, and, of course, it's important to have a presence there, but the numbers show that YouTube's prominence may be waning slightly.

So, how's music doing so far this year? Probably exactly as well as you thought. Sales down, streams up. Remember, though, that while it's always sad to see revenue from people buying music drop, these are still the early days for streaming, and the numbers will continue to rise. Expect brighter days ahead, which is good news for music creators.

Hugh McIntyre is a freelance pop music journalist in NYC by way of Boston. He has written for Billboard, The Hollywood Reporter, and MTV, as well as various magazines and blogs around the world. He is also the founder and editor-in-chief of the blog Pop! Bang! Boom! which is dedicated to the genre of pop in all of its glory.