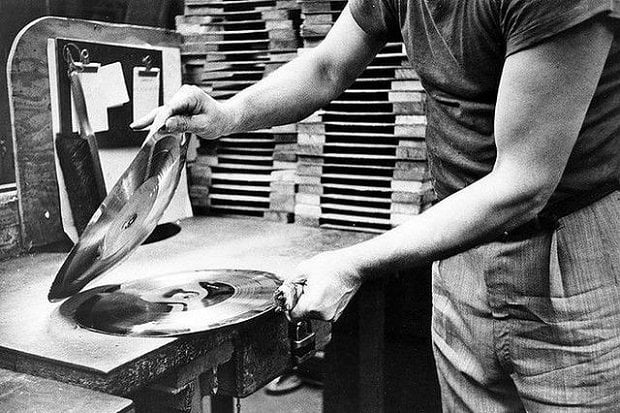 Image via theaudiomuseum.com
In 2014, sales of vinyl records were up 51.8 percent over the previous year. Given the ubiquity of streaming music, which has already eclipsed music sold online, that number is quite fascinating. In the grand scheme of things, the resurgence in LP sales represents only 3.6 percent of all record sales – which, according to Nielsen SoundScan, accounts for 9.2 million of the 257 million albums sold – but it also represents its biggest growth sector. But why now?
"A lot of people still like the idea of owning things that are important to them," says Mike Dixon, owner of piaptk.com, lathecuts.com, and mobilevinylrecorders.com – three companies that specialize in releasing and manufacturing limited-edition vinyl. "And there is the oft-touted value of tangible interaction.... You have to actually handle this large object and take care of it, and pay attention to it the whole time you are absorbing it. It's like having a child on a super-micro scale. And some labels really understand this aspect and are making the them more interesting with heavyweight or colored vinyl and deluxe packaging."
Cool, right? So how does one get in on the action? In a future article, I'll be giving you some practical advice on how you, too, can press your musical masterpiece on wax. I've also solicited expert advice from engineers, manufacturers, labels, and even record stores owners on how you can make your musical dream a reality.
But, first, you need to ask yourself these questions to determine if pressing vinyl is the right choice for you.
1. Do you have too much music?
Cramming too much music onto an LP can greatly diminish the sound quality. This has everything to do with cutting wide grooves – doing so allows for greater sound quality and volume.
The optimum length for a full-length record is 18 to 22 minutes per side. Have too many songs? Save 'em for an EP or maybe include them (along with the rest of the album) via a download code. Besides, such an exercise in concision might make for a more impactful listening experience. It worked for Dark Side of the Moon.
2. Has it been properly mastered?
Mastering is a topic worthy of its own post but, to sum it up, I turned to Paul Logus, an expert mastering engineer who's worked with everyone from legendary artists like Pantera, Public Enemy, and Mary J. Blige to up-and-coming indie rockers Wray. "Mastering is the final step in creating a finished product for release. I am your sonic guardian angel. I look at the album as a whole, making sure there is overall continuity and the songs will translate to the intended format."
In most cases, a well-mastered CD will make for a fine LP. That said, if you're going into a project knowing it will end up on vinyl, then you should consider making a separate master in order to take full-advantage of the medium. (But we'll discuss that further in part two.)
3. Can you wait for it?
"It's definitely been frustrating watching the turnaround times go from a couple months to sometimes over six months at most plants," says Dixon. "I've stopped even setting release dates because there's no way I can know when it will actually arrive."
According to Carrie Colliton, one of Record Store Day's founders, the 2014 event featured 448 official titles – so you can expect at least that many when the big day comes around again on April 18, 2015. Given that demand is already at an all-time high, getting your record pressed in the first quarter of the year is gonna be tough. If you're a working band, then these delays could end up affecting both your touring and marketing plans. We'll discuss this more in part two but, in the meantime, keep an open dialogue with whoever's pressing your albums, and do your best to be flexible. Oh, and don't forget to breathe.
4. Can you move 'em?
Where are all these records going? Are you going on tour? Make sure you have enough room for all those boxes in your transport of choice – and don't you dare leave 'em in a hot car, or all that work will be for nothing.
What about record stores? Traditionally, vinyl is sold one way – which is to say, "All sales are final." Unlike CDs, which can be returned to a label or distributor, if a record store takes a chance on your LP, they're stuck with it until it sells. This holds true whether the album is released on an indie, a major, or all by your lonesome, so if you want record stores (and there are still lots of them) to take a chance on your record, then you'll wanna make sure your band has some momentum. Maybe now's a good time to talk to a publicist.
Also, how many records should you make? That's something that's probably best left for part two, but in the meantime, I'll give Mr. Dixon the final word: "[Artists] need to understand that selling even 500 records (the practical minimum for breaking even) is hard for any band without a sizable following. If you aren't totally sure you can sell that many, you have three choices: one, press 500 and be willing to have the money and storage space tied up for the foreseeable future; two, not make vinyl at all; or three, look into lathe-cutting services (like my other business, lathecuts.com) where you can get as few as 20 copies made. You will sacrifice a little fidelity in favor of shorter turn times and much lower minimums."
So, think you're ready to press your next release on vinyl? Click "subscribe" on the top-right of this page to get part two (and more helpful articles like this) right in your inbox.
James P. Fahy is not only a freelance writer, but also an occasional publicist, musician (Teen Getaway), radio show host (Blood on the Knobs airs every Tuesday on Substrate Radio), and music business person who's worked with the Coalition of Independent Music Stores, Communicating Vessels, Naxos, and Redeye Distribution. He lives in Birmingham, Alabama.