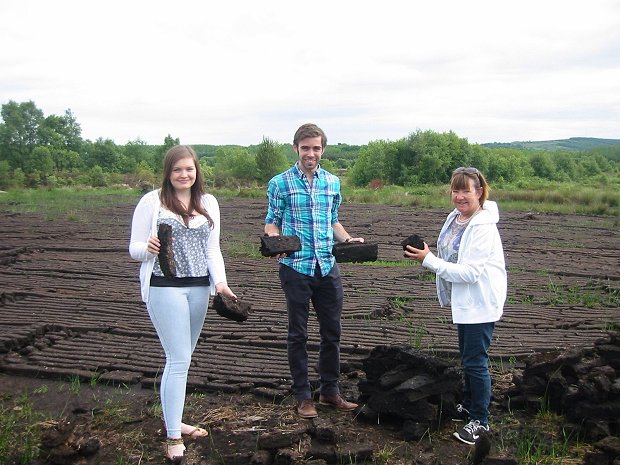 Tina Collum, Casey Buckley, Teresa McManus at the peat bogs in Ballinalee, Co. Longford, Ireland. (Image courtesy of the author)
In spring 2014, longtime Sonicbids user Casey Buckley applied for youbloomDublin, an international music festival that books several acts through Sonicbids. After being invited to perform, he had no idea how monumental the trip would be, both musically and personally. Here's his awe-inspiring story about how he finally met his long-lost cousins in Ireland.
Music is all about connections. Whether it's the interplay of instruments and lyrics, the communication between performer and audience, or the shared appreciation of art, music transcends all customary interaction. There is one more type of bond, however, wholly unique to the touring artist: the connections with individuals met on the road. While this often manifests as a friend of a friend or a fan who keeps in touch, occasionally the universe throws something truly special your way.
When I first received an invitation to play youbloom 2014 in Dublin, Ireland, I was excited, to say the least. With Irish surnames on both sides of my family tree, I couldn't wait to visit the land from which my people came and share my music abroad.
[Checklist: What You Need to Know to Perform Overseas]
A bit more on "my people" – I knew my great-grandparents were born in Ireland and that cousins of some order were still living on the family land in County Longford. We even had an old photograph of my late American grandfather, Maurice Sullivan, and his Irish first cousin, the late Christy McManus, taken many years ago on a trip to the homeland. Since then, however, everyone had largely lost touch, and we knew nearly nothing of the younger generations.
The festival date approached and within a week of leaving, I was given a handwritten note with two Irish phone numbers and some names. I packed the paper in my guitar case and didn't take it out until I was in my Dublin hotel room. On it were the numbers for Mary McManus, wife of the aforementioned Christy McManus, and Catherine Collum (née McManus), their daughter.
I dialed the first number and was met with an error tone. I would later learn that since the last visit, the Irish telephone system had undergone some changes, and I needed to append a new location code to the beginning of the number. I dialed the second number and a girl picked up. I asked if Catherine was available – she was not at the moment. According to my Irish contact list, Catherine had given birth to a daughter named Tina approximately 17 years ago. Utilizing my brilliant deduction skills, I asked the girl, "Is this Tina?" It was.
I then followed up with what may be the strangest thing she has ever heard a stranger say over the phone: "I'm Casey Buckley, an American musician playing a festival in Dublin this weekend. And I'm your third cousin."
Logistics followed, and after more phone calls, a rental car, and an hour-and-a-half trip to the heart of rural Ireland, I was surrounded by more cousins than I ever knew existed. We ate, traded stories, and caught up on life for hours in the house where my great-grandmother and every prior generation for longer than anyone can remember had lived. Good craic was had by all. (Craic, in case you were wondering, is an Irish noun for fun, conversation, laughs, etc. "Good craic" is close to saying "a good time.")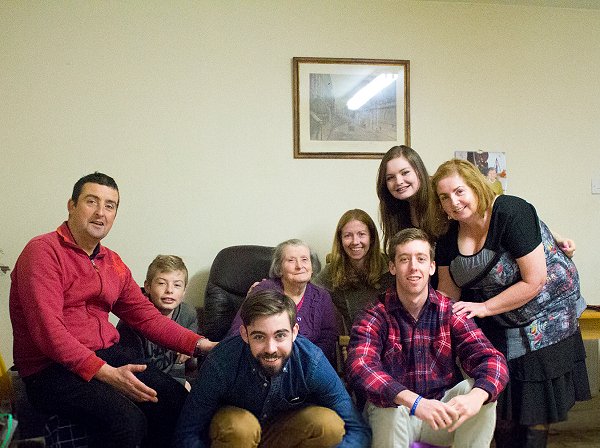 Thomas McManus, Shane McManus, Casey Buckley, Mary McManus, Theresa Buckley, Patrick Buckley, Tina Collum, Catherine Collum. (Image courtesy of the author)
I met even more family on the drive home that night, stopping in towns along the way back to Dublin. Since June, I've been back once more with my mother and brother. The whole family is now in regular contact with each other and future visits are already in the works.
As for the festival itself, I could not have had a more enjoyable performance. Ireland is an incredibly musical nation – a statement that anyone who has visited can attest to. From the traditional pub musicians across the island to the line of buskers on Grafton Street, music is an integral part of the land's culture.
I didn't quite know what to expect going into the performance, but was nonetheless blown away by the crowd packed into the second-floor performance space of the venue. With so many people that I could barely fit my guitar through to reach the stage, I could not believe just how quiet the room was when I began playing.
The performance, however, didn't end with the passing of my set time. I soon found out that walking around in Dublin with a guitar is very similar to Nashville, in that random strangers will stop you in the street to talk about it. The key difference is, while in Nashville I've found people are usually looking for a co-writer, in Dublin, people want a song! Maybe this only applies past the witching hour, but I distinctly remember singing "Wagon Wheel" with a group of girls somewhere along Trinity Street.
Of the many wonderful things my musical career has led me to, this one in particular stands out – not only for its personal significance, but also for the far-reaching effects it had on my entire extended family. I look forward to the many places music will take me to as well as the people I will meet along the way, but this irreplicable experience in Ireland will forever hold a special place in my heart.
Uncover your own story when you apply (for free!) to play a show on the youbloomCities tour. But hurry – submissions close today, May 11!
Casey Buckley is a singer-songwriter from New Jersey. His debut full-length album, Take the Good, is slated for a fall 2015 release. He has been an active Sonicbids member since 2012.