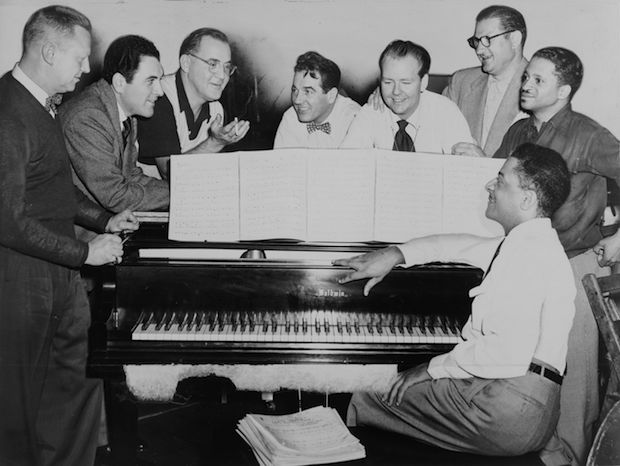 Image via Wikimedia Commons
Playing your own music under your own name (or stage name) is an incredibly satisfying experience. However, it's also a lot of work to put together and promote a big gig, and have all the responsibility fall on you. Organization is key if you're putting together your own show. There's much more to do than just promote. From my experience leading groups and working with group leaders who were incredibly organized (or not), here's a basic checklist of the crucial communication and organization elements I've picked up.
1. Get all the details from the venue up front
Once you have the gig in the books, your first goal should be getting as many details out of the venue as they will give you. This includes your load-in time, set time, how long you're going to be playing, how you'll be paid, and anything else you can think of that you might need to know. The earlier you have these details, the easier it will be to coordinate with band members, fans, and any PR help you have.
Some venues will be easier to communicate with than others. Depending on the club, you might have to bug them persistently until they give you the info. If the gig is booked out pretty far in advance, it might be that they haven't established the details yet. If so, just try to keep in touch with them and get the details as soon as they're available.
2. Rally up your musicians
If you aren't playing the gig solo, then you'll obviously need players. If you have a group of go-to players that you use, then this won't be an issue unless you have to find a sub due to availability conflicts. As soon as you have some details from the club, get in touch with the players you want on the gig. Give them as much info up front as possible, and be sure to include what the pay is right away. Don't make people have to ask. If you're just planning on splitting the door, be honest about it. Again, this might not be a big deal if you've got a consistent group of players that you call, but many pros will only take the gig if you meet their minimum compensation requirement, so be open and transparent when it comes to the financial business.
If you haven't been involved in the music scene for very long, or are just recently getting into bringing other players on board to back you, you might not have a big list of people to call. If that's the case, my recommendation is to start asking you musical friends who some of their favorite local players are and to start going to shows and meeting the musicians who play around town. As you acquire a larger list of players to call, your options will expand and you will have to worry much less about somebody not being available when you need them for a gig.
[5 Benefits of Joining a Band for a Solo Artist]
3. Send out charts and tracks with plenty of time
If you don't have a consistent group of players in your backing band, you're going to need to send out some demos to the players you're calling, and parts/lead sheets/chord charts if you have them. Even if you have a consistent backing band, it's a very good idea to have this material ready in case you need to call a sub, especially if you need to call somebody on short notice. The more detailed the material is that you send them – and the sooner you do it – the more you can rest assured that they'll actually have their parts prepared by the time you hit the first downbeat.
If you have charts for your songs, bring them to the gig and any rehearsals you might have. They might be needed as a reference, and it will be good insurance if somebody happens to lose or forget their music.
4. Set up rehearsals
Are you going to rehearse with the backing band? If you have consistent players who meet on a regular basis, then it's safe to assume you'll be rehearsing for the gig. If you're calling folks you don't always play with, a rehearsal is a great way to make sure things will go well prior to the gig. Many players (especially ones you're friends with) will be fine with including a rehearsal or two in their minimum rate; any more than that, however, and you might have to pay them an extra rehearsal fee for their time.
Once you've decided how many rehearsals you plan to have, get them tentatively scheduled and send the dates out to the players (ideally, they should be included in your initial contact with them). Try to keep the dates flexible, just in case somebody has a conflict. However, if somebody is just too busy and you're having a hard time scheduling with them, you should probably just find somebody else for the gig.
[How to Get the Most Out of Your Band Rehearsal in 3 Hours (or Less)]
5. Get contracts signed
Do you need contracts for a casual gig with a bunch of your friends backing you down at the local pub? Perhaps not. That said, I'm very into the idea of having easily accessible contract templates to use for any live performance.
More than anything, you should have contracts ready to present to the club and/or promoter if they themselves don't give you a contract. This protects you and ensures that you will get exactly what you were promised as far as payment and any amenities (drink tickets, food, etc.) go. This also ensures that they will receive what they asked for: a band to play for X amount of time that won't flake out on them at the last minute.
You may or may not want to use contracts with the players you hire. There really isn't a downside to it; it protects you from having somebody flake out on you last minute, and protects them from getting stiffed financially.
If you're looking to start using contracts, I'd recommend calling a buddy who went through law school and having a sit-down with him or her and get help putting some templates together. Anything you have to spend to make that happen will likely pay for itself, as it will prevent you from getting swindled down the road.
[4 Important Details That Should Never Be Left Out of Your Performance Contract]
6. Coordinate promo
Of course, as you're coordinating with the venue and the band, you'll also need to be on the ball with your promotion. Make sure that you have all your social media pages firing off reminders, you email your mailing list, you're putting up flyers, you've got press releases sent out to social media, and you're getting set up to have a great turnout.
[Band vs. Venue: A Breakdown of Who Should Handle 4 Types of Show Promotion]
7. Give everyone a full rundown on show day
Try to get to the venue earlier than you need to be. You don't want anything to happen on the road that prevents you from getting there on time, since the show can't go on without you! Keep an eye out for your band and try to keep folks posted on where the parking for the venue is. Take note of any players who are late – late is bad, and if you find that somebody has a chronic issue with tardiness, it's probably time to start calling somebody else.
Once folks are loaded in, sit with the group and make sure they know the plan for the night – the set time, the set list, where they'll be standing, etc. Do a quick verbal rundown of any tunes that were rough in rehearsal (this is another place where having easily accessible charts come in handy), and make sure that if people need to run out for food, you have a firm time set for when they need to be back to load up onto the stage.
8. Take care of all the post-show follow-up
After the gig, send out your usual thank-you messages to the venue, promoter, and players (you are sending out thank-you messages, right?). Make sure you get the money that the venue promised you, and make sure you pay your players what you told them you would, and when you told them you would do it. If there were any issues with any of the players or the venue, make note of it in your contact sheet. This could include issues such as somebody showing up late, intoxicated, or not knowing their parts, or venue issues such as crappy communication or shady business practices.
When all's said and done, it's time to book another gig and start back at step one!
Dylan Welsh is a freelance musician and music journalist, based in Seattle, WA. He currently plays in multiple Seattle bands, interns at Mirror Sound Studio, and writes for the Sonicbids blog. Visit his website for more information.