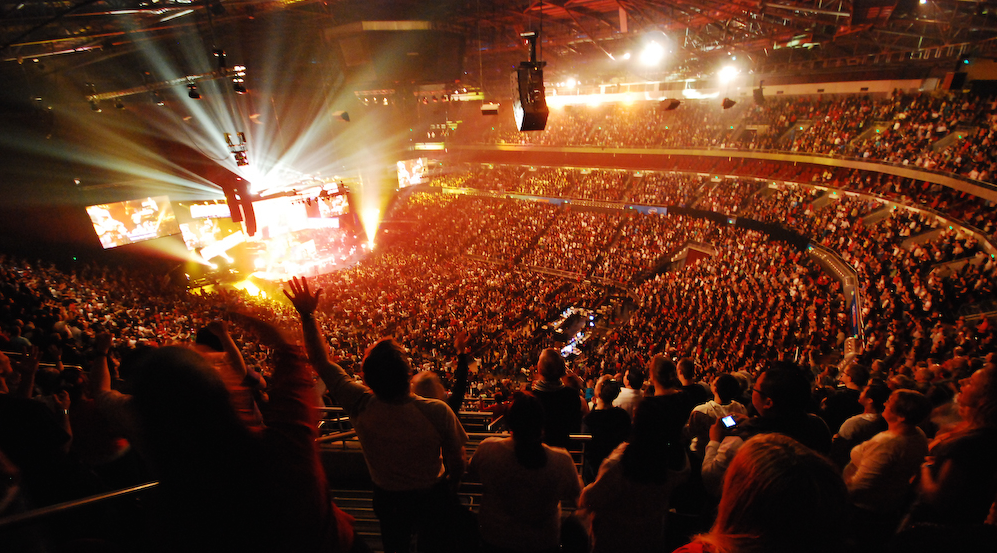 Image via flickr.com
You're a talented musician and a great performer. You give 110 percent at every single show, and your audience is always wowed by your performance. Despite all this, you may still be having trouble getting people in the door and actually paying for your shows. You're not alone! It's probably one of the biggest problems gigging musicians face, especially with the abundance of free music and gigs out there. Luckily, there are some easy strategies you can use to get more people buying your tickets.
1. Give your shows a purpose
You've probably noticed that shows with an obvious purpose – be it an album release party or the first day of a tour – tend to perform better than your regular, everyday performances. That's because these shows create a certain element of excitement that encourages fans to buy tickets.
You can't release a new album at every single gig, but you can come up with other creative purposes for each show. Simply getting your fans to write the setlist is enough to add some excitement, but you could also film a live music video, do an entirely acoustic set, or record a live track. Get creative here! You could tell your fans that you'll be collecting photos and short videos they take during the show to compile into a music video, or even get them all to sign and doodle on a paper to include in your next album's artwork.
2. Make it fun
There are some die-hard music fans who go out solely to hear great music, but a lot of people heading out to venues and clubs in the evenings just want to have a good time and unwind. With that in mind, try to turn your concerts into a fun event or party. Little games are a great way to get people involved with the music and having fun.
Ali Spagnola has turned her concerts into a hilarious game that involves drinking, dancing, chanting, clapping, and other funny activities. Spagnola has based her career around this "Power Hour," but you can incorporate some game elements into your gigs, too. If you're playing for a 21+ audience, get them to drink every time you start a new song or every time you sing a certain word. If you want to keep things alcohol-free, get fans to do silly dances, shout out responses, or do the wave at certain parts in your songs.
3. Offer frequent fan cards
Most airlines and retail stores out there have some sort of rewards program, but musicians haven't jumped on the bandwagon yet. Essentially, these reward programs incentivize customers to keep coming back. Airlines give out discounted flights in exchange for frequent flyer miles, and stores give out samples in exchange for acquired points.
Try creating branded cards and handing them out at your gigs. Every time a fan comes to your show, they can stop by the merch table and get their card punched. Once they've racked up enough points, they can exchange them for a free ticket, backstage pass, T-shirt, CD, or other merch item.
4. Don't perform alone
Playing with other bands is a great way to liven up your gigs. You'll reach a new audience and add some excitement for your fans who could be introduced to a new artist or see another band they love. If you want this strategy to work, find other bands that play a similar genre of music and who attract a similar audience. Open for each other, or play joint, collaborative sets to mix things up.
As you can see, there are plenty of easy little strategies you can use to get more people to your gigs, but this is just scratching the surface. In the New Artist Model online music business courses, you'll learn how to turn your music into a successful business – a business where you're the CEO! You'll create an actionable and personalized plan that will help you achieve a career in music, and you'll be able to do it all with the resources you have available right now.
If you'd like to learn even more great strategies from the New Artist Model online music business courses, you can check out these five free video lessons. You'll learn how to think of your music career like a business and get some great marketing, publishing, and recording strategies!
Dave Kusek is the founder of the New Artist Model, an online music business school for independent musicians, performers, recording artists, producers, managers, and songwriters. He is also the founder of Berklee Online, co-author of The Future of Music, and a member of the team who brought midi to the market.