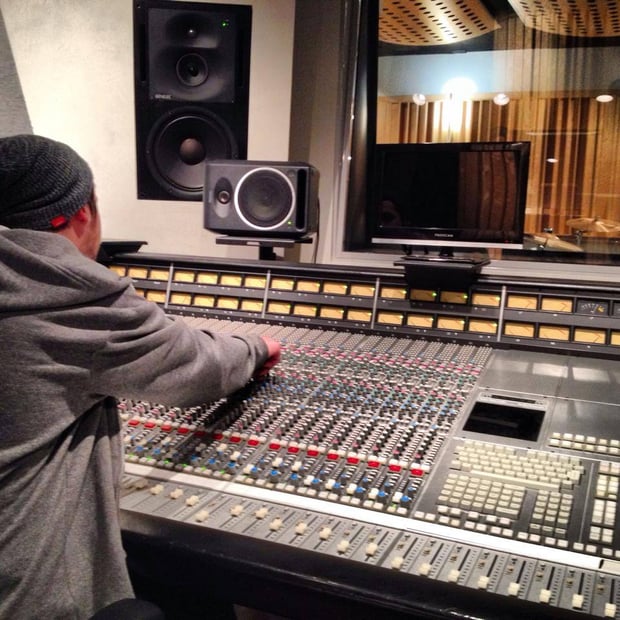 Jon Vetri in the studio. (Photo courtesy of the author)
Music has become a saturated market, and getting noticed by A&R can be a difficult task. Nowadays anyone with a song can create a SoundCloud account, upload a track, and send out mass emails to labels hoping that they open it up and hear something they want to sign. While in some rare cases this strategy might work, not everyone will be so lucky, as most labels do not accept unsolicited demos.
So how do you get the attention of A&R? The best way is to stand out from the rest, create the best possible package you can. Create a package that showcases the strengths in your music but also your marketability. Below are some quick tips to help you out!
1. Own your craft
As Yoda once said, "Do or do not. There is no try." The overnight success stories are one in a million. It takes hard work and extreme dedication. Be the best at what you do, and do it modestly.
2. Build your own base
Artists need to be proactive. That includes everything from building your own fanbase, to creating strong socials, generating press, and actively touring. At the end of the day, this is your career. No one is going to build it for you. Be the CEO of your business. Own it, and it will be noticed.
3. Put your best foot forward
Only the cream rises to the top – and A&R execs are actively looking for it. Release your best music – not all of your music. You don't need a whole album to get noticed. It can only take one strong song to get attention. Again, make sure that song is at its best, from writing to production. No such thing as 90 percent.
4. Relationships are key
The music industry, while global, is a tight-knit business. Don't burn bridges, and keep your face clean. You never know how deep roots run. That promoter you burn could also be a label scout.
[6 Music Industry Networking Tips Nobody Tells You]
5. Own it live
You can be a wiz in the box and tank it onstage. A&R bigwigs look for the whole package. Touring is no longer just about promoting your record. Live shows are an experience with your fans that are just as important as your recordings. Whether there are 20, 200, or 2,000 people in the room, those are fans who are there to connect with you. Be your best at all times, and look at ways to grow the live experience.
6. Build the right team
Surround yourself with a team of people who are just as passionate about your music as you are. There are many pieces to the puzzle, from management and publicists to agents and attorneys, all who have relationships with label A&R reps. This doesn't mean find a "yes man." Find someone who's constructive to your career and knows how to work his or her connections. Choose these people wisely. While contracts aren't forever binding, they are a pain in the ass to get out of.
[How to Build the Dream Team for Your Music Career]
Shawn Cohen and Jon Vetri are the A&R reps at Wind-up Records, with 10+ years of combined experience, launching acts like the Griswolds, Strange Talk, and more. In 2015, working alongside Aussie duo Feenixpawl and DJ/producer Jason Forte, Cohen and Vetri helped to launch the imprint label Eclypse Records. In under 12 months, Eclypse has gone on to achieve chart success, with two of its tracks simultaneously charting on the Billboard Dance Charts and Mediabase Dance charts – one breaking top 10.