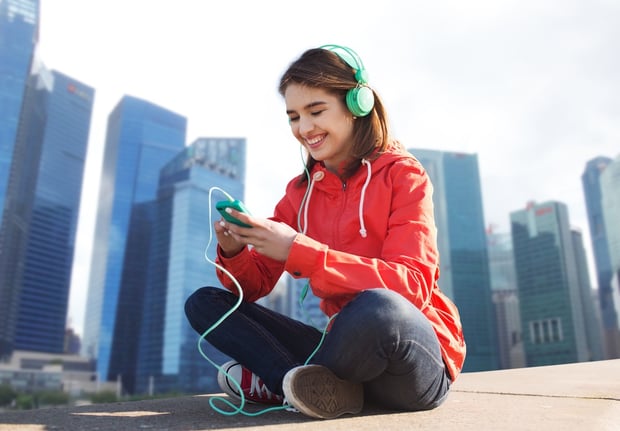 Image via Shutterstock
If you're wondering whether a Creative Commons license is the right path for your song, read about the benefits and drawbacks in part one of this article.
As with any decision impacting your financial interests and the long-term path for your music, don't make a permanent decision about licensing (such as licensing a song under Creative Commons) until you've weighed all of your options. Make sure to speak with a lawyer specializing in entertainment law if you have specific questions about your own music-licensing situation. Once you free a song using a permanent Creative Commons (CC) license, there's no going back, so look before you leap and continue reading for tips on how to obtain a CC license.
Make sure you actually own the music
You must own the content that you are releasing under a CC license. It is vital to remember that there are two separate copyrights to a recorded song:
the underlying song comprised of the music and lyrics
the recording of the song
(For a refresher on copyright basics, read my Copyright and Your Band series.)
If you're a recording artist and own only one of the above copyrights, then obtaining a CC license for your portion of the copyright only gives people half of what they need in order to freely use your recording.
For this reason, CC licenses work best if you're a songwriter who's licensing your own song for which you retain full ownership, or if you're a singer-songwriter who writes and records your own songs and retains full ownership of all copyrights. Keep in mind that ownership is sometimes messy and that you might be a co-owner (such as a composer who works with lyricists). Because CC licensing will have long-term repercussions for all owners, it's best to discuss licensing decisions with your co-owners before making decisions. If necessary, consult a lawyer who specializes in copyright law with specific questions about your songs and copyright ownership.
Decide how you want your music to be used
There are several decisions you need to make about how you would like your music to be used in order for you to choose the best fit from among the six Creative Commons licenses. Note that unlike public domain music, for which the copyright has expired or has been intentionally forfeited, the music you're releasing under a CC license may still have some rights reserved. In order to determine the type of CC license that's best for you, you need to answer these four major questions:
Attribution: Do you want others to give you credit when they use or adapt your song?
Derivative works: Do you want to allow others to create derivative works based on your song? A few examples of derivative works include new or altered lyrics for your song, new music for your lyrics, a movie based on your song's storyline, the sampling of your song within a new song, etc.
Commercial uses: Do you want to allow others to use your song in their own business, potentially making money from your work? Examples might include: using your song in an advertisement, using your song in a film or video game, playing your music in a restaurant or coffee shop, and so much more.
Share-alike: Do you want to require the same licensing restrictions on new derivative works that were based on your original song?
Now that you've had a chance to weigh your options and to imagine the future for your songs, try the Creative Commons License Chooser to see which license best fits your needs. You can also check out these examples of how real people and companies have used different types of Creative Commons licenses.
Label your song with the license
Once you have made your song available under a Creative Commons license, it's time to let the world know. CC has developed several ways of marking your work with the CC licensing information to alert people to the licensing status, and to make your song discoverable using various internet websites and search engines. You can make it easier for others to discover your CC licensed songs by inserting some HTML code onto your website, or selecting the license you've chosen on a CC-enabled platform such as Flickr, YouTube, and SoundCloud. For other ways to mark your music with the CC licensing information, view the complete guide to marking your work with a CC license.
Find CC licensed music, art, software, and more
Creative Commons has compiled a list of more than a dozen search engines that can help you find content that carries a CC license. This list includes big names such as Google, YouTube, and SoundCloud, among others. There is even a link to the music discovery website Jamendo that specializes in offering CC music for downloading and streaming for a variety of uses, including CC playlists for stores and songs available for multimedia projects. Companies like these that allow others to quickly search for CC content increase the odds that the songs you license under CC will gain greater exposure.

Jamie Davis-Ponce is a professional musician and graduate of Northeastern University's Master of Music Industry Leadership program with a concentration in entrepreneurship. She has been a music lecturer at Ithaca College, and is deeply involved in Boston-area arts and music organizations, having worked with ArtsBoston and held internships at Handel & Haydn Society and Boston Symphony Orchestra. Jamie is currently an administrator in the Professional Performance Division at Berklee College of Music. You can view more of her writing on her blog on Music, Business, and Creativity.