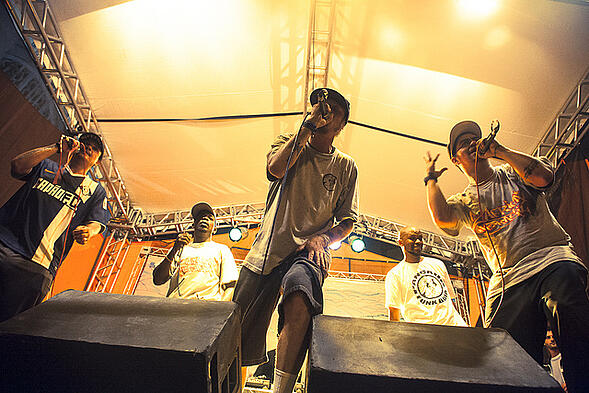 Marketing is the overall image and awareness that is put forth by your brand as you advertise, promote, do interviews and basically spread the word about your music (which is your product). One of the keys is to know exactly who will buy your music, and tailor your marketing campaign to them. The best method to draw in fans is "word of mouth," so therefore your goal should always be to spark positive conversation (word of mouth) about you and your music.
Who Is Your Potential Fan?
Taking it outside of music for a minute, can we all agree that the person who shops at K-Mart is different from the person who shops at Neiman Marcus? The person who drives a Hyundai, may have different interests from the person driving a Bentley? So back to music now—the person who is listening to or buying Justin Bieber's music is different from the person who supports Trae. Bieber has a younger audience, more pop music, radio, and internet driven, while Trae makes music to ride and/or smoke to—meaning the fan is older and probably more likely to be male. They are also more likely to buy a CD at the local Swap Meet or the Car Wash, while a Bieber fan may be more likely to download his music to an iPod, smartphone, or MP3 player, or buy the CD at the Best Buy next to the Mall for $9.99.
So, if I was marketing a young pop artist, I might try to book him on Nickelodeon shows and set up a high school or Mall tour. With a rapper who doesn't appeal to a teenage demographic, I'd probably do more of a college tour, and club dates reaching a 21 and older crowd. So, it's important to know who is buying your music. You need to figure out the demographic for your music or your song, and that will let you know the direction your marketing needs to take. If you are not able to determine who your fan base is yourself, you need to find someone around you who can. But they better be right. If you are making music that appeals to white skateboarding twenty-somethings and you market to young inner city teens, you will waste money, energy, and time!
When I was out on the road with BloodRaw in February of '08, I kept dragging him to college campuses because he makes anthem type party raps, and he kept telling me' "Let's go to the 'Hood." It's not that one is right and one is wrong, but that he knew who bought and listened to his music. In this case, we blitzed the 'hoods first and then grew out to the college and party crowds. He had a perfect understanding of who his market is.
How Will You Reach Them?
Once you know who will buy your music, it becomes pretty clear what your image needs to be to reach your market. In Young Jeezy's case, he's that dope boy turned rapper who's about making money, partying in the clubs, buying material items, and driving expensive cars. In Jay Z's case, he's that Billionaire Mogul running his own empire and living the life that this brings. Kanye is the intelligent around-the-way guy who dropped out of college to pursue a dream and feels a need to voice his opinion about everything publicly. Lil Kim and Foxy Brown are the old school 'hood chicks that every guy knows and loves while Nicki Minaj is the new "Barbie" on the block. Odd Future are the zany "I don't give a f*ck" guys who act a fool and hate everything. Wiz Khalifa is your friend who all he wants to do is smoke weed.
In terms of imaging, Jeezy could rock a suit, but you'd assume he was going to court. He's much more at home in some high end black jeans and a white or black T shirt with some Gucci or Prada shoes. Jay Z is more likely to be recognized in a button down shirt with cuff links or an expensive Italian suit. Image is a big part of marketing. What is your image? What sentence would a fan use to describe you? Is that description unique or does it fit ten other rappers?


Wendy Day is a label consultant who helps build independent record labels and teaches owners and staff how to sell music and be profitable in today's music business. As a 21-year veteran of the music industry who has managed to do the impossible-- stay relevant, Wendy also runs the not-for-profit artist advocacy organization, Rap Coalition. She has helped discover, build the leverage of, and shop and negotiate deals for No Limit Records (Master P, Mia X, C-Murder), Twista, Cash Money Records (BG, Juvenile, Lil Wayne, Turk, Hot Boyz, Big Tymers, and Mannie Fresh), Eminem, David Banner, and many others.