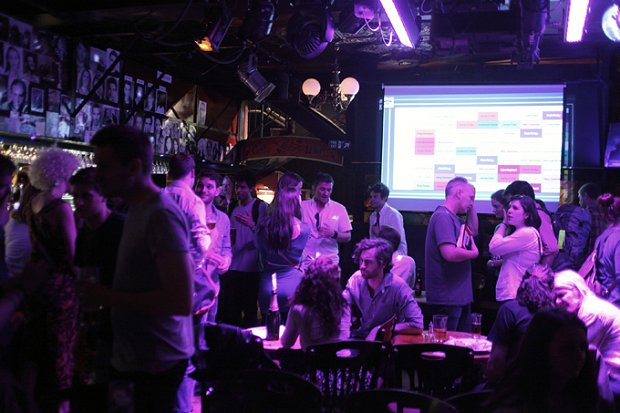 Image via karouselmusic.com
Networking gets a bad rap in the music industry. Many musicians even cringe at the word. It's not, however, just about schmoozing to get what you want. If you've ever heard the saying, "It's not what you know, but who you know" and got frustrated, then you'll be happy to hear this saying: "It's not who you know, but who knows you."
This should feel more in line with spreading the word about your brand and the amazing music you create. It also goes with the mantra that the more people that know your problem, the better chance you have to actually solve it.
Here are four steps to nailing every networking interaction you have:
1. Treat everyday situations as networking opportunities
The reason a lot of musicians feel uncomfortable about networking is because it immediately conjures up images of forced corporate events and people in suits and dresses, which goes against their innate countercultural attitude. Well, that's why we have to change the stigma that goes with the word "networking." The thing is, any interaction with people can turn into a networking opportunity. You could be on the train and hear the person next to you jamming out to a song your band covers, or standing in line at the venue you play frequently and see someone checking out a flyer for a show. Immediately, you know that you and that person share a passion for music, and you've just identified the perfect networking opportunity.
2. Make it your mission to be helpful
One way to make a great first impression is by setting an intention, and if that intention is to be helpful in some way to everyone, then every interaction you have you will come off as engaged and interested. Being polite and extending yourself will help keep the other person engaged and feel comfortable. Remember, you only get one shot at a first impression, so make it a good one.
3. Choose talking points
Have three or so talking points prepared to bring to any conversation. Whether it's more casual, like connecting with a potential fan, or more serious, like creating a potential business opportunity, you should be able to shape the conversation to match your intention of connecting with that person through your important talking points. You can use the simple ideology, "Can you help them and can they help you?" If the answer is yes, then it makes sense to actually connect going forward, and if not, you can still be helpful by being that problem-solver or connector (or you can simply move on).
4. Know how to end it and follow up
When you've reached the point in the conversation where it feels like it's run its course, it probably has, so don't force it. Now is the time to evaluate if you should connect going forward.
Not every conversation has to end with both of you exchanging contact information and promising to make things happen. If you do see the opportunity as a chance to help or be helped, then great – exchange contact information. You should have his or her name memorized by now, but when you part ways, it's always good to jot down something key that made your conversation memorable. This will be huge when you engage and follow up.
You see, networking isn't that bad. You just have to reshape your image of the stuffy corporate event with shrimp cocktail and see it for what it really is: people connecting and helping each other.
Being helpful, getting out there and telling people what you need help with (so they can help you), and being nice are all qualities that you should have in everyday life. The more you practice those skills, the more they'll become natural skills. So the more it's a part of your life, the more benefits you'll have down the road, – especially when you need them most.
As a lifelong Bostonian, Andrew Hall has been an advocate for the local music scene by participating, managing, and consulting with bands since 2006. A founding team member of a service-based music management company Deer in Headlights Music Group, Andrew has taken his experience in community building and tech and applied that knowledge learned cross dimensionally.