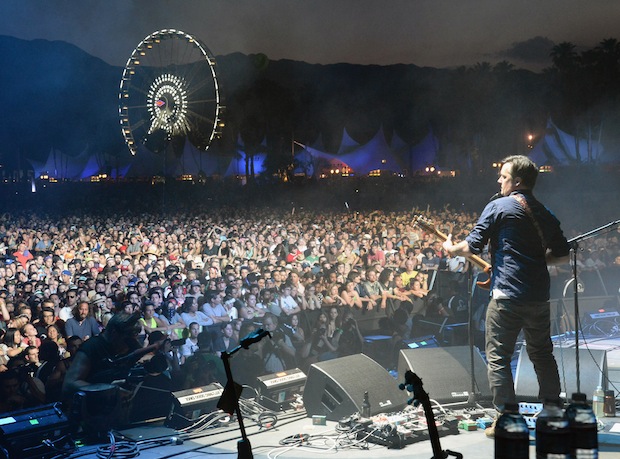 Modest Mouse at Coachella (via Getty Images / Jeff Kravitz)
You've got a long road ahead of you once you decide to take your music career seriously. Although it can seem bleak going into it between the decline of record sales and oversaturation of the market, the fact of the matter is that if you work at it and learn, you can have more control over your career than many musicians who came before you.
To do it the right way in this day and age, here are a few key things to remember:
Overnight success virtually never happens
The main thing you must keep in mind, no matter what you hear from press and media, is that the majority of successful careers do not happen overnight. Even shows like "American Idol" and "The Voice" gloss over the fact that the majority of contestants who make it to the finals have already had at least two years of experience pursuing a music career.
Define your sound
The first step is to define your sound and stage presence. This can be a long process, but it's vital to get past the initial stages of emulating your musical heroes. Start to figure out what separates you from the thousands, if not millions, of other artists out there.
Grow your career laterally
Go into this with a 5+ year mindset. The difference here is that you need to place more of an emphasis on lateral growth (fan building) rather than vertical growth (getting signed). A big part of the music industry is about "who you know" and politics, but in the long run, none of it will matter if you don't have an audience to buy your music or other projects. A solid fanbase is your key to getting a guaranteed fee for performing rather than just collecting on the door. (While many talent buyers will book artists they like personally, the end game is about filling up the venue and bar sales.)
Treat it like a business
If the only goal you have is to be famous, you're going to burn out quickly. Break down your goals into manageable tasks and build upon them as you go along – it'll do wonders with laying down a foundation and getting you closer to the dream.
For example, if your goal is to bring 10 strangers out to your next show, items on your to-do list might include:
Post once a day on social media
Have a team meeting once a week
Reply to emails in 48 hours or less
The two most important tools you need in your toolbox to help you accomplish your goals are a business plan and, if you're in a group, a band agreement. Once established, stick with it.
Also, save as much money as you can from gigs and music-related activities so that you can put it towards career needs like studio time, promotion, equipment, travel, etc. It's easier said than done (especially when the rent is due in three days), but if you're not at the point where you're making a living solely off of music, that money shouldn't intersect with your personal life.
Learn from the experts
With the amount of information available at our fingertips these days, there's no good reason that an artist shouldn't be knowledgeable of how the music business works. Donald Passman's All You Need to Know About the Music Business should be a regular read, and I would recommend bookmarking sites like Music Think Tank and the Sonicbids blog to get up-to-date career advice from experts every day.
If you have a chance to attend a panel discussion in your area featuring reputable industry people, do it and take notes. Knowledge is great, but wisdom (the application of knowledge) is even better. At the A3C Hip Hop Festival last year, our EDU daytime featured 30 panels, workshops, and keynotes with people who have had decades of experience in the business and were willing to share their insight with festival-goers. This year won't be any different, so even if hip hop isn't your genre of pursuit, the information you learn will have a universal application.
At least 50 Sonicbids artists will be selected to perform at A3C this year. For the first time ever, submissions are completely free when you apply by August 31, 2015! Even if you're not selected, you'll still receive a discount code for $25 off an all-access festival pass. You've got absolutely nothing to lose – apply today!
Tom White is the EDU development manager at A3C Hip Hop Festival.