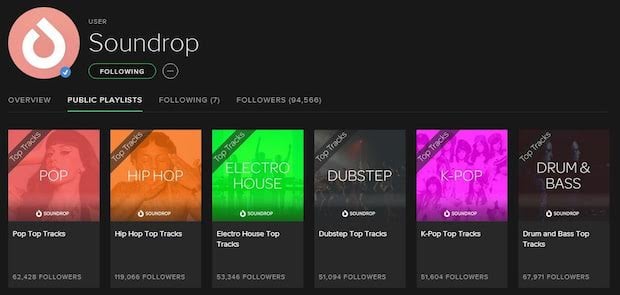 Image courtesy of AB Co.
So you have a new track and you're ready to release it. Great work! What's your game plan?
There are many marketing avenues for you to map out before you're ready to release, and each one is just as important as the next. In fact, it's the decisions you make right now that will either launch your career to new heights, or simply simmer away into obscurity.
Out of the many avenues you're strategizing when it comes to launching your song, one you must consider spending some time on is the phenomenon of playlisting, which is simply a list of songs compiled to represent a certain mood, genre, or event. Playlists are how music fans are discovering most of their new music these days, thanks to the current boom of streaming services like Spotify, Rdio, Deezer, Songza, and Pandora. In fact, Spotify users find, on average, 26 new artists a month through the platform. That's pretty cool.
Playlisting is a bit of a wild west right now (read: all over the place). There are curators who work for the streaming companies in-house, and their job is to churn out lists day in and day out. Bloggers and tastemakers craft lists in their basements and bedrooms, some of which have taken off and gotten very popular. There are radio stations and magazines that are now taking to streaming platforms as a way to extend their brand and be more social. We could go on, but what exactly does this mean for you? When it comes down to it, it means you have equal opportunity to get your music featured, one way or another.
How, you ask? Here are five quick tips to help get you started.
1. Set up your accounts and make them beautiful
First and foremost, make sure to set up all of your artist accounts, on each of your target platforms, and make sure they are up to date with your current photo, links, and bio. Once you've set everything up, it's time to start populating your account – not only with your own music, but also with music you like and listen to. That shows you're part of the community.
Next, share your artist pages on social media, on your website, and through newsletters, and encourage your fans to go and follow you on their platform of choice!
Get started on streaming platforms such as Spotify, Deezer, and Rdio through these links:
2. Start following on-genre playlists
So you're a funk-soul band? No problem! There are about 900 playlists for you to follow across the streaming platforms we've just mentioned, and tastemakers with a special focus on that area just for you. Track down the leading playlists in your genre by finding the ones with the highest follower/play count. Interact with these playlists on your own social networks by commenting, sharing, and adding to your "collection."
Make a point to understand who holds influence in your genre, and genuinely be interested in what they are posting about. Checking out their playlists will help you learn a thing or two about who the right people are to approach.
3. Reach out to influencers in advance of launching a new song
Everyone likes something fresh! Before your song goes public on the streaming platforms, send a personal note with a private link to the new track to your target playlist curators. Some of these may be tastemakers, media, or simply regular Joes who curate great lists. You can track them down through the platform, or research and send them an email. For targeting playlists that are curated by the platform, research and find the "Artist Liaison" contacts for the streaming platforms in your region. Each streaming platform office has a few. Grab their contacts and reach out to them, asking for suggestions on who you can send your music to, to be considered for the playlist genre that best fits your music.
Send short and concise emails with clear links to the music, as well as info on which lists you're targeting. Give them some brief background on the band and where you're going. Subscribe or follow them through your band account, and send a note every once in a while to say you loved their latest list!
4. Build solid relationships with those contacts
Once you've found some like-minded curators, keep track of those contacts. These champions of your music will grow alongside you for years to come, so stay in touch and make sure to engage with them each time you release a new track. Invite these people out to shows when you're in their city, and aim to build genuine relationships with them. Ask them for feedback on new material before it gets released and bring them into your band's family.
[How to Nail Your Networking and Have Genuine Interactions]
Always also make sure to share the love. When you get featured on a playlist by one of these lovely people, give them a shout -ut on your social platforms to thank them! For bonus points, you could even boost a Facebook post or buy an ad on Twitter to further promote that you're featured on the playlist. You get more expsoure, and the creator who took a chance on including a new artist will feel the positive effects of you bringing in new fans – it's a win-win!
5. Start curating playlists yourself!
Not only will your fans love to hear what you're listening to, but you'll be a part of the community and build esteem with the influencers you want to be rubbing shoulders with. It doesn't have to be a one-way street; if you feature a band you love, they might just return the favor on their own playlist.
Happy playlist pitching, friends!
Jørn Haanæs is the CEO of Soundrop, the fifth largest playlisting presence on Spotify. He is also the founder of Show.co, an innovative platform that assists artists in creating simple, elegant, and effective camp to market their music, engage new fans, and reach untapped audiences.