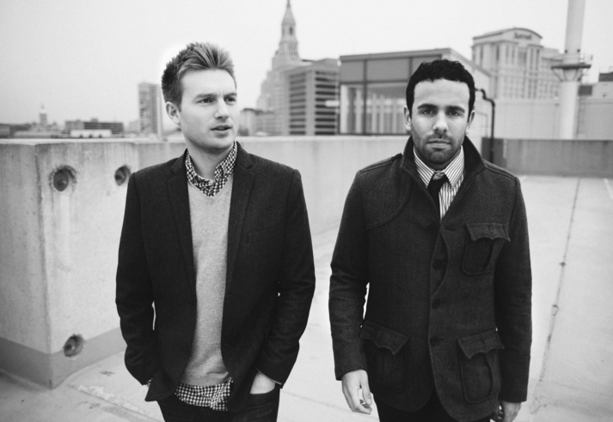 Image via sonicbids.com
Indie songwriting, producing, and performing duo Aaron and Andrew have experienced significant success in TV licensing with more than 100 placements, ranging from a Cheerios commercial to MTV programming. Through Sonicbids, they became emerging artists, attracting the attention of Tinderbox Music, which led to those fateful placements, and the rest is history. Find out how this terrific twosome got their very first licensing deals, and stay tuned until the end to learn how to submit your music for licensing through Tinderbox, too!
What was your first experience with licensing your music to a TV show?
It was one of those situations where good fortune and preparation created an opportunity. A high-school friend was a production assistant on the CBS show Guiding Light. She saw our Facebook posts about our new album and she messaged us. The show was looking for new independent bands to license. Our work fit their need, and because we owned the master, we were able to execute the agreement quickly.
It was the first time we earned money doing what we love, and we were ecstatic to receive a modest master-sync fee. We were shocked when we received our first royalty check many months later. At that moment, we realized this was a viable way to make a living as musicians. We continued to communicate with one of the producers and they licensed the entire next album. Our music was used on a consistent basis, and it generated income for several years.
What has been the key to your success in landing so many placements?
Organization
We've found preparation and organization are essential. All of our music is gracenoted, we send CDs or digital files with clearly labeled song titles and instrumental tracks, and have Excel sheets with relevant details and our PRO info. When a music supervisor wants our music, all of the necessary information is easily available and the music is ready for use. We're a one-stop-shop. We own and control our masters and copyrights, so there are no hoops to jump through when you're working with us. Supervisors often work on short deadlines. They need to quickly and easily find your music and instrumentals – if they can't, the odds are that they'll move onto the next artist before they reach out for follow-up.
Internet research
When we first started, we scoured the internet in an attempt make connections, develop relationships, and become educated. We looked up music supervisors of TV shows that we felt our music would fit their aesthetic and reached out to them. We read tons of music industry blogs. It was a blog like this [Sonicbids] that made us aware that having instrumental mixes could make us more licensable.
Sonicbids was something we stumbled upon while googling press kits, and it has been a tremendous help to our career. We had our music featured in a documentary by Long Haul Films through a Sonicbids submission, which then led to those same filmmakers doing our music video. We've made several other significant industry connections and still have relationships with contacts we've made through Sonicbids, including Tinderbox.
We started working with Tinderbox, which had a built a strong network of music supervisors, all because we researched who had landed a TV placement for a local artist. We've found that diligently seeking out opportunities and researching online has played a significant role in advancing our career.
You guys have been working with Tinderbox since 2009. How have they impacted your career, particularly in regards to music licensing?
Tinderbox has been huge. Working with them opened doors and fostered opportunities that we couldn't have obtained on our own. It started with their college radio campaign. We received great feedback and a lot of airplay from their radio push, and when they asked if we'd be interested in pitching the album to some networks, we jumped on it. Tinderbox landed that album – an album we recorded and produced in a basement – more than 20 TV placements. They were all royalty only, but they really added up.
Friends from all over the country started calling because they heard our music on TV. We continued working with Tinderbox on subsequent projects and have landed more than 60 placements. Their network has become part of our network, and has led to relationships and exposure that has expanded our fanbase.
When you're writing new material, do you intentionally try to make it "licensable"?
I think at some point when we are writing a new song, we both ask ourselves if it could fit to picture. Some songs we know won't fit, others do. We are both drawn to a particular melodic style that naturally lends itself to licensability. But honestly, this is a business. We work hard to stay true to our voice while balancing the commercial needs that help us pay the bills. It's certainly affected our writing process, but we feel that the challenge of juggling art and commerce has ultimately strengthened our skills as songwriters.
If you could go back in time and give your former selves some advice in navigating the licensing world, what would it be?
Don't be afraid to give up some rights for a great placement. We did that once and regret it to this day. Early in our career, we passed on a large placement because the show wanted to own the master. Had we been a bit more experienced, we would have known that this would have been worth the opportunity, since we still would have retained our writing, publishing, and the copyright. Meaning, we would have still gotten paid royalties and were free to rerecord the same song. Moral of the story is to always weigh the opportunity against the cost.
Spend more time on editing and rewriting songs. The more we do this, the stronger the songs turn out.
Always have mastered instrumental mixes.
Any tips or advice for emerging artists for getting their songs on TV or in films?
Make sure your music is well mixed and mastered. It must be good quality.

Have lots of patience. Publishing is uber slow, and often you won't know when something has aired until it's in your PRO's royalty statement. Quite often, the use was years after it was original accepted by the supervisor.
Be organized. Have your songs already registered with your PRO and gracenoted.
Search around for companies like Sonicbids and Tinderbox that have access to people and opportunities that can further your career.
Remember rejection doesn't mean the song is bad – it just means it doesn't fit the project. Expect rejection; expect interest or often a license that then flames out. This is an industry of endurance. We get rejected all the time. Keep submitting and keep creating.
What's next for you?
We released our new Aaron and Andrew album this summer. You can download On the Run for free at noisetrade.com.
We've continued producing other artists and creating custom work, but we're absurdly excited to launch Skyline Brigade. We've wrapped up the demo phase and are heading into the studio with new music expected in early 2016. Skyline is the culmination of a nearly decade-long evolution unearthing our innate sound. It bleeds genres, but has a rock push with strong electro beats and synths. We've had a ton of fun creating this and can't wait to share!
Are you ready to hear your music on national television? Apply to the Tinderbox licensing opportunity on Sonicbids for free by November 18, 2015, and your very own tunes could be pitched to big-name music supervisors all over the country!