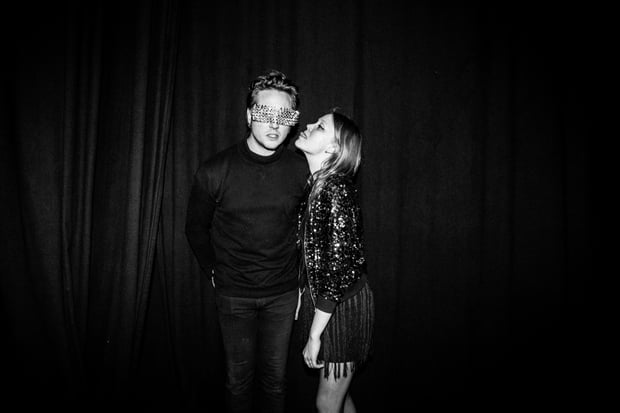 Photo by Olivier Donnet
Every year, Indie Week Europe holds a music festival in Manchester, England. Emerging artists perform in front of over a thousand guests, including industry professionals who work in A&R, booking, legal, management, press, and production. Last year, Swedish-Belgian pop duo Victoria+Jean went on to win the coveted "best of the fest" grand prize, which pushed their career into a whole new territory of success and opportunity. As a result of the win, they were invited to perform in Canada for the first time at Indie Week Canada and signed a very promising record deal with Cadence Music, which also boasts artists such as Alabama Shakes, Allen Stone, Cold War Kids, Phish, and Radiohead on its roster.

We caught up with the duo to get all the details on their Indie Week experience: what stood out, what surprised them, and how they were able to make it to the top of the judges' lists.
[Apply for a slot at Indie Week Europe 2016 by June 30!]
You won the grand prize at Indie Week Europe last year – that's an enormous accomplishment! What were your expectations going into the performance? Were there any surprises?
To be honest, we weren't thinking of winning, but just the will of wanting to play and the chance to do it in Manchester. So, the fact that we won was a surprise for us as well. But what made it even more great was meeting Darryl, Katia, and the members of the jury, like Mike Joyce (the Smiths), John Robb (Louder Than War Journalist, and lead singer of the Membranes), Chris Birkett (Talking Heads producer), etc. It was an honor to be chosen and recognized by these amazing people. Also, we did not expect to have so many people there, and more and more at every gig we were doing. It was great!
You obviously wowed the audience and judges at the festival. What do you think it was that made your performance stand out?
We tried to give this unique encounter of the sweetness of crossed guitars with unbridled and sensual rock. We also work to propose a form of modern blues (note: we don't claim to be the passeur of anything) with simple electronica, but at the same time, make things a bit complex to challenge the listener.
And besides, we are unique and strong, and we're chic in love… not to mention Victoria's exceptional voice and presence! [says Jean] And Jean's incredible animal guitar playing! [says Victoria]
[Be a Pro: Secrets to a Successful Festival Performance]
Indie Week is a unique opportunity because you're able to perform for so many industry professionals and other talented musicians. How did the experience help you grow, both as an artist and as a working musician?
The experience helped us realize that this was just the beginning. The prize for the winners was to play in Toronto for Indie Week Canada, and now we have signed with Cadence Music in Canada. It's a real achievement.
Walk us through that chain of events – what was it like to play in Toronto after Indie Week Europe, and then get signed to such a reputable label? How did you prepare for those moments?
It was huge! We had already played in South America and the US, but not in Canada. So to already be able to do that was great. And then, without knowing, we met our future label. We're incredibly proud to have been a part of this! The people we met are hard to get in touch with in this profession, believe me. We had prepared for the moment in the most simple way: with serenity.
What was your favorite part of Indie Week Europe?
Going to Manchester and staying in contact with all those people was incredible. Many of our connnections became friends. It was also great at the end to have had the chance to go to Canada and to have signed with a label. And through it all, we had the chance to have a real physical release of our album in our hands!
Looking back, what are your biggest takeaways from Indie Week Europe that you'd like to share with other artists?
Always try to stay positive. Listen only to what you think is good for you. Achieve a certain form of serenity with yourself. Give the best of yourself.
Want your own opportunity to perform at this year's fest? Apply for a slot at Indie Week Europe 2016 by June 30!