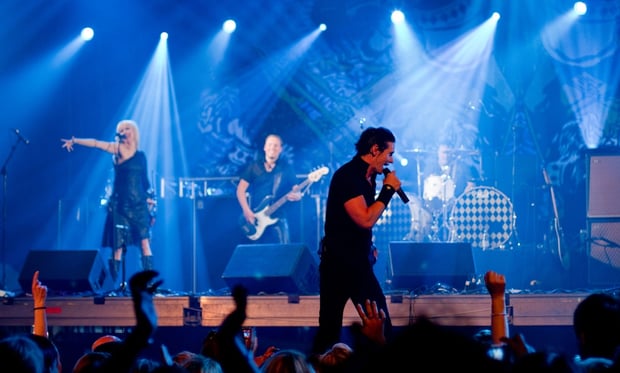 Image via Shutterstock
In the film Field of Dreams, a farmer in Iowa named Ray is given a strange piece of advice, seemingly from a ghost. The advice is hardly that; it's more of a statement: "If you build it, he will come." For a good part of the movie, Ray struggles to figure out what these instructions mean. This search leads him on a journey into his personal story and the tale of what he's most passionate about: baseball and his father. This story would go on to draw fans from across the country to a corn field in Iowa, all from the connection between baseball and family.
What does a baseball movie have to do with DIY music or, more importantly, you as a DIY musician? Everything.
It starts with a powerful story
What makes this film beloved by both fans of baseball and fans of storytelling is the same thing that draws your fans into the work you do. As a musician and songwriter, your remarkable stories draw others in. These tales are more than just what you create as a writer. It's what's remarkable about you.
The idea that a farmer would build a baseball park in the middle of a corn field and that, if you believed, you could see players from the early era of the game (ghosts playing baseball in classic uniforms), fascinated audiences. The appeal of the field of dreams was the mystery of what was really happening on that field. Was it real or someone's imagination? How did this field of dreams come to be? Remarkable stories draw people in from the outside and make them lifelong fans.
How to be remarkable, as explained by Seth Godin
Being remarkable is the idea behind the seminal book Purple Cow by Seth Godin. I recently spoke with Godin on the DIY Artist Route Podcast about how to take the concept of the Purple Cow and apply it to musicians. He said: "Purple Cow is the idea that if people talk about you, then by definition you're remarkable. That means the word will spread."
Our conversation dove into even more specific areas of audience growth (in reference to the Field Of Dreams story) as heard later in the podcast. "It's believing that 'the grass is always greener' [that] gets you in trouble," Godin said. "You've already got all the grass you're going to get. What you need to do is farm it, not go hunting."
Too often, we're hunting for new fans, instead of looking closer at what it is about the connection we have with our existing fans and cultivating that. Cultivating our story allows it to spread and grow to reach more people. Our work to grow audiences isn't a matter of shotgunning our marketing or promoting ourselves in vague terms. It's a matter of farming.
Do you communicate how remarkable you are as a musician and songwriter? Being remarkable isn't a matter of bragging about "how good you are." Being good and being worth talking about are two different things. In radio, for instance, I often see artists submitting music, sending press releases and media kits that say they have a great story to tell with their music. But that's as specific as it gets. What is the great story that the music tells? How is the story great? How are you remarkable? Lead with what makes you remarkable, and the word will spread faster.
As musicians, we're accustomed to telling stories within our songs. How well do you tell the stories about yourself that make you stand out? And more importantly, how are you leading with stories of how uncommon your music is that people want to listen to track after track of your songbook? What is it about your art that's remarkable? These are the key pieces that cultivate your existing fans to spread the word about you to new people.
Examples of how to frame your remarkable story
To help us understand what this means in a musical context, let's take a look at some specific artists. What makes these artists remarkable in a way that fans are drawn in? I'll share with you what it was about them that made me give their music a first listen.
Jazz fusion that incorporates styles of R&B, funk, folk, and rock into the musical textures, performed by some of New Orleans best crossover jazz musicians. Yet it's the inclusion of multiple voices and styles of songwriters in their albums that makes them remarkable. Their latest album, Into the Deep, features collaborations with Macy Gray, Ryan Montbleau, JJ Grey, Mavis Staples, and others. How non-jazz styles fit into what can seem like a modern jazz album is one key piece that makes Galactic worth talking about.
This folk singer-songwriter decided that playing club shows in New York wasn't cutting it for her career, so she took it to the road – literally. The event that launched her fan-growth story was when she and her husband packed up a Volkswagen camper van for a cross-country drive, playing house shows and small venues along the way. Over the course of a few years, Kelley and her husband, Matt, played in hundreds of shows covering multiple continents. The music is incredible with beautifully chronicled stories, with a glorious folk backdrop like her EP, Easy on My Mind, and her second release, Brighter Than the Blues.
Haunting stories told from a former metal drummer through an acoustic guitar and a falsetto vocal. Intrigued? His debut album, Early in the Morning, was a breakout for his career with moving songs about passion, love, and tragedy. Lyrical stories cross into elements of danger and regret, as this Irish songwriter uses dramatic storytelling with shifting musical textures. His follow-up album, Post Tropical, played like a novel written by Cormac McCarthy. Tragic, moving, and yet fascinating. What it was that first made me listen was the curiosity of how a metal drummer would sound as a folk-styled songwriter. The rest is history.
How to use the uniqueness of your story to reach new fans
It goes without saying that the music itself has to be great, which includes instrumentation and songwriting (part of the 3 key elements essential to gaining radio airplay, let alone new fans). These are given. For music fans who don't know your work, you have to communicate what it is about you that makes you truly unique. This can include what makes your music intriguing, but, as you can see in the previous illustrations, focusing only on the music isn't the first thing that always draws new fans in. There are pieces of your story that are uncommon and unique. When a songwriter packs up their life into a camper van to hit the road to play house shows with people who go from stranger to friend, that's a remarkable story. Repeat this story over a period of time and you have many more remarkable stories to share with new fans.
If you're remarkable, fans will come. Yet, they need to know what makes you remarkable. This is how to market your music that goes outside the box of what every other musician is doing. This is how you involve your online audience with your live audience (as explained in this past Sonicbids blog). In your music submission or EPK, give your prospective fan (and music curator) a sense of what it is that makes you an uncommon and unique artist. Why are you worth playing on their radio show, giving a blog review, or steaming through their headphones online? Why should audiences pay attention to you? Answer these questions with how you present yourself, and see a better return on your marketing growth efforts.
Be remarkable. Be uncommon. Be a Purple Cow, and fans will certainly follow and be drawn into your music.
D Grant Smith is the host and creator of the syndicated and award-winning The Appetizer Radio Show, featuring unsigned and indie music weekly. With over 16 years experience in radio and indie music, Smith also coaches and mentors musicians through focused audience growth. More information at dgrantsmith.com and appetizerradio.com.