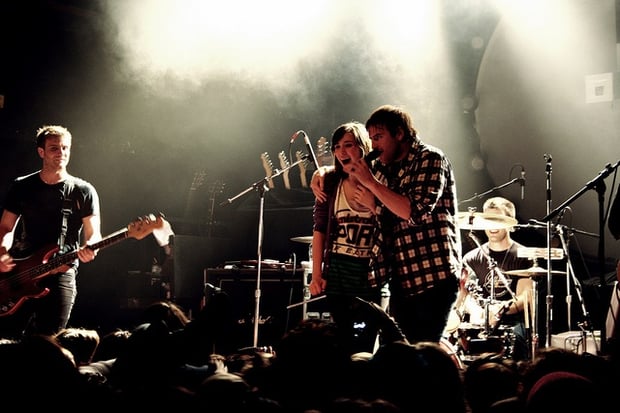 Photo by Cassandra Panayiotopoulos, used under Creative Commons
We often think that what we do online through our social media channels is different than how we engage our audiences when we're live and in person. However, that's not always the case. When you can combine your online and offline methods, you foster a stronger connection with your audience, gain more followers of your music, and have better opportunities of gaining the support you want from your fans.
You use your social media platforms to engage with fans about your new releases, upcoming gigs, and other news that relates to your band. But how often are you talking about your online platforms at your shows? Are you only asking your fans at gigs to "follow us on Facebook"? When you can show your audience that the connection they have with you online translates into a real connection in person, your fans will do more than just follow you – they'll evangelize to their friends and beyond. This is how superfans for your music are created.
What do you know about the individual talents of your fanbase? Do you have graphic artists, business owners, or people with a specific skill set who are strong supporters of your music? Finding out more about the talents and skills of your fans gives you a powerful way to build stronger connections with them.
Discovering these little details is fairly easy. Offline approaches include talking with the people who are hanging out at your shows, especially when they buy your music and merch. For fans who regularly attend your gigs and shows, ask them what their specialties are. This makes the connection you create with them when they follow you on Facebook or Twitter even more powerful.
[6 Ways to Build Personal Relationships With Fans That You Haven't Tried]
You can also do surveys online to see what individual specialties your fans has, or what other interests they have. If you're a sports fan of a particular team, finding out that a few of your ardent fans are also fans of the same team creates opportunities for you to connect with them both online and offline.
A few years ago, we ran a contest with The Appetizer Radio Show to incorporate young graphic artists into a special concert we hosted to celebrate our 10th anniversary. We reached out to students who were interested in drawing, painting, sculpture, and other graphic design areas to create original representations of the radio show in a visual form. Winners were rewarded by having their art displayed at the concert and their names recognized in the concert presentation. We also posted pictures of the art taken with the artists on our social media platforms to celebrate the artistry that was contributed to our event. The turnout was incredible, and it helped us to better connect with our younger fanbase.
Your fans want to connect with you beyond the music you make, especially if they have the opportunity to contribute to your artistry in some way. Also, fans love being recognized as part of your tribe. When you can incorporate both of these areas of fan collaboration into your music, you can build an even stronger fan connection.
Similar to how we incorporated our fans' talents into one of our concerts, you can incorporate your audience's skills or interests into your music. Need a logo, poster, or album design? Ask your fans if they would put one together for you with their interpretation of your band. Run a contest to make a new image or cover design for your next album, and the winner gets their creation displayed for the world and recognition for the work. Promote the contest online to reward the winner offline.
[5 Contest Ideas to Generate Excitement Among Your Fans]
Here's another idea to connect your online and offline fan building: at your next show, coordinate costumes or clothing and take pictures with participating fans that you post online and share. These types of collaboration methods encourage sharing and tagging of your band to new groups of people who might not know about you.
Beyond social media platforms, your website and email list are also great outlets to incorporate into showcasing the connection you build with fans in a live setting. This is just the tip of the iceberg, but it all begins with you choosing to spend a little time with your fans and learn more about them. That act alone will build a more powerful connection with those who follow you. Fans are people. People love knowing that their interest and contribution to your work means something. Showing them that their value to your music is recognized increases the loyalty and attention they give you. It builds interest in you, your music, and what you do, and the attention will spread.
Up next: 4 Creative Ways to Create Superfans for Your Band That You Probably Haven't Tried
D Grant Smith is the host and creator of the syndicated and award-winning The Appetizer Radio Show, featuring unsigned and indie music weekly. With over 16 years experience in radio and indie music, Smith also coaches and mentors musicians through focused audience growth. More information at dgrantsmith.com and appetizerradio.com.